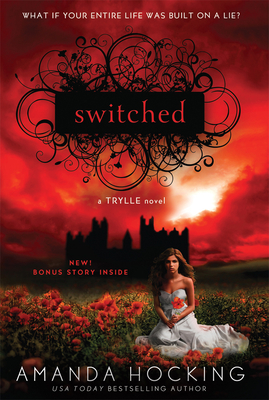 Switched (A Trylle Novel #1)
Paperback

* Individual store prices may vary.
Other Editions of This Title:
MP3 CD (9/1/2015)
Paperback (1/1/2012)
Hardcover, Large Print (6/22/2012)
Paperback (1/1/2012)
Paperback (7/5/2013)
MP3 CD (1/3/2012)
MP3 CD (1/3/2012)
Compact Disc (1/3/2012)
Compact Disc (1/3/2012)
Description
Amanda Hocking is an indie publishing sensation whose self-published novels have sold millions of copies all over the world, and Switched is the book that started the phenomenon. Prepare to be enchanted…

When Wendy Everly was six years old, her mother was convinced she was a monster and tried to kill her. Eleven years later, Wendy discovers her mother might have been right. She's not the person she's always believed herself to be, and her whole life begins to unravel—all because of Finn Holmes.

Finn is a mysterious guy who always seems to be watching her. Every encounter leaves her deeply shaken…though it has more to do with her fierce attraction to him than she'd ever admit. But it isn't long before he reveals the truth: Wendy is a changeling who was switched at birth—and he's come to take her home.

Now Wendy's about to journey to a magical world she never knew existed, one that's both beautiful and frightening. And where she must leave her old life behind to discover who she's meant to become…

As a special gift to readers, this book contains a new, never-before-published bonus story, "The Vittra Attacks," set in the magical world of the Trylle.
Praise For Switched (A Trylle Novel #1)…
"Vampire and werewolf lovers beware; this trilogy opener offers readers a new take on an unexpected breed of mystical beings. Readers who can suspend preconceived notions and open themselves up to this new interpretation are in for a midwinter version of a good beach read." —Kirkus Reviews

"This is The Princess Diaries meets Twilight, and Hocking hits all the commercial high notes…Switched is escapist fantasy; it isn't the specificity of the world that matters here; it's the accessibility…What teenager hasn't felt like a freak, a changeling in his or her own family? Who doesn't fantasize about being transformed from ordinary to extraordinary, of being whisked way to another life where the very things that are irritants in the "regular world" turn out to reveal our specialness?" —New York Times Book Review

"Wendy is a flawed antihero, which helps differentiate her from the throng of paranormal-romance heroines, and the potential for development, both dramatic and romantic, should make readers anxious for the next installment of the Trylle trilogy." —Booklist

"Switched is written so wonderfully that it' is not hard to imagine you are in this fantastic world! Readers will love the exhilarating roller-coaster ride of Wendy's life as she adapts to…a frightening and exciting life." —Romantic Times BOOKreviews

"You can't beat the storyline for Switched, the book that starts off the series with a bang: When Wendy Everly was a little girl, her mother was convinced she was a monster and tried to end her life. Now Wendy is starting to wonder whether there might have been something to her mom's paranoia after all. Enter Finn Holmes—the mysterious, sexy guardian who's been watching over Wendy until she was old enough to learn the truth about her supernatural origins—and the revelation of a hidden world full of mysteries, dangers, and untapped powers that Wendy never knew she had." —MTV.com

"The romance is smoldering, the action is suspenseful, and the characters are quirky, likeable, and original. Amanda Hocking has a gift for storytelling that will grip readers and keep them wanting more…Entrancing." —Library Thing

"Started Switched last night. I don't like this book because it made me stay up too late last night to keep reading and made me skip my dance class this morning so I can finish it!" —BookCrossing

"I started reading Switched in the evening one night and stayed up until 3 a.m. because I didn't want to put it down. I had to be at work the next day and all I could think about was going home and finishing the book. Yes, it's THAT good." —A Tale of Many Reviews

"Switched is paranormal YA with a fresh twist. It has a more deliberate pace than other YA fantasy...and more emotional thrills. I really appreciated the realistic development of the love story, and the characters feel well developed. Recommended." —I'd So Rather Be Reading

"I ate this book up I could barely put it down before bed, and was also trying to sneak time in my busy morning to read some extra sentences. This was an awesome first book in a series that I'm dying to read. Amanda please write the next one soon. I'm dying!!" —Midnight Glace Reviews

"I LOVED this book! The characters are quite likable…and there is never a dull moment. I highly suggest you take a look at this book if you want to read some fantasy that leaves you panting for the next installment." —The Light Under The Covers

"Filled with action, suspense, and romance...I found the story completely fascinating." —A True Reality Blog

"Amanda Hocking is like a breath of fresh air in the young adult paranormal market. I've read countless books about vampires, werewolves and faeries, but never one about trolls…Switched was an impressive start to a series that was chock-full of excitement, adventure and attitude." —That Bookish Girl Blog

"Switched has more intrigue and hidden secrets than the average YA book." —Read My Mind

"An addicting, easy to digest book that can be devoured in an afternoon." —Feeding My Book Addiction

"I absolutely loooooveeed Switched. From the first pages I found myself totally caught up stealing moments to read this book. Visually I 'saw' this book so well in my head. Just an awesome read that makes you feel for the characters." —Novels On The Run Reviews
St. Martin's Griffin, 9781250006318, 336pp.
Publication Date: January 3, 2012
About the Author
Amanda Hocking is the author of over twenty young adult novels, including the New York Times bestselling Trylle Trilogy and Kanin Chronicles. Her love of pop culture and all things paranormal influence her writing. She spends her time in Minnesota, taking care of her menagerie of pets and working on her next book.