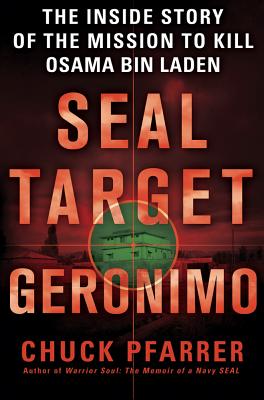 Seal Target Geronimo: The Inside Story of the Mission to Kill Osama Bin Laden (Hardcover)
The Inside Story of the Mission to Kill Osama Bin Laden
St. Martin's Press, 9781250006356, 225pp.
Publication Date: November 8, 2011
* Individual store prices may vary.
or
Not Currently Available for Direct Purchase
Description
"The true story of the killing of bin Laden by author and former U.S. Navy SEAL Chuck Pfarrer"
On May 2, 2011, at 1:03 a.m. a satellite uplink was sent from Pakistan crackling into the situation room of the White House: "Geronimo, Echo, KIA." These words, spoken by a Navy SEAL, ended Osama bin Laden's reign of terror. "SEAL Target Geronimo "is the story of Neptune's Spear from the men who were there. After talking to members of the SEAL team involved in the raid, Pfarrer shares never-before-revealed details in an exclusive account of what happened as he takes readers inside the walls of Bin Laden's compound penetrating deep into the terrorist's lair to reach the exact spot where the Al Qaeda leader was cowering when the bullet entered his head. "SEAL Target Geronimo "is an explosive story of unparalleled valor and clockwork military precision carried out by the most elite fighting force in the world the U.S. Navy's SEAL Team Six.
About the Author
Chuck Pfarrer is a former assault element commander of SEAL Team Six. He has written op-eds for "The New York Times "and the Knight Ridder syndicate, and appeared as an author and counterterrorism expert on C-SPAN2, NPR, Alhurra, IPR, Voice of America, Fox News, and "America Tonight." Pfarrer serves presently as an associate editor of "The Counter Terrorist, "the American Journal of Counterterrorism. Pfarrer is the author of the bestseller "Warrior Soul: The Memoir of a Navy SEAL. "His Hollywood credits include writing and producing work for "Navy Seals, Darkman, Hard Target, The Jackal, Virus, "and "Red Planet. "He lives in Michigan.
Praise For Seal Target Geronimo: The Inside Story of the Mission to Kill Osama Bin Laden…
"A marvelously engrossing account of the military operation that resulted in the death of Osama bin Laden...Richly told in broad, cinematic strokes, this is catnip for readers who enjoy special-ops tales."--Kirkus Reviews (starred review)
"The book is more than just a high-adventure black ops thriller. It is a work of historical importance that sets the record straight about our struggle against forces dedicated to rebuilding an Islamic caliphate in the Middle East... It is a book you will read as you walk on the sidewalk because you do not want the action to stop."--Neil W. McCabe, Human Events
"Pfarrer certainly had access. A SEAL Team Six assault-element commander in the 1980s, he is known inside the intelligence community for his well-regarded first book, Warrior Soul...He clearly had detailed conversations with senior officers in the SEALs' chain of command (especially Adm. William McRaven and then–SEAL Team Six commander Scott Kerr) and understands the vocabulary and the culture very well...SEAL Target Geronimo explodes a number of media myths about the raid to kill bin Laden...There was no "45-minute" running gun battle. The SEAL team fired only 12 bullets, and the whole operation lasted only 38 minutes...The most provocative part of the book is pure speculation: by killing bin Laden, did the SEALs accidentally do Zawahiri's dirty work?... As the British Foreign Office used to famously say: 'Interesting, if true.'"--Richard Miniter, The Daily Beast
"Chuck Pfarrer writes with the brilliant eye of a novelist and the real-world authority of a soldier who has fought in the world's most mysterious corners. He's not only a poet and soldier, but also a deeply read historian. Pfarrer has written a true page-turner about the inside story of Operation Neptune's Spear. There is enough action here, enough human drama, enough fascinating history, to keep you reading until dawn—you simply have to know what happens next. SEAL Target Geronimo is first-rate storytelling. It's an amazing story, written about a world no one knows better than Chuck Pfarrer himself."--Doug Stanton, author of In Harm's Way and Horse Soldiers
Advertisement