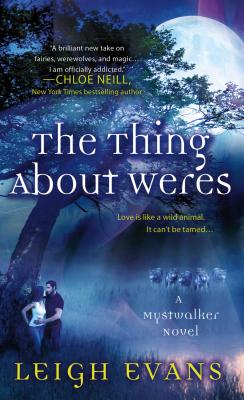 The Thing About Weres (Mass Market)
A Mystwalker Novel
St. Martin's Paperbacks, 9781250006417, 432pp.
Publication Date: July 30, 2013
* Individual store prices may vary.
Description
THE THING ABOUT WERES
A Mystwalker Novel from Leigh Evans
In the never-ending saga that is my love-hate relationship with Robson Trowbridge, I, half-Were Hedi Peacock, have had a change of heart. Ever since I shoved Trowbridge through the Gates of Merenwyn, I've been the leader of the pack—hard to believe, right? The thing is: I'm half-Fae. So even though my Were side is ready to heed the call of the wild, the other part of me is desperate to take flight. And much as it pains me to admit it, life without Trowbridge is really starting to were me down…
To make matters worse, the wolves of Creemore want my blood—and the North American Council of Weres wants me dead. So I'm just counting the days until Trowbridge returns from the other realm…and comes to my brave rescue…and becomes my alpha mate. Wishful thinking? Of course it is. But given all the mess I've been through already, what's the harm in doing a little bit of daisy-plucking? Besides, Trowbridge owes me bigtime. A girl can dream.
About the Author
Leigh Evans was born in Montreal, Quebec but now lives in Southern Ontario. She's raised two kids, mothered four dogs, and herded a few cats. Other than that, her life was fairly routine until the day she decided to write a book about a half-Fae, half-Were girl who's a magnet for trouble. The first Mystwalker novel was grabbed by St. Martins, and released as THE TROUBLE WITH FATE in 2012. Second and third books quickly followed: THE THING ABOUT WERES and THE PROBLEM WITH PROMISES. At the age most people start thinking about retirement, Leigh is slinging words and pummeling plots. Leigh's destiny has finally been met: she's a writer. A little tardy, but then again, her mum always said she was a late bloomer.
Praise For The Thing About Weres: A Mystwalker Novel…
"The Thing About Weres is the second in a dark, sensual series featuring an intriguing blend of magic, fairies and werewolves. Its romantic scenes are intense, rife with dynamic characters who are equally passionate. Set in a well-crafted world only a talented author could imagine, this tale contains an excellent mix of action and passion. In popular genre, The Thing About Werewolves is fabulously unique and is a true delight." —Romantic Times Book Reviews for The Trouble With Fate
"A true storyteller with a tough heroine and an original and engrossing tale. Reader beware, if you pick up a Leigh Evans book, you won't put it down until the last page." —Patricia Briggs, New York Times bestselling author of the Mercy Thompson series, on Leigh Evans.
"Her first time at bat, Leigh Evans has hit one out of the park. THE TROUBLE WITH FATE is the perfect mix of romance and action, with characters you can't help but root for and a twist that had me squealing with surprise. Evans offers a brilliant new take on fairies, werewolves, and magic--and this book is urban fantasy and paranormal romance at its best. I am officially addicted." —Chloe Neill, New York Times bestselling author of the Chicagoland Vampires and Dark Elite series on The Trouble With Fate
"What a delicious read! THE TROUBLE WITH FATE is chock full of fun twists and sexy diversions, one of them named Robson. Leigh Evans is definitely one to watch. Get this book! You will not be disappointed!" —Darynda Jones, New York Times bestselling author of the Charley Davidson series
"It's rare to find a debut novel with a well-crafted world, a great story and dynamic characters, but this book has them all. I was grabbed early and hooked to the very end. I eagerly await the sequel!" —Karen Chance, New York Times bestselling author of the Cassandra Palmer and Dorina Basarab series on The Trouble With Fate
"Leigh Evans' brilliant debut, The Trouble with Fate, has a likeable, light-fingered heroine with smarts, a tough sexy hero with troubles, and a glimpse into a fascinating fae world that will have you howling for the next book. I loved it!" —Suzanne McLeod, author of The Shifting Price of Prey
"I loved THE TROUBLE WITH FATE. So fun and fast-paced. Leigh Evans takes everything you think you know about urban fantasy and throws it out the window, creating a world that's fresh, a heroine that's enthralling, and a world that's as complicated as it is engaging. I can't wait for the next book" —Nicole Peeler, author of the Jane True series.
"The Mystwalker series is shaping up to be truly fantastic UF, with a great romantic backbone, wonderful secondary characters, well-thought-out back stories, and the worldbuilding? In a word: Phenomenal" —The Demon Librarian on The Thing About Weres
or
Not Currently Available for Direct Purchase