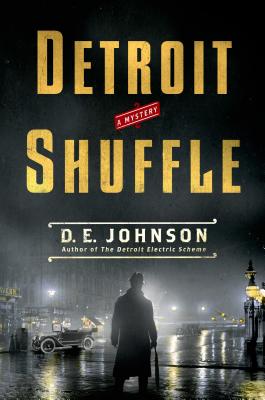 Detroit Shuffle (Hardcover)
Minotaur Books, 9781250006769, 336pp.
Publication Date: September 3, 2013
* Individual store prices may vary.
Description
Will Anderson and Elizabeth Hume get caught up in the political turmoil over women's suffrage in "Detroit Shuffle," the fourth book in D. E. Johnson's critically acclaimed 1910s Detroit series
Will Anderson inadvertently breaks up a key suffrage rally when he thwarts a gunman set on killing his lover, Elizabeth Hume. No one else saw the man, and Elizabeth believes he hallucinated the entire incident, a side effect of the radium "treatment" he received at Eloise Hospital. She asks him to sit on the sidelines while she and her companions try to get the women's suffrage amendment passed by Michigan voters.
Instead, Will sets out to protect Elizabeth and prove his sanity. Will's nemesis, Sapphira Xanakis, contacts him with news of a conspiracy to defeat the amendment, led by Andrew Murphy, head of the Michigan Licensed Beverage Association. Against his better judgment, Will believes she is trying to help. The man she directs him to dies under suspicious circumstances. An old acquaintance of Will's, who is working for the MLBA, is shot and killed in front of him. Still, no one believes Will, including his former ally, Detective Riordan, who not only is unwilling to help, but seems to have secrets of his own.
With new death threats against Elizabeth and the next rally only a few days away, Will has to unravel a complicated tapestry of blackmail, double-dealing, conspiracy, and murder before the killer has his next chance to strike. Johnson's immaculate plotting and high-tension writing make for a spellbinding read set in early twentieth-century Detroit.
About the Author
D.E. JOHNSON is the author of The Detroit Electric Scheme, Motor City Shakedown, and Detroit Breakdown. He lives near Kalamazoo, Michigan.
Praise For Detroit Shuffle…
Praise for D. E. Johnson:
Detroit Shuffle:
"Johnson does for early 20th-century Detroit what James Ellroy did for 1950s Los Angeles, creating a noxious brew of violence and corruption in his fourth novel...The complex plot works, and the detection and action scenes combine for a thrilling read—the series' best so far."—Publishers Weekly (starred and boxed review)
"Will's fourth is his best outing yet, packed with action by turns funny and chilling and deftly blended with the historical background."—
Kirkus Reviews
(starred review)"
Detroit Shuffle
is the very best kind of amateur detective novel - a complex weave of disparate but interrelated threads that advance then double back on each other in ways that would make a Flemish tapestry artist envious....exquisitely laid out amid sumptuous descriptions of a time and a city so alive and vital as to leap off the page and embrace the reader in its grand exuberance. [Johnson] is indeed a master at establishing a finely tuned tempo, holding a reader just breathless enough to keep turning page after page. With all its mystery, thrills, moral, ethical and emotional dilemmas... to say nothing of Johnson's literary chiaroscuro, this is about as good as it gets. I say, if you read only only one amateur detective novel this year, make it this one."—Bookbrowse
"Johnson's portrait of the city is vivid and engaging."—Booklist
Detroit Breakdown:
"Johnson's excellent third mystery effectively employs parallel first-person narratives to advance an investigation into a creepy murder.  Johnson makes the most of the spooky setting." --Publishers Weekly (starred review) 
 "Johnson's third chronicle of early-1900s Detroit provides a mystery with suspects aplenty and a scary portrait of life in an insane asylum."--
Kirkus Reviews
 "While exposing his characters to sadistic doctors, violent orderlies, and chaotic, frightening madness, Johnson ratchets up the tension as the killer repeatedly eludes capture. The Phantom's unmasking is such a shock that readers will wonder if Elizabeth and Will can ever recover. As suspenseful and twisted as Lehane's
Shutter Island
(2003) and Lavalle's
The Devil in Silver
(2012), this taut historical thriller is a definite winner."--
Booklist
 "Johnson's spooky third series entry ensures its place among hot new historicals. His unique take on Detroit in the early 20th century and its burgeoning automotive culture make this entry a perfect crossover selection for historical fiction buffs. The lead characters—chapters alternate between the two narrators—have a checkered and violent past that Johnson fills in nicely for new readers. Recommend for Stefanie Pintoff and Caleb Carr devotees
."--Library Journal
 "Detroit Breakdown is a powerful dark historical noir. Fast-paced from the moment Will enters the asylum, readers will be shocked by the treatment he receives. The serial killer inquiry is superb, but it is the conditions at the Eloise Insane Asylum that grips the audience as D.E. Johnson provides another superb Anderson Motor City Shakedown."--Genre Go Round Reviews
Motor City Shakedown
"The scenes of Motor City, riding high on the industrial wave, are extraordinarily vivid."--The New York Times Book Review
"Johnson's vibrant follow-up to The Detroit Electric Scheme delivers razor-sharp depictions of the Motor City. Johnson brings the turbulence and rampant corruption of the era to life through his flawed yet tenacious lead in this worthy successor to his debut."--Publishers Weekly (starred review)
"If Dennis Lehane was from Detroit, this is the book he'd write. The Motor City was once the most important city in the world, and D. E. Johnson does a masterful job at making that time and place come alive on the page. Motor City Shakedown is as hard and tough and downright noir as anything I've read in recent memory, but it's got a beating heart, too."--Steve Hamilton, Edgar Award–winning author of The Lock Artist
"Superb."--National Review
"Johnson's . . . clever weaving of history with intriguing characters makes for an exciting read."--Kirkus Reviews
The Detroit Electric Scheme
"The surprise ending leaves you gasping and shaking your head at Johnson's masterful plotting and the menacing tension that forces otherwise good characters to behave despicably. Every bit as powerful as Patricia Highsmith's Ripley series, this gem of a debut showcases an author to watch very closely."--Booklist (starred review)
"An empathetic hero and an abundance of interesting historical detail should keep readers engaged."--Kirkus Reviews
"Full of nonstop action, plot twists and turns, and great insight into the early history of the U.S. car industry, this debut is part coming-of-age tale and part historical mystery. Essential for historical fans."--Library Journal
"Absorbing."--The Seattle Times
or
Not Currently Available for Direct Purchase