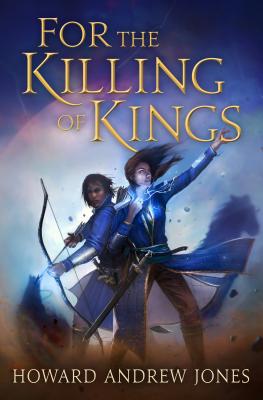 For the Killing of Kings (The Ring-Sworn Trilogy #1) (Hardcover)
St. Martin's Press, 9781250006813, 368pp.
Publication Date: February 19, 2019
* Individual store prices may vary.
Description
Howard Andrew Jones' powerful world-building brings this epic fantasy to life in For The Killing of Kings, the first book of his new adventure-filled trilogy.
Their peace was a fragile thing, but it had endured for seven years, mostly because the people of Darassus and the king of the Naor hordes believed his doom was foretold upon the edge of the great sword hung in the hall of champions. Unruly Naor clans might raid across the border, but the king himself would never lead his people to war so long as the blade remained in the hands of his enemies.
But when squire Elenai's aging mentor uncovers evidence that the sword in their hall is a forgery she's forced to flee Darassus for her life, her only ally the reckless, disillusioned Kyrkenall the archer. Framed for murder and treason, pursued by the greatest heroes of the realm, they race to recover the real sword, only to stumble into a conspiracy that leads all the way back to the Darassan queen and her secretive advisors. They must find a way to clear their names and set things right, all while dodging friends determined to kill them – and the Naor hordes, invading at last with a new and deadly weapon.
About the Author
When not helping run his small family farm or spending time with his amazing wife and children, HOWARD ANDREW JONES can be found hunched over his laptop or notebook, mumbling about flashing swords and doom-haunted towers. His novels include The Chronicles of Sword and Sand (The Desert of Souls, The Waters of Eternity, The Bones of the Old Ones) and several Pathfinders Tales.
Jones has worked variously as a TV cameraman, a book editor, a recycling consultant, and a college writing instructor. He assembled and edited 8 collections of Harold Lamb's historicals for the University of Nebraska Press, and served as Managing Editor of Black Gate. He edits the sword-and-sorcery magazine Tales From the Magician's Skull, and serves as Executive Editor of the Perilous Worlds book imprint.
Praise For For the Killing of Kings (The Ring-Sworn Trilogy #1)…
Praise for For the Killing of Kings:

"Jones's exciting epic will have readers laughing, crying, and cheering for the men and women of the Altenerai." —Publishers Weekly (starred review)
"Exciting, absorbing, and a great deal of fun...I expect to be eagerly reading the next book." —Locus
"Moves at an astounding pace, each chapter ratcheting up the suspense and the danger until everything seems ready to spin out of control. This is exciting storytelling from one of the best and most knowledgeable writers of heroic fantasy around. If you haven't yet read Jones, this is an awesome place to start." —Black Gate
"Do you ever find yourself wondering what the next blockbuster epic fantasy series will be? Howard Andrew Jones' For the Killing of Kings might be it.... This is a traditional epic fantasy with all the stops pulled out—an interesting magic system, squabbling warrior factions—but its vivid, varied characters set it apart. And Jones puts additional weight into the history just prior to the story's setting, adding mystery and depth to this perfect introduction to a new fantasy universe." —Bookpage (top pick)
"If Roger Zelazny decided to take the multi-world canvas of his Amber universe, and marry that to the sensibilities, pulse pounding action, pacing, and fun adventure of Alexandre Dumas, you would get Howard Andrew Jones' fantastic turn into adventure fantasy, For the Killing of Kings. Layered characters, action beats that jump off the page, and staking a spot in optimistic, bold, fun fantasy that is diametrically opposed to the Grimdark dominating the field, For the Killing of Kings stands out like a beacon." —Paul Weimer, Tor.com
"Jones writes well, strong prose giving a good sense of setting and able to stir emotions without ever getting itself noticed.... but the real strength of the book is simply that it is fun to read." —Mark Lawrence, author of the Book of the Ancestor series
"For the Killing of Kings is a fast-paced adventure combined with an engrossing mystery, all set in a unique and original fantasy world. I can't wait to find out what happens next!" — Martha Wells, Hugo-award winning author of The Murderbot Diaries
"Howard Andrew Jones, an aficionado nonpareil of heroic adventure, has surpassed himself. For the Killing of Kings is the opening salvo of a thrilling epic set in a world that only he could envision: a thunderous, sword-clanging treat." — Ian Tregillis, author of The Mechanical

"A fantastic adventure! Wit and mystery abound in this fast-paced epic across a stunning new world." — S.A. Chakraborty, author of City of Brass
"Honor pushed out of fashion by fanaticism, honest talent diverted by tyranny, monsters at every border, deceit guiding all: For the Killing of Kings is a fantasy for our times, with a sword at its backbone but humans at its heart. World-building shines out of every ritual, in fragments of poetry and lines of plays. There are strong women on practically every page, strong friendships, plenty of warriors and mages, fight scenes galore, and a sense of playfulness to parry each stroke of solemnity. Reading Howard Andrew Jones is like opening a present from a friend who keeps promising, with a cheeky grin: "This is my best one yet." And it's always true." — C. S. E. Cooney, World Fantasy Award-winning author of Bone Swans
"For the Killing of Kings is a fast, fun swords and sorcery tale in the grand style, but updated for a modern reader. Magic, mayhem, betrayal, reversal, sword fights, court intrigue—this book hits all the right notes and has a great time doing it. Jones' Altenerai are a great addition to the heroic tradition—imagine Mercedes Lackey's heralds recruited from a bar in Fritz Leiber's ?Lankhmar and you'll get something of their flavor. If you enjoy my Fallen Blade books you will find a lot to like in this novel." — Kelly McCullough, author of the Fallen Blade and WebMage series
"For the Killing of Kings is set in a sumptuously detailed world and combines mystery, intrigue, fast-paced action, and magic that comes vividly to life for a true sense of wonder." — Ilana C. Meyer, author of Fire Dance
"For The Killing of Kings is a white knuckle murder mystery brilliantly set in a Zelazny-esque fantasy landscape. It has everything — enchanted blades, magic rings, edge-of-your seat sword fights, Game of Thrones-scales battles, ancient legends… It is the finest fantasy novel I have read in years." — John O'Neill, World Fantasy Award winning author
"Where do I begin with For the Killing of Kings? Do I start with my impressions of the central murder mystery, which unfolds to fascinating and devastating effect? Do I go on about the two central characters, a grizzled drunk and a bright-eyed but promising recruit, who play foil to one another beautifully? Perhaps I could mention the way it tips its hat to Arthurian legend without becoming beholden to it, and how it put a smile on my face. I might even touch on how deftly the world was revealed, layer after mesmerizing layer. In the end, though, I suppose what matters most is the experience. What you have in Howard Andrew Jones' latest novel is a story that entrances, that draws you deep into its pages, that cradles you on a journey as rewarding as it is intriguing. Readers who crave rich, immersive tales will not be disappointed." —Brad Beaulieu, author of Twelve Kings in Sharakai