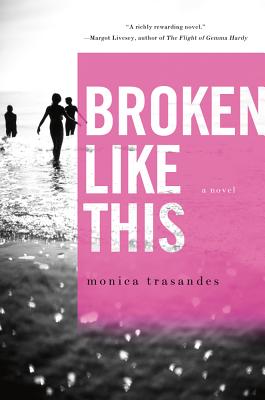 Broken Like This (Hardcover)
Thomas Dunne Books, 9781250006837, 328pp.
Publication Date: November 27, 2012
* Individual store prices may vary.
Description
"Trasandes eloquently renders the passionate and heartrending love story...it's rare to root for all sides of a love triangle, but the author's depth of insight into her characters makes this a wonderfully accomplished first novel." "Publisher's Weekly"
An unforgettably haunting novel intertwining stories reveal how a man and a woman fall in love with the same extraordinary person
"Broken Like This" by Monica Trasandes is the saga of Kate Harrington who for the past fifteen years has been the muse, provocateur and lodestone in the lives of Louis Ross and Angela Agnelli. After a car accident in Ibiza, Kate lies comatose and is, unbeknownst to anyone, two months pregnant. Angela and Louis both fly to her side, as does Kate's step-father, who's been a dark presence in all of their lives for many years. Told in present day and breathtaking flashbacks, by turns bittersweet and brutally honest this is a remarkable debut.
What begins as an evocative story of love and identity evolves, faster and faster, into a high-scale drama with a conclusion that is truly heartrending. From sunny, Southern California to the sweaty, musical streets of Brazil; from a garden in Boston to a rooftop in Brooklyn "Broken Like This" is a rare novel that captures the utter joy felt when meeting that person whose energy and passion will shape your life forever.
About the Author
MONICA TRASANDES was born in Uruguay and raised in San Diego, California. Her fiction has appeared in literary journals, and three stories have been anthologized. She now works as the Director of Spanish-Language Media for GLAAD, and lives in Los Angeles with partner, Valda, and writes novels and plays.
Praise For Broken Like This…
"In Monica Trasandes's gifted hands a terrible accident becomes a wonderful opportunity to explore the intricate lives of her three main characters.  As this sparkling novel moves effortlessly between present and past, America and Ibiza, we gradually learn how Angela, Louis and Kate have come together and missed each other over and over.  The urgent question of whether they will do so again drives the novel to its suspenseful, and heartbreaking, climax.  Broken Like This is a richly rewarding novel."--Margot Livesey author of The Flight of Gemma Hardy
"With remarkable sweep and detail, Monica Trasandes deftly explores the shifting boundaries between love and friendship in their many forms. Broken Like This is complex, thrilling, and beautifully written."--Matthew Gallaway, author of The Metropolis Case
"Right from its gripping opening scene, Monica Trasandes's debut novel is a potent cocktail of languor and urgency.
Like Kate, Louis, and Angela--who seek love, redemption, and one another—Broken Like This is savvy, compassionate, and unforgettable."--Michelle Wildgen, senior editor, Tin House, author of You're Not You and But Not For Long
"Broken Like This is an unflinching and tender story of triangulated love; Trasandes offers a wise, beautifully-rendered inquiry into how love unhinges, sustains, and remaps our very souls."--Tara Ison, author of The List
"An engaging and impressively rangy first novel about how longing for a beautiful yet elusive young woman transforms the lives of two of her lovers. In locales as far-reaching as Los Angeles and Ibiza and Brooklyn, Monica Trasandes renders something universal: the changeable chemistry of romance and the warping effects of hidden desire. A memorable debut."--Ralph Sassone, author of The Intimates
"An evocative and heartbreaking story of modern love."--Sarah Winman, 2011 Galaxy National Book Award-winner for When God was a Rabbit
 "Set in California and Spain, Broken Like This is about the intimacy of friendship and love. It is a novel that is timeless in the questions that it raises about family, timely in the ways that it seeks to redefine family. Ultimately, the power of this book is its ability to embrace paradox, to prove that one person can love two people; that past and present do co-exist; that a book can be both riveting and relentless, tender and transformative."—Lori Ostlund, author of The Bigness of the World, Winner of the 79th California Book Award for First Fiction and the Edmund White Debut Fiction Award
"Monica Trasandes's novel about the delicate dance between loneliness and love takes the reader from California to Brooklyn to Brazil, but its true destination is the human heart. An enthralling and beguiling debut."--Jon Michaud, author of When Tito Loved Clara
or
Not Currently Available for Direct Purchase