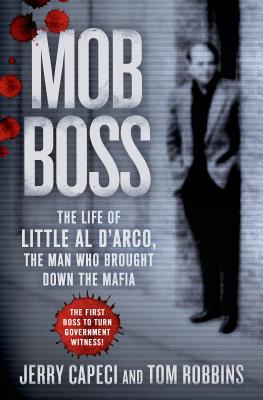 Mob Boss
The Life of Little Al D'Arco, the Man Who Brought Down the Mafia
Hardcover

* Individual store prices may vary.
Other Editions of This Title:
Mass Market (3/3/2015)
MP3 CD (11/19/2013)
Compact Disc (11/19/2013)
Hardcover, Large Print (2/26/2014)
MP3 CD (11/19/2013)
Compact Disc (11/19/2013)
Description
Reminiscent of Wiseguy, Mob Boss is a compelling biography from two prominent mob experts recounting the life and times of the first acting boss of an American Mafia family to turn government witness

Alfonso "Little Al" D'Arco, the former acting boss of the Luchese crime family, was the highest-ranking mobster to ever turn government witness when he flipped in 1991. His decision to flip prompted many others to make the same choice, including John Gotti's top aide, Salvatore "Sammy the Bull" Gravano, and his testimony sent more than fifty mobsters to prison.

In Mob Boss, award-winning news reporters Jerry Capeci and Tom Robbins team up for this unparalleled account of D'Arco's life and the New York mob scene that he embraced for four decades.

Until the day he switched sides, D'Arco lived and breathed the old-school gangster lessons he learned growing up in Brooklyn and fine-tuned on the mean streets of Little Italy. But when he learned he was marked to be whacked, D'Arco quit the mob. His defection decimated his crime family and opened a window on mob secrets going back a hundred years.

After speaking with D'Arco, the authors reveal unprecedented insights, exposing shocking secrets and troublesome truths about a city where a famous pizza parlor doubled as a Mafia center for multi-million-dollar heroin deals, where hit men carried out murders dressed as women, and where kidnapping a celebrity newsman's son was deemed appropriate revenge for the father's satirical novel.

Capeci and Robbins spent hundreds of hours in conversation with D'Arco, and exhausted many hours more fleshing out his stories in this riveting narrative that takes readers behind the famous witness testimony for a comprehensive look at the Mafia in New York City.
Praise For Mob Boss: The Life of Little Al D'Arco, the Man Who Brought Down the Mafia…
"A gripping, novelistic biography...the authors score a bull's eye." —New York Times

"For authors Jerry Capeci and Tom Robbins, the long road to their fascinating new book about mafia boss Alfonso D'Arco, who became the federal government's most successful cooperator, began a decade ago." —Village Voice

"A raw and fascinating account of one mobster's daily activities and career." —Kirkus Reviews

"This gripping biography [is] recommended to fans of Nicholas Pileggi's Wise Guy (1986), Philip Carlo's Gaspipe (2008), or coauthor Capeci's own Gotti: Rise and Fall (1996)." —Booklist

"Just a superb book. This is a powerful addition to the true history of the United States. Through hard, relentless reporting, Capeci and Robbins strip away the dark glamor and wormy movie myths about the American Mob and come as close to the truth as any outsiders might ever get. It's a dirty story about corruption and brutal power. The authors take us to many dirty places in our politics, trade unions, and ideals, and make clear that Mob power was too often enforced through a bullet in the skull. They also narrate the squalid tale of how Mob power declined and fell. The soundtrack for the dying version of the Mob was usually loud with the squealing of rats." —Pete Hamill, New York Times bestselling author of Forever and North River

"Tom Robbins and Jerry Capeci have written a fascinating, inside look at the mob, in this biography of a major mafia boss who turned government witness once the knives were out for him. Even mob cognoscenti will learn all sorts of things they never suspected. By turns horrifying, suspenseful, and darkly hilarious, Mob Boss is a terrific read." —Kevin Baker, author of The Big Crowd

"If you read one book about the decline and fall of the mafia in America, let it be Mob Boss. Capeci and Robbins, two first-rate reporters at the top of their game, present an unforgettable portrait of Little Al D'Arco, who presided over the last big mafia war in New York, then took the stand in court to once and for all obliterate the Honored Society. An astounding read that belongs in the upper tier of organized crime literature." —T.J. English, author of The Savage City and Havana Nocturne

"Al D'Arco loved two things: His wife and his gangster life, not necessarily in that order. This book makes me wish I'd known him better. This is a genuinely great mob story about a genuine New York gangster told by two of the city's best reporters." —Jimmy Breslin, author of The Good Rat and The Gang That Couldn't Shoot Straight

"This is the dramatic story of the most important mobster to testify against the Mafia since Joe Valachi, as told by two of New York's top investigative reporters. This is a must-read for anyone concerned about the connection between organized crime and labor racketeering." —Robert M. Morgenthau, longest serving Manhattan District Attorney

"Al D'Arco was the quintessential wiseguy – and the mob's worst nightmare. Capeci and Robbins have used Little Al's incredible insight about 'The Life' and their own reporting skills to write a compelling book about the rise and decline of the American Mafia, from the days of Al Capone and Lucky Luciano to the heyday of Chin Gigante and John Gotti. It's a true crime story that reads like a novel." —Nicholas Pileggi, author of Wiseguy and Casino

"Little Al D'Arco had to choose between which family he would forsake. The mob family he commanded as boss, or his own family, including the son who had succumbed to the very drugs the mob helped move onto the streets. When D'Arco made his choice, it shocked Cosa Nostra to its core. Never before had the "Boss" of a mob family decided to break the "code of omerta". The secrets that "Little Al" could reveal were not just the secrets of the Luchese Crime Family--he knew the secrets of the bosses of all the families. No two reporters have ever navigated the secret world of the Mafia more adeptly than Jerry Capeci and Tom Robbins. This book is their masterpiece." —John Miller, senior correspondent at CBS News and former deputy in FBI and NYPD

"Not since Abe Reles first identified Murder Inc. before dropping to his death from the Half Moon Hotel has someone 'in the life' made such a gift to law enforcement as when Little Al D'Arco called the FBI to keep his real family safe from the criminal one in which he'd served as boss. This account treats its subject as an entirely believable human being, and not just a figure out of bloody folklore. Only a few Mob books achieve that. Capeci and Robbins have told D'Arco's story but in their own way. Well done." —Nathan Ward, author of Dark Harbor: The War For the New York Waterfront
Thomas Dunne Books, 9781250006868, 432pp.
Publication Date: October 1, 2013
About the Author
JERRY CAPECI is a New York-based news reporter, columnist, author and recognized expert on the American Mafia. He has written six true-crime mob books and has penned a weekly online column about the Mafia, ganglandnews.com, since 1996.

TOM ROBBINS has covered crime and politics in New York for more than thirty years as a reporter and columnist for the New York Daily News, New York Observer, and Village Voice. He is the co-author of Mob Boss. He now teaches investigative reporting at the CUNY Graduate School of Journalism.
or
Not Currently Available for Direct Purchase