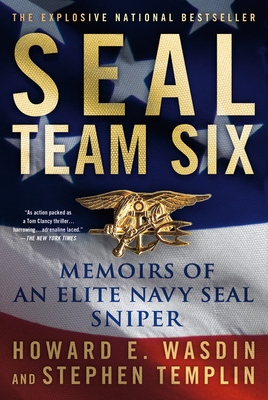 Seal Team Six: Memoirs of an Elite Navy Seal Sniper (Paperback)
Memoirs of an Elite Navy Seal Sniper
Griffin, 9781250006950, 331pp.
Publication Date: April 24, 2012
Description
A "New York Times" Best seller

When the Navy sends their elite, they send the SEALs. When the SEALs send their elite, they send SEAL Team Six.
In this dramatic, behind-the-scenes chronicle, Howard E. Wasdin takes readers deep inside the world of Navy SEALS and Special Forces snipers, beginning with the grueling selection process of Basic Underwater Demolition/SEAL (BUD/S) the toughest and longest military training in the world. After graduating, Wasdin saw combat in Operation Desert Storm as a member of SEAL Team Two. Then the Green Course: the selection process to join the legendary SEAL Team Six--a secret unit tasked with counterterrorism, hostage rescue, and counterinsurgency. As a member of Team Six, sniper school followed and Wasdin became one of the best snipers on the planet.
Soon he was fighting for his life. The mission: capture or kill Somalian warlord Mohamed Farrah Aidid. From rooftops, helicopters, and alleys, Wasdin hunted Aidid and killed his men whenever possible. But everything went quickly to hell. The Battle of Mogadishu, as it become known, left eighteen American soldiers dead and seventy-three wounded. Wasdin's tale is one of the most thrilling and inspiring military memoirs in years.
About the Author
HOWARD E. WASDIN graduated with BUD/S Class 143. After the Battle of Mogadishu, where he was awarded the Silver Star, Wasdin medically retired from the Navy in November, 1995, after twelve years of service. He lives in Georgia. STEPHEN TEMPLIN completed Hell Week, qualified as a pistol and rifle expert, and blew things up during Basic Underwater Demolition/SEAL (BUD/S) training. He is now an associate professor at Meio University in Japan.
Praise For Seal Team Six: Memoirs of an Elite Navy Seal Sniper…
"As action packed as a Tom Clancy thriller…harrowing...adrenaline-laced." —Michiko Kakutani, The New York Times
"SEAL Team Six pulses with the grit of a Jerry Bruckheimer production...On his journey to becoming a member of the Navy's best of the best, Wasdin proved his mettle in Operation Desert Storm and endured training that would break the back of most mortal men." --The Washington Post
"Describes the harrowing ops he undertook as part of the elite Seal Team Six squadron, including the 1993 Battle of Mogadishu that almost killed him....reveals an intimate look at the rigorous training and perilous missions of the best of the Navy's best." —Time
"SEAL Team Six is a masterful blend of one man's—Waz-Man's—journey from hard knocks to hard corps. Even better, Waz-Man and Templin can actually write as good as they can shoot. They capture your attention at every turn." —Dalton Fury, former Delta Force Commander and New York Times bestselling author of Black Site and Kill Bin Laden
"Wasdin is a true warrior and real hero. SEAL Team Six is a must-read." —Gunnery Sgt. Jack Coughlin, USMC, bestselling author of Shooter
Advertisement