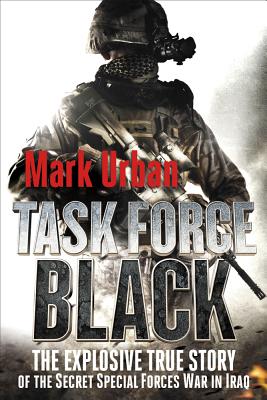 Task Force Black
The Explosive True Story of the Secret Special Forces War in Iraq
Paperback

* Individual store prices may vary.
Description
The true story of one of the most dramatic and sustained special operations in military history

When American and British forces invaded Iraq in March 2003, select teams of special forces and intelligence operatives got to work looking for the WMD their governments had promised were there. They quickly realized no such weapons existed. Instead they faced an insurgency—a soaring spiral of extremism and violence that was almost impossible to understand, let alone reverse.

Facing defeat, the Coalition waged a hidden war within a war. Major-General Stan McChrystal devised a campaign fusing special forces, aircraft, and the latest surveillance technology with the aim of taking down the enemy faster than it could regenerate. Guided by intelligence, British and American special forces conducted a relentless onslaught, night after night targeting al-Qaeda and other insurgent groups.

In Task Force Black, author Mark Urban reveals not only the intensity of the secret fight that turned the tide in Baghdad but the rivalries and personal battles that had to be overcome along the way. Incisive, dramatic, exceptionally revealing, the war in Iraq cannot be understood without this book.
Praise For Task Force Black: The Explosive True Story of the Secret Special Forces War in Iraq…
"This is an essential record of a remarkable military period. Too often Special Forces operations are shrouded in uncontextual mystery, rendering many works about them speculative homoerotic hagiographies. Urban is immune to such nonsense." —Sam Kiley, The Times (London)

"Urban's book catches the tensions which surfaced between various branches of the military and government departments.... what it does do is give human faces to a bunch of remarkable men." —The Independent
St. Martin's Griffin, 9781250006967, 336pp.
Publication Date: June 5, 2012
About the Author
Mark Urban is Diplomatic and Defense Editor of the BBC's Newsnight. He has covered many of the world's conflicts during the past twenty-five years, including the Iraq campaign that began in 2003. He lives in London.