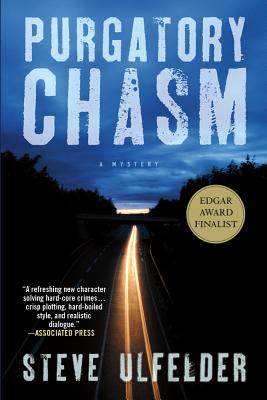 Purgatory Chasm
A Mystery (A Conway Sax Mystery #1)
Paperback

* Individual store prices may vary.
Other Editions of This Title:
Hardcover (5/10/2011)
Description
*Nominated for the Edgar Award for Best First Novel
*Winner of the Reviewer's Choice Award from RT BookReviews for Best First Mystery of 2011
"Tander Phigg was a real jerk, but he was also a Barnburner. Barnburners saved my life. I help them when I can. No exceptions."
"A refreshing new character solving hardcore crimes…. crisp plotting, hard-boiled style and realistic dialogue." —Associated Press
"Combines elements of the thriller with tales of tangled families. Violence runs through the novel, but Ulfelder tempers it with compassion — and evocative prose. Purgatory Chasm may be hardboiled, but it's heart-wrenching, too." –Richmond Times-Dispatch
"Working throughout is the edgy, self-effacing voice of a flawed main character, a good guy with plenty of baggage who's just trying stay alive and to get it right this time." –The Boston Globe
The job seems simple. Conway Sax, a no-nonsense auto mechanic with a knack for solving difficult problems, has never liked Tander Phigg. But Tander's a Barnburner, a member of the unique AA group that rescued Conway, and when a Barnburner has a problem, Conway takes care of it. Besides, all Tander wants is to get back his vintage Mercedes from a shady auto shop. But Conway soon discovers there's much more to the problem–especially when Tander turns up dead. Conway was the last person seen with the victim, and on top of that, he has a record. He must catch the killer to clear himself, but he's also a man who honors his promises, even when the guy he made them to is dead. In the tradition of Robert B. Parker and Dennis Lehane, Steve Ulfelder's crackling debut mystery features a gritty, razor-sharp new voice in crime fiction that will stay with you long after the last page.
Praise For Purgatory Chasm: A Mystery (A Conway Sax Mystery #1)…
"Conway Sax is a has-been racing driver, an ace auto mechanic, a recovering alcoholic and a refreshing new character solving hardcore crimes….Non-racing and non-car fans will appreciate [Ulfelder's] hero as well as his crisp plotting, hard-boiled style and realistic dialogue. In his debut novel, Ulfelder deftly solves a mystery, and explores how family ties are established and what they mean." —Associated Press
"The redemption that every flawed person tries to find in life enhances the complex plot that percolates in former journalist Steve Ulfelder's exciting mystery fiction debut. And Purgatory Chasm is certainly loaded with myriad flawed characters and their avenues to redemption, starting with Conway Sax… Purgatory Chasm moves at a brisk clip as Ulfelder smoothly steers his plot from one hairpin twist to the next. Ulfelder… adds just enough automobiles lore to spice Purgatory Chasm, but not overwhelm it. Ulfelder brings a gritty, uncompromising view to his hard-boiled debut. At the same time, the author makes Conway both tough and vulnerable, a man who has made too many mistakes in his life and, unfortunately, will make even more. Purgatory Chasm is a superb beginning for an author who shows much promise." —South Florida Sun-Sentinel
"Ulfelder's debut combines elements of the thriller with tales of tangled families. Violence runs through the novel, but Ulfelder tempers it with compassion — and evocative prose. Purgatory Chasm may be hardboiled, but it's heart-wrenching, too." —Richmond Times-Dispatch
"A gritty razor sharp new voice in crime fiction." —The Keene Sentinel
"Ulfelder couples precise, evocative prose with an original private investigator in his compelling hard-boiled debut…. Ulfelder smoothly navigates the many plot twists, and effortlessly introduces wrinkles in his protagonist's backstory that enhance the character. Fans of Michael Koryta's PI crime novels will find a lot to like." —Publishers Weekly, starred review
"Conway is one of those tough but tender, emotionally damaged protagonists that calls out to certain mystery readers.... Ulfelder's first novel gets a thumbs up." —Booklist
"A promising debut… with one of the funniest, punchiest, most memorable -- and for this paper unprintable--first sentences in recent murder mysteries." —MetroWest Daily News
"Purgatory Chasm is Ulfelder's first novel, but he clearly has the ability to get inside the minds of his multi-faceted characters and bring out their best and worst. His casual style moves the reader along at a rapid pace that fits perfectly with the theme of automobiles and racing. Even though I am not an auto racing enthusiast and can't even change a tire, I found myself caught up in the story. Ulfelder has created Sax as a flawed human being with a sense of integrity and honor. I look forward to more of his novels." —Suspense Magazine
"Ulfelder's debut grabs you from its wryly hilarious opening line and keeps going full throttle till the finale. His characters are deep and realistically rendered – sometimes painfully so – and the broken family dynamics are right on the money. Ulfelder writes so well that even non-NASCAR fanatics will get something out of the car talk and racing scenes. Can't wait for book two!" —RT Book Reviews, Top pick, 4 ½ stars
"This outstanding debut by a former journalist and racing enthusiast is gritty and fast-paced, with an intriguing plot and believable characters. Ulfelder has introduced a solid new protagonist, and the many race car anecdotes add to the novel's allure. It will appeal strongly to readers of Loren D. Estleman and Ross MacDonald and those who enjoy hard-boiled detective mysteries." —Library Journal, starred review
"Fathers and sons, American style…. The protagonist is… strong, engaging and fully realized… A promising debut." —Kirkus
"If Chuck Norris had a problem, he'd call Conway Sax." —bestdamncreativewritingblog.com
"Purgatory Chasm is one of those books I had a hard time putting down. It grabbed me with the first line and I had to keep reading to find out what kind of trouble Conway was going to get into next. And there was plenty of trouble. There were loads of twists and turns and an ending I didn't see coming. I thought about it long after I finished the book. Every character was well-drawn and compelling. Conway is a guy you just have to root for. His friend, Randall--an Iraq war veteran with a prosthetic leg--is Conway's conscience and tries to keep him on the straight and narrow. Charlene is Conway's on-and-off girlfriend. She's been disappointed by him several times, but somehow their relationship survives. I especially liked the relationship between Charlene's daughter and Conway. Even minor characters who only make one-time appearances are interesting. If you like P.I. novels with lots of action, compelling characters, and an ending that will blow you away, Purgatory Chasm is definitely a book you need to pick up." —workingstiffs.blogspot.com
"Sax is a very likable character, even if he feels obligated to sometimes do questionable things for the Barnburners to repay them for saving his life... Ulfelder writes some devastating scenes, made more so because of things that aren't said. We hurt more for Sax because he's not openly sentimental; we fill in the blanks when he doesn't show us his feelings. But show Ulfelder does, instead of telling, and for that I'm glad I came along for the ride." —popculturenerd.com
"Genuine characters and intense action--a serious crime novel with serious edge." —Patrick Lee, New York Times bestselling author of The Breach
"The story is suspenseful and original, the characters are well-drawn, and the dialogue crackles. The fact is, Steve Ulfelder can really write, and Purgatory Chasm is a remarkably strong debut. I look forward to his next book." —Bruce DeSilva, Edgar Award-winning author of Rogue Island
"Purgatory Chasm grabs you at the gate and doesn't let go, careening through a top-notch whodunit to an ending you don't see coming. A debut this good makes you wonder what Ulfelder's holding back for the next race." —Sophie Littlefield, Edgar Award-nominated author of A Bad Day for Sorry
"Holds a hot, ominous idle just until Ulfelder engages gears and hits the gas, pinning you back against the seat, hopeless to leave before the end of the ride. One of those rare debuts that leaves you immediately eager to see what is next." —Michael Koryta, award-winning author of The Silent Hour and The Cypress House
"A thrilling new talent in crime fiction, Steve Ulfelder has written a debut that crackles with hard-boiled wit and white-knuckled action. Conway Sax will stay with you long after the final page releases you from its grip." —Norb Vonnegut, author of The Gods of Greenwich
"Ulfelder's voice makes the tale as powerful and true as rocketing down the back straight at Martinsville Speedway. He's given us living proof that scars are sometimes the only legacy we can pass down from one generation to the next." —Louise Ure, Shamus Award winning author of Liar's Anonymous
"A highly enjoyable journey of one man's quest to hold his end of the bargain – with the help of a few friends. The narrative is slick and Purgatory Chasm is a very quick read, one thing it certainly did was hold my attention effortlessly throughout." —milorambles.com
"If you enjoy novels about bad boy anti-heroes, Purgatory Chasm is well-written, richly plotted and a lot of fun. Recommended." —Libdrone.info
"Purgatory Chasm is a hardboiled, fast-paced novel. It's an action-packed, solid debut, worthy of an Edgar nomination. Steve Ulfelder deserves kudos for the story. Most of all, he deserves kudos for the creation of Conway Sax, a memorable character." —lesasbookcritiques.blogspot.com
"While searching Tander's past for motives for his murder, Conway uncovers uncomfortable secrets and betrayals — hidden truths that force him to reexamine the turbulent relationship with his own father. This powerful debut thriller featuring a unique protagonist is a finalist for the 2012 Anthony and Edgar Awards for Best First Novel." —stopyourekillingme.com
Minotaur Books, 9781250007025, 304pp.
Publication Date: April 24, 2012
About the Author
STEVE ULFELDER, author of the Conway Sax mysteries, is an amateur race driver and co-owner of Flatout Motorsports, a Massachusetts company that builds race cars. He was a business and technology journalist for 20 years.  His first novel, Purgatory Chasm, was an Edgar Award Finalist.