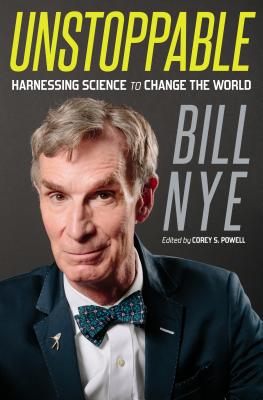 Unstoppable
Harnessing Science to Change the World
Hardcover

* Individual store prices may vary.
Other Editions of This Title:
Digital Audiobook (11/9/2015)
Paperback (10/18/2016)
Description
Just as World War II called an earlier generation to greatness, so the climate crisis is calling today's rising youth to action: to create a better future.

In UNSTOPPABLE, Bill Nye crystallizes and expands the message for which he is best known and beloved. That message is that with a combination of optimism and scientific curiosity, all obstacles become opportunities, and the possibilities of our world become limitless. With a scientist's thirst for knowledge and an engineer's vision of what can be, Bill Nye sees today's environmental issues not as insurmountable, depressing problems but as chances for our society to rise to the challenge and create a cleaner, healthier, smarter world. We need not accept that transportation consumes half our energy, and that two-thirds of the energy you put into your car is immediately thrown away out the tailpipe. We need not accept that dangerous emissions are the price we must pay for a vibrant economy and a comfortable life. Above all, we need not accept that we will leave our children a planet that is dirty, overheated, and depleted of resources. As Bill shares his vision, he debunks some of the most persistent myths and misunderstandings about global warming. When you are done reading, you'll be enlightened and empowered. Chances are, you'll be smiling, too, ready to join Bill and change the world.

In Unstoppable: Harnessing Science to Change the World, the New York Times bestselling author of Undeniable: Evolution and the Science of Creation and former host of "Bill Nye the Science Guy" issues a new challenge to today's generation: to make a cleaner, more efficient, and happier world.


Praise for UNDENIABLE:

"With his charming, breezy, narrative style, Bill empowers the reader to see the natural world as it is, not as some would wish it to be. He does it right. And, as I expected, he does it best." -Neil deGrasse Tyson, Ph.D, host of COSMOS

"Bill Nye, 'the Science Guy,' has become a veritable cultural icon....[T]he title of his new book on evolution...[is] 'Undeniable,' because, yes, there are many Americans who still deny what Darwin and other scientists long ago proved." -Frank Bruni, The New York Times

"With a jaunty bow tie and boyish enthusiasm, Bill Nye the Science Guy has spent decades decoding scientific topics, from germs to volcanoes, for television audiences....In his new book, Nye delights in how [evolution] helps to unlock the mysteries of everything from bumblebees to human origins to our place in the universe." -National Geographic

"When it comes to Bill Nye, 'Science Guy' doesn't even begin to cover it. When he's not being summoned to act as a voice of reason for news outlets or leading meetings as CEO of the Planetary Society, he is living the life of a best-selling author....His recently published book, 'Undeniable: Evolution and the Science of Creation,' enlightens readers while using a conversational, educational tone. After all, it's his ability to break down even the most complicated topics into bite-size pieces that made him such a hit on his '90s children's show 'Bill Nye, the Science Guy.'" -The Boston Globe

"Mr. Nye writes briskly and accessibly...[and] makes an eloquent case for evolution."-The Wall Street Journal

"Because [Bill Nye is] a scientist, he has no doubts that the 'deniers' of evolution are flat wrong. And because he's a performer, his book is fun to read and easy to absorb." -The Washington Post

"Ignite your inner scientist when Nye, known for delivering geeky intel with clarity and charm, takes on one of society's most hotly debated topics (yes, still)." -Time Out New York
Praise For Unstoppable: Harnessing Science to Change the World…
"A compelling and enjoyable read." —Chemistry World Magazine
St. Martin's Press, 9781250007148, 352pp.
Publication Date: November 10, 2015
About the Author
Bill Nye is a scientist, engineer, comedian, and inventor. He has a BS in Mechanical Engineering from Cornell University where he studied under Carl Sagan, and worked on the 747 as an engineer at Boeing before creating and hosting his much-loved Emmy award-winning PBS/Discovery Channel show Bill Nye the Science Guy. He holds six Honorary Doctorate degrees from Lehigh University, Willamette University, Quinnipiac University, Rensselaer Polytechnic Institute, Goucher College, and Johns Hopkins, and teaches at Cornell regularly as a visiting professor.

Corey S. Powell is the former editor in chief of American Scientist and Discover, where he is currently editor at large and continues to write the "Out There" column and blog. He is also a visiting scholar at NYU's SHERP science journalism program, as well as a freelance writer for Popular Science, Smithsonian, Nautilus, and Aeon; his article "The Madness of the Planets" appears in The Best American Science and Nature Writing 2014. He lives in Brooklyn with his wife, two daughters, and a small collection of Permian-era fossils. He has collaborated with Bill Nye on Undeniable and Unstoppable.
or
Not Currently Available for Direct Purchase