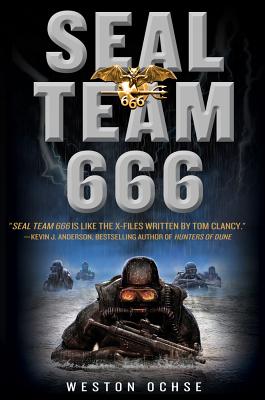 SEAL Team 666 (Hardcover)
A Novel
Thomas Dunne Books, 9781250007353, 320pp.
Publication Date: November 27, 2012
Other Editions of This Title:
Compact Disc (11/27/2012)
Compact Disc (11/27/2012)
MP3 CD (11/27/2012)
Other (1/1/2013)
* Individual store prices may vary.
Description
WINNER OF THE "FICTION - ADVENTURE OR DRAMA" AWARD FROM THE NEW MEXICO-ARIZONA BOOK AWARDS
Weston Ochse's SEAL Team 666 follows Cadet Jack Walker. Halfway through SEAL training, he's still green but showing incredible promise when he's whisked away to join four SEALs—and their dog—for a special ops mission. Walker soon finds himself in a whirlwind of otherworldly creatures and events as he finds out the true nature of this "special ops" team: SEAL Team 666. Battling demons, possessed humans, mass-murdering cults, and evil in its most dark and primeval form, SEAL Team 666 has their work cut out for them. And it's not long before they realize that the threat isn't just directed against the U.S.—an ancient and deadly cult has bigger plans, and Walker is at the center of a supernatural conflict with the entire world at stake.
About the Author
WESTON OCHSE (pronounced 'oaks') has won the Bram Stoker Award and been nominated for the Pushcart Prize. In addition to his previous SEAL Team 666 novels, his work has appeared in comic books and magazines such as Cemetery Dance and Soldier of Fortune. He is a retired U.S. Army intelligence officer and current intelligence officer for the Defense Intelligence Agency.  He lives in Arizona within shouting distance of the International Border.
Praise For SEAL Team 666: A Novel…
"SEAL Team 6, the real-life elite team that killed Osama bin Laden, has never seen the kinds of things that confront its fictional counterpart." —Kirkus Reviews
"A fan of Tom Clancy-ish military thrillers would be as engrossed in this book as a fan of Jim Butcher's novels about Harry Dresden." —CriminalElement.com
"Even the supernatural has its own division of terrorist. Thank goodness we have our defenders - SEAL Team 666." —Joe R. Lansdale
"Weston Ochse has always been a wised-up, clued-in, completely trustworthy writer of high-action fiction that deserved a wider audience, and SEAL Team 666 is his breakthrough book. Here, every story-line is as taut as a gunfighter's nerves, and individual scenes pop like firecrackers. I raced through this novel and when it ended, I wanted more." —Peter Straub, New York Times bestselling author of In the Night Room
"SEAL Team 666 is like X-Files and Torchwood written by Tom Clancy: ingenious, creepy, and entertaining." —Kevin J. Anderson, #1 international bestselling author of Death Warmed Over
"A wild blend of nail-biting thriller action and out-of-the shadows horror. This is the supernatural thriller at its most dynamic. Perfect!" —Jonathan Maberry, NY Times bestselling author of Dead of Night and The King of Plagues
"What we have here is a massively exciting and fast paced story that really flies along at a cracking pace. In fact, I would even say it doesn't even give the reader a chance to breathe, instead it makes them turn page after page to see what is going to happen next." —Curiosity of a Social Misfit
"An action packed and well written first story in what I see becoming a great and popular series; which has a strong lead in the form of Jack Walker. Seal Team 666 has enough military jargon and weaponry to keep military lovers happy and enough horrible creatures and gruesome deaths to keep fans of the supernatural happy. Plus, I'm really excited to see which new creatures Ochse throws our heroes way in the next books." —Nerd Like You
"All in all what you have here is a multi-genre horror/military fiction with very likable characters, a strong mythology, and a giant pile of source material for further stories. That I would definitely read." —Following The Nerd
"The action is heavy and the violence extreme as the team battles monsters and man yet Weston Ochse is a strong enough author that he does not have to rely on gore to keep the reader's attention. His military background shows as well as the way his characters act in combat is very believable." —The Examiner (UK)
"SEAL Team 666 affords the same pleasures as Jonathan Maberry's Joe Ledger series or Christopher Farnsworth's Blood Oath and its sequels: namely seeing supernatural beasties receive a good old military-grade beating…. Ochse's army background lends authenticity to this snappy, fast-paced thriller." —Financial Times of London (UK)
"Weston Ochse is to horror what Bradbury is to science fiction -- an artist whose craft, stories and voice are so distinct and mesmerizing that you can't help but be enthralled." —Dani Kollin, Prometheus Award-winning author of The Unincorporated Man
"Make way for a new powerhouse on the block. Hard work and formidable skills have already shot-gunned Ochse to the front of the genre's exciting new pack of writers. With creative brawn, brains, and balls, the guy's locked, loaded, and switched to full-auto, blazing away with his unique and original brand of modern horror, one of the few new writers, I'd say, who will help re-define the field for the future." —Master of Dark Fiction Edward Lee on Weston Ochse
"Weston Ochse is a mercurial writer, one of those depressingly talented people who are good at whatever they turn their hand to." —Conrad Williams, August Derleth and International Horror Guild Award Winner
"Weston is one of the best authors of our generation." —Brian Keene, Bram Stoker Award-winning author The Rising
"Weston Ochse is perhaps the fiercest and most direct of the latest generation of dark fiction writers. I watched awestruck year by year as the bright candle of his talent grew into a roaring bonfire of brutally honest output, matched only by his deep empathy for the human condition." —Rocky Wood, author of Stephen King: A Literary Companion
"Horror fans will be drawn in by Ochse's cool, collected writing style and then blown away when he peels back reality's skin to uncover the supernatural terrors lurking just beneath the surface." —Publishers Weekly