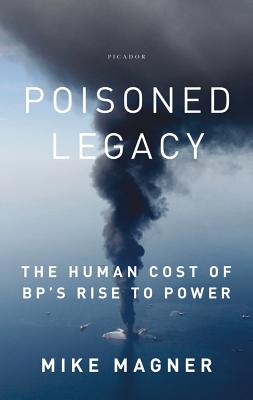 Poisoned Legacy (Paperback)
The Human Cost of BP's Rise to Power
Picador, 9781250007391, 432pp.
Publication Date: May 8, 2012
* Individual store prices may vary.
Description
On April 20, 2010, the Deepwater Horizon oil rig exploded, killing eleven workers and creating the largest oil spill in the history of U.S. offshore drilling. But this wasn't the first time British Petroleum and its cost-cutting practices destroyed parts of the natural world. It also was not the first time that BP's negligence resulted in the loss of human life, ruined family businesses, or shattered dreams. From Alaska to Kansas to the Gulf, journalist Mike Magner has been tracking BP's reckless path for years, and in Poisoned Legacy he focuses, for the first time, on the human price of BP's rise to power.
About the Author
Mike Magner, author of Poisoned Legacy, has been a journalist for more than 35 years, including 10 years as a reporter at the Kalamazoo (Michigan) Gazette, 15 years in the Washington Bureau for Newhouse Newspapers, and four years as an editor and writer at the National Journal. He was born and raised in South Bend, Indiana, graduated from Georgetown University, and lives outside Washington, D.C., with his wife, son and daughter. He began reporting on BP's refinery pollution in Neodesha, Kansas, in 2002 and continues to follow the community's efforts to require a cleanup of the contaminated site.
Praise For Poisoned Legacy: The Human Cost of BP's Rise to Power…
"A lucid, hard-hitting indictment of BP's ingrained greed and irresponsibility." —Publishers Weekly
"The value in reading a book like this is to realize that what multinational corporations do can affect not only their employees but also whole towns and, in the case of the Gulf oil spill, vast regions of the country. . . . A very readable and engaging explanation of the kind of business culture that makes the mistakes that result in what happened on the Deepwater Horizon. . . . It's a story that needs telling." —Kalamazoo Gazette (Michigan)
"Tightly written, concise investigative journalism." —Booklist