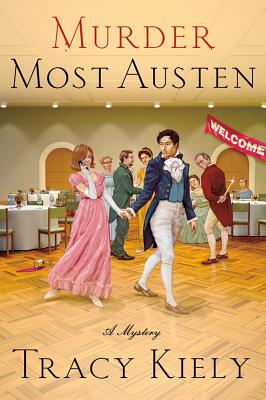 Murder Most Austen (Hardcover)
A Mystery (Elizabeth Parker Mysteries #4)
Minotaur Books, 9781250007421, 304pp.
Publication Date: September 4, 2012
* Individual store prices may vary.
Description
A dedicated Anglophile and Janeite, Elizabeth Parker is hoping the trip to the annual Jane Austen Festival in Bath will distract her from her lack of a job and her uncertain future with her boyfriend, Peter.
On the plane ride to England, she and Aunt Winnie meet Professor Richard Baines, a self-proclaimed expert on all things Austen. His outlandish claims that within each Austen novel there is a sordid secondary story is second only to his odious theory on the true cause of Austen's death. When Baines is found stabbed to death in his Mr. Darcy costume during the costume ball, it appears that Baines's theories have finally pushed one Austen fan too far. But Aunt Winnie's friend becomes the prime suspect, so Aunt Winnie enlists Elizabeth to find the professor's real killer. With an ex-wife, a scheming daughter-in-law, and a trophy wife, not to mention a festival's worth of die-hard Austen fans, there are no shortage of suspects.
This fourth in Tracy Kiely's charming series is pure delight. If Bath is the number-one Mecca for Jane Austen fans, Murder Most Austen is the perfect read for those who love some laughs and quick wit with their mystery.
About the Author
Tracy Kiely has been a finalist for the Mary Higgins Clark Award. She is the author of books including Murder at Longbourn and Murder on the Bride's Side. A self-proclaimed Anglophile who grew up reading Jane Austen and Agatha Christie, she lives with her husband and three children in Maryland.
Praise For Murder Most Austen: A Mystery (Elizabeth Parker Mysteries #4)…
"Another stellar entry in the Austen-centric series...Destined to appeal to Janeites and mystery lovers alike, Kiely's latest whodunit should be universally acknowledged as a clever specimen of a crime novel that blends amateur detection with literary flair." —Jay Strafford, Richmond Times-Dispatch
"As the mystery unfolds against the well-constructed backdrop of a fan festival, keen Janites will be excited by the frequent use of Austen's own words and phrases as characters interact. VERDICT An engaging story with solid surprises awaits cozy mystery readers, Austen fans, and those looking for a charming series to follow." —Library Journal
"Kiely's pleasing fourth mystery featuring Jane Austen fan Elizabeth Parker (after 2011's Murder Most Persuasive ) takes Elizabeth and her great-aunt, Winnie Reynolds, to the Jane Austen Festival in Bath....Janeites will appreciate the several minor characters and situations inspired by Northanger Abbey. Elizabeth makes an engaging protagonist, ably misguided by her lively aunt." —Publishers Weekly
"An ingenious whodunnit where laugh-out-loud humour leavens the tension." —Jane Austen Regency