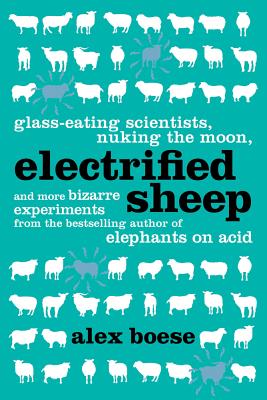 Electrified Sheep: Glass-Eating Scientists, Nuking the Moon, and More Bizarre Experiments (Hardcover)
Glass-Eating Scientists, Nuking the Moon, and More Bizarre Experiments
Thomas Dunne Books, 9781250007537, 352pp.
Publication Date: June 5, 2012
* Individual store prices may vary.
or
Not Currently Available for Direct Purchase
Description
"Perfect summertime reading preferably with a friend nearby who can be constantly interrupted with unsettling facts." "Daily Mail" (UK )
Benjamin Franklin was a pioneering scientist, leader of the Enlightenment, and a founding father of the United States. But perhaps less well known is that he was also the first person to use mouth-to-mouth resuscitation on an electric-shock victim. Odder still, it was actually mouth-to-beak resuscitation on a hen that he himself had shocked.
Welcome to some of the weirdest and most wonderful experiments ever conducted in the name of science. Filled with stories of science gone strange, "Electrified Sheep "is packed with eccentric characters, irrational obsessions, and extreme experiments. Watch as scientists attempt to nuke the moon, wince at the doctor who performs a self-appendectomy, and catch the faint whiff of singed wool from an electrified sheep.
About the Author
ALEX BOESE holds an M.A. in the history of science from the University of California, San Diego. Boese is the author of "Elephants on Acid "and "Hippo Eats Dwarf "and the creator of museumofhoaxes.com. He lives near San Diego, California.
Praise For Electrified Sheep: Glass-Eating Scientists, Nuking the Moon, and More Bizarre Experiments…
Praise for Electrified Sheep "A strangely compelling look at some of the bizarre, outlandish and peculiar experiments that have been attempted in the name of science." —Penny Le Couteur, coauthor of Napoleon's Buttons: How 17 Molecules Changed History "Electrified Sheep quite brilliantly explains some of the more bizarre experiments performed in the name of scientific discovery with lashings of intellectual humour and a surprising amount of quality storytelling." —Chemistry World (UK) "Perfect summertime reading--preferably with a friend nearby who can be constantly interrupted with unsettling facts." —The Daily Mail (UK )

"Laugh out loud funny." —Publishers Weekly

"Boese's fascination with obscure details makes the book frightfully interesting. It's packed with enough material to challenge any would-be science-fiction writer, and proves truth in a lab coat is stranger than fiction." —The Saturday Evening Post "Boese, a historian of science, once again takes readers on a romp through some of the weirder detours on the road to scientific progress. Here, short, lively sections follow groups of mad scientists in a range of fields, from nuclear physics to developmental psychology."—Boston Globe "Delves into the extremes some will reach for the sake of science…. Mr. Boese reveals just how far some will go to appease their empirical curiosities."—Pittsburgh Post-Gazette Praise for Elephants on Acid "The short, witty, ceaselessly amusing entries should delight anyone with a healthy sense of morbid curiousity." --Publishers Weekly "Very well researched and delivered in an engaging, breezy, wink-wink tone similar to thtat of Mark Leyner and Billy Goldberg's Why Do Men Have Nipples?...One of the finest science/history bathroom books of all time." --Kirkus Reviews
Advertisement