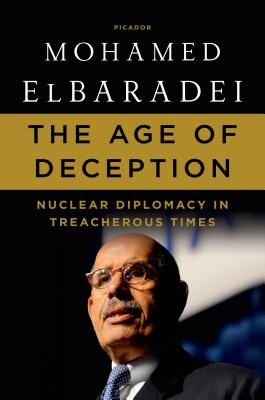 The Age of Deception (Paperback)
Nuclear Diplomacy in Treacherous Times
Picador, 9781250007605, 352pp.
Publication Date: June 5, 2012
Other Editions of This Title:
Hardcover (4/26/2011)
Compact Disc (5/10/2011)
MP3 CD (5/10/2011)
Paperback (7/3/2012)
Compact Disc (5/10/2011)
Pre-Recorded Audio Player (6/1/2011)
* Individual store prices may vary.
Description
"Mohammed ElBaradei is one of the genuinely great leaders of his generation."—Graham T. Allison, Douglas Dillon Professor of Government and Director of the Belfer Center for Science and International Affairs, John F. Kennedy School of Government, Harvard University
As the director of the UN's International Atomic Energy Agency, Mohamed ElBaradei played a key role in the most high-stakes conflicts of our time. Contending with the Bush administration's assault on Iraq, the nuclear aspirations of North Korea, and the West's standoff with Iran, he emerged as a lone independent voice, uniquely credible in the Arab world and the West alike. As questions over Iran's nuclear capacity continue to fill the media, ElBaradei's account is both enlightening and fascinating.
ElBaradei takes us inside the nuclear fray, from behind-the-scenes exchanges in Washington and Baghdad to the streets of Pyongyang and the trail of Pakistani nuclear smugglers. He decries an us-versus-them approach and insists on the necessity of relentless diplomacy. "We have no other choice," ElBaradei says. "The other option is unthinkable."
About the Author
Mohamed ElBaradei served as Director General of the International Atomic Energy Agency from 1997 to 2009. He was awarded the 2005 Nobel Peace Prize, together with the IAEA, and has also been honored with the Indira Gandhi Prize for Peace, Disarmament and Development; the Nile Collar; and the Roosevelt Institute's Four Freedoms Award. Founder of the Egyptian opposition movement The National Association for Change, ElBaradei lives in Cairo. He is the author of The Age of Deception: Nuclear Diplomacy in Treacherous Times.
Praise For The Age of Deception: Nuclear Diplomacy in Treacherous Times…
"ElBaradei has interesting stories to tell, and he tells them with verve. . . . Anyone wishing to glimpse some of the central tensions in twenty-first-century international diplomacy should read The Age of Deception." —The Washington Post
"Foreign policy leaders and wonks everywhere will find plenty in this memoir to stir debates about the most vital task for global survival--the need to stop the spread of nuclear weapons. . . . That quest is ElBaradei's story. . . . The Age of Deception provides the grist for serious debate." —The New York Times Book Review
"Mohamed ElBaradei has spoken eloquently about global efforts at poverty reduction and conflict resolution and has shown a deep understanding of the intrinsic links between peace, disarmament, and development." —Prime Minister Manmohan Singh, 2008 Indira Gandhi Peace Prize citation
"In this spirited memoir ElBaradei recounts ferreting out the nuclear secrets of the world's most paranoid regimes, nerve-wracking adventures full of intrigue, car chases, and Pyongyang's grim hotel accommodations. . . . Rife with acerbic portraits of George W. Bush, Tony Blair, and other world leaders . . . A lively, outspoken take on recent geopolitical confrontations." —Publishers Weekly