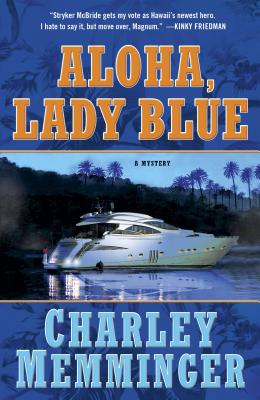 Aloha, Lady Blue: A Mystery (Hardcover)
A Mystery
St. Martins Press-3pl, 9781250007780, 320pp.
Publication Date: January 22, 2013
Description
This riveting new mystery series pays loving homage to legendary author John D. MacDonald. Stryker McBride is a former crime reporter who lives on a hugely expensive houseboat, "the Travis McGee." When Stryker receives an unexpected SOS call from a sultry beauty queen, he agrees to look into the suspicious death of the woman's grandfather. As Stryker investigates, he encounters a cast of characters as diverse as Hawaii itself, including Auntie Kealoha, a charming entertainer turned mobster, and her 400 pound right-hand man, a Chinese-Hawaiian named Tiny Maunakea. Soon, Stryker discovers a deadly secret buried deep in the heart of Hawaii that has consequences much larger than one old man's death.
Vivid and exhilarating, Aloha, Lady Blue transports you right to the heart of an island paradise populated with exotic women, glorious scenery, and whispered scandals. Memminger brings Hawaii to life so vividly that you can almost hear the pounding of the surf and catch the scent of plumeria on the breeze. Fans of John D. MacDonald's Travis McGee series will be swept away by this delicious, action-packed tale.
About the Author
CHARLEY MEMMINGER is an award-winning humor columnist, screenwriter, and author who is based in Hawaii. A former crime and investigative reporter, Memminger's work has appeared nationally in magazines and newspapers. He was twice named the top humor columnist in the country by the National Society for Newspaper Columnists. He lives in the sleepy windward Oahu bay town of Kaneohe with his wife, cat, love birds, geckos, and other indigenous island wildlife.
Praise For Aloha, Lady Blue: A Mystery…
"Whatever you call it, McDonald homage or Memminger original, it's pretty darned good."
--Booklist  
"A great read—extraordinary!  For anyone who lives in Hawaii, visits Hawaii, or even dreams of going to Hawaii. Oh, what the heck, it's for anyone who loves a crackling good story!"
--Pat Sajak, long-time host of Wheel of Fortune
"Everything you want in a mystery-thriller: beautiful, dangerous women, ugly, even more dangerous thugs, a rash of inexplicable murders, and, best of all, two fairly unreliable canine companions, Kane and Lono.  The only question is, 'when's the next one coming out?'"
--Bruce Cameron, New York Times bestselling author of A Dog's Purpose
"In a long and legendary career as a crime reporter in Hawaii, Charley Memminger has met more than his share of hit men, cons, and colorful characters. They leap off the page, packing a Hawaiian punch and taking the reader to a lusty luau on the underside of paradise. Smart, funny, tough, and sparkles with insight. Stryker McBride gets my vote as Hawaii's newest hero. I hate to say it, but move over, Magnum."
--Kinky Friedman
"Charley Memminger should be named Hawaii's state gem. Sorry black coral, he's just better than you are. His great first novel made me feel like I just took a Hawaiian vacation, and not your usual boring beach vacation, but a thrilling trip filled with corrupt cops and libidinous Russians."
--A.J. Jacobs, author of The Know-it-All
"Memminger does for Hawaii what John D. MacDonald did for Florida: makes it come alive."
--David Houle, author of The Shift Age
"Thoroughly authentic and entertaining. A fast and furious ride with unforgettable characters, hot Hawaiian nights, and a dark and dirty secret that could scar the face of America's paradise."
--Andre and Maria Jacquemetton, executive producers of Mad Men
"Chilling and sometimes hilarious… Shines with a cruel brilliance and an honest hypnotic power."
—Frank South, executive producer of Baywatch and Melrose Place
Advertisement