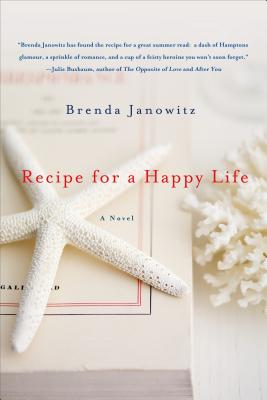 Recipe for a Happy Life (Paperback)
Griffin, 9781250007865, 329pp.
Publication Date: July 2, 2013
Description
There's more than one recipe for a happy life.
Hannah Goodman doesn't grow up like most kids on the Upper East side. Her mother, Gray, is an award-winning photojournalist with little time for the banalities of child-rearing, and when she's not jetting off to follow the latest scoop, she's camped out at the Hotel Chelsea. The closest thing Hannah's got to a traditional matriarch is her grandmother a glamorous widow six times over with a sprawling Hampton's estate. But Gray is determined that her daughter resist the siren song of the trust fund set, and make her own way in the world. So Hannah does just that becoming a successful lawyer in New York City, and dating a handsome musician. Hannah has it all, or so it seems, until one hot June day the carefully constructed pieces of her life break apart. When she throws it all in and seeks solace at her grandmother's estate, she discovers that where happiness is concerned, you don't have to stick to the recipe.
From Brenda Janowitz, the author of "Jack with a Twist "and "Scot on the Rocks," comes a charming, clever, and romantic novel about three generations of women with a culture all their own.
About the Author
BRENDA JANOWITZ attended Cornell University and Hofstra Law School, where she was a member of the Law Review and won the Law Review Writing Competition. Janowitz has worked as a lawyer, and as a career counselor at two New York City law schools. Janowitz is the author of Jack with a Twist and Scot on the Rocks. Her work has also appeared in the New York Post and Publishers Weekly.
Praise For Recipe for a Happy Life…
"Janowitz confidently combines the charm of an awkward heroine; the warmth of a doting grandmother; the heartfelt persistence of an unexpected hero; and the delightful fizz of eccentric supporting characters with just enough bittersweet heartbreak to serve up a fun but satisfying concoction perfect for a summer's day." –RT Book Reviews
"Wonderful! This book went straight to my heart, with a character whose journey to happiness touched me in all the right ways. Brava Brenda Janowitz, for weaving such a wise, tender and poignant story about the intersecting lives of three generations of women. A beautiful testament to love!" -Ellen Meister, author of The Other Life

"Brenda Janowitz has found the recipe for a great summer read:  a dash of Hampton's glamour, a sprinkle of romance, and a cup of a feisty heroine you won't soon forget.  A RECIPE FOR A HAPPY LIFE will keep you charmed from beginning to end." –Julie Buxbaum, author of The Opposite of Love and After You

"Grab a chaise and feast on Brenda Janowitz's sumptuous new novel, RECIPE FOR A HAPPY LIFE. It's one part delicious love story and two parts frothy family past. And oh how it cooks when the secrets boil over! Readers will delight in this fun and feisty tale that is a sweet treat to the very end." --Saralee Rosenberg, Author, DEAR NEIGHBOR, DROP DEAD
"How I loved this insightful exploration of love, family, what you think you know, and what you don't. Honest and poignant, funny and bittersweet, this gem of a novel sneaks up on you with just how powerful it truly is." –Melissa Senate, author of The Love Goddess' Cooking School
Advertisement