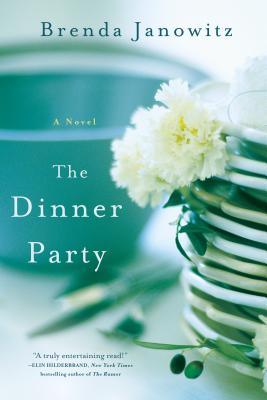 The Dinner Party
A Novel
Paperback

* Individual store prices may vary.
Description
In Brenda Janowitz's The Dinner Party, long forgotten memories come to the surface. Old grievances play out. And Sylvia Gold has to learn how to let her family go.

This Passover Seder is not just any Passover Seder. Yes, there will be a quick service and then a festive meal afterwards, but this night is different from all other nights. This will be the night the Golds of Greenwich meet the Rothschilds of New York City.

The Rothschilds are the stuff of legends. They control banks, own vineyards in Napa, diamond mines in Africa, and even an organic farm somewhere in the Midwest that produces the most popular Romaine lettuce consumed in this country. And now, Sylvia Gold's daughter is dating one of them.

When Sylvia finds out that her youngest of three is going to bring her new boyfriend to the Seder, she's giddy. When she finds out that his parents are coming, too, she darn near faints. Making a good impression is all she thinks about. Well, almost. She still has to consider her other daughter, Sarah, who'll be coming with her less than appropriate beau and his overly dramatic Italian mother. But the drama won't stop there. Because despite the food and the wine, despite the new linen and the fresh flowers, the holidays are about family.
Praise For The Dinner Party: A Novel…
A Reading With Robin Favorite of 2016

"The Dinner Party is everything a reader wants in a novel: guests with a knack for inspired conversation and family drama swirling both above and below the table. A truly entertaining read!" --Elin Hilderbrand, author of The Rumor

"You think your family is chock full of quirky personalities? Pull up a chair for a holiday meal with the Golds of Greenwich! The vibe is hilarious with a side of heartfelt (but never corny); and the guests are as relatable as they are occasionally appalling. Brenda Janowitz works the room with sensitivity and humor. Thanks to her consummate hostessing, The Dinner Party is a satisfying, delicious meal that sticks with you long after it's over." –-Elisabeth Egan, author of A Window Opens

"In her funny and smart novel, The Dinner Party, Brenda Janowitz tells a story of transformation and hilarity. With an acute eye for complicated family dynamics, Janowitz takes us inside the hearts and minds of her characters at a holiday dinner. In great bursts of laughter and solemnity, we meet and love family members who are all trying to find their way both in the world and also in their family. As with any good dinner party, it's a pleasure spending time at Janowitz's table." --Patti Callahan Henry, author of The Idea of Love

"Don't miss a seat at this table! Brenda Janowitz's THE DINNER PARTY charms and delights with a story of the time-honored struggles between parents and grown children, husbands and wives, and brothers and sisters as unconditional love bumps up against unmet expectations. Laugh-out-loud funny with the biggest heart, you will fall in love with this family." --Jamie Brenner, author of The Wedding Sisters

"With an impeccable eye for detail, Janowitz skillfully creates scenarios and relationships so authentic that they're simultaneously hilarious and cringe-worthy. Equally compelling is the cast of emotionally complex, nuanced characters who are lovable even at their most exasperating ... [T]his novel delivers poignant universal truths about familial love and conflict in story that will have readers eagerly turning every delicious page. Thoroughly kosher."
--Kirkus Review

"[The Dinner Party] skewers family distinctions, revealing how each member is vital to the functioning of the whole … readers who enjoy tales of family dynamics will devour this title." —Library Journal

"Janowitz cooks up yet another delightful family saga, stuffed with sympathetic and lovable characters, real-life intergenerational heartache – and enough humor and hijinks to make you wish you were one of the Gold girls." —RT Book Reviews

"A charming drama." —US Weekly (Standout Spring Novels)

"Few writers could have more fun with this premise than Brenda Janowitz, whose satirical rendition of the aspirations, problems, and prejudices of a certain class of American Jews is hilariously precise … this is a party you won't want to miss." —Newsday

"An emotionally honest story about family dynamics, acceptance, and forgiveness." —POPSUGAR (Best Spring Books of 2016)

"[An] affable confection." —The Toronto Star

"Take a dive into The Dinner Party and take part in Sylvia's party with her—and discover just how she manages her family, guests, and hosting while trying not to bump into any family landmines. But that's the problem with guests—you never know who has landmines of their own." —The Jewish Book Council
St. Martin's Griffin, 9781250007872, 304pp.
Publication Date: April 12, 2016
About the Author
BRENDA JANOWITZ is the author of five novels. Her work has also appeared in The New York Times, The Washington Post, and Salon.