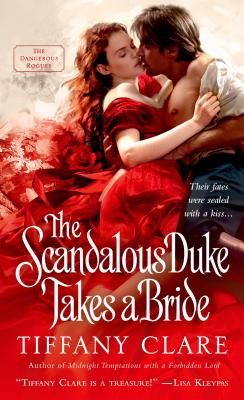 The Scandalous Duke Takes a Bride (Mass Market Paperbound)
St. Martin's Press, 9781250008046, 336pp.
Publication Date: February 25, 2014
* Individual store prices may vary.
or
Not Currently Available for Direct Purchase
Description
In this dazzling Dangerous Rogues novel from Tiffany Clare, a daring and dangerously handsome duke will do anything for the woman he loves even if it sparks a scandal, in The Scandalous Duke Takes a Bride.
FRIENDS AND LOVERS
As a wealthy young widow, Lady Jessica Heyer must endure the closest of scrutiny and most wicked of rumors from society gossips. Their whispers would be utterly unbearable if it weren't for her oldest friend, the Duke of Alsborough. Jessica knows she can always count on Hayden. What she never could have expected, however, is that he is deeply, madly in love with her
TO HAVE AND TO HOLD
For years, Hayden has kept his longing for his beautiful friend Jessica a secret. But now that she's finally free to remarry, will she be willing to take their relationship to a more intimate level? He'll get his answer soon at a glittering masquerade, where identities are hidden, hearts are open, and true love is unmasked in a single, shameless act of passion.


"Sensual historical romance that will touch your heart." Romance Junkies
About the Author
Deciding that life had far more to offer than a nine to five job, bickering children in the evening and housework of any kind, Tiffany Clare opened up her laptop to rediscover her love of the written word. She lives in Toronto with her ever-patient photographer husband, two mischievous children, and her two dogs that think they are humans. Tiffany writes historical romances set in the Victorian era for St. Martin's Press and some of her previous works include The Secret Desires of a Governess, Wicked Nights with a Proper Lady and Midnight Temptations with a Forbidden Lord.
Praise For The Scandalous Duke Takes a Bride…
PRAISE FOR TIFFANY CLARE
and her captivating novels…
"Tiffany Clare writes a swoon-worthy romance filled with rich details and vivid characters. Any readers wishing for a bold and sweeping historical romance need look no further—Tiffany Clare is a treasure of an author!"—Lisa Kleypas, New York Times bestselling author
The Scandalous Duke Takes a Bride
"A thoughtful and lovingly crafted romance." — RT Book Reviews (4 Stars)
Midnight Temptations With a Forbidden Lord
Hot! "Readers will be delighted as the daring heroine and the dangerous, oh-so-sexy hero are caught in a game of seduction, revenge, and desire."—RT Book Reviews (4 stars)
The Secret Desires of a Governess
"With its irrepressible heroine, deliciously dark and dangerous hero, and suitably atmospheric setting, Clare's latest impeccably written novel cleverly references the classic gothic romances of Victoria Holt and Madeleine Brent, while at the same time incorporating plenty of the steamy passion and lush sensuality found in today's brand of sexy historical romances."—Booklist
"With its brooding hero and dark backdrop Clare brings an updated gothic twist to her latest novel. By incorporating the themes and red herrings of a classic Victoria Holt or Daphne du Maurier, she entices readers to keep turning the pages to uncover the mystery and savor the highly sensual romance."—RT Book Reviews
"This is an entertaining throwback to the Victoria Holt legendary Gothic tales as Tiffany Clare employs all the elements from the innocent female, to the foreboding castle to the brooding hero inside a romantic suspense thriller. Abby and Elliot are terrific lead characters while the support cast especially his son, the villagers, and her family make for a wonderful Victorian Gothic romance."—Midwest Book Review
"The Secret Desires of a Governess is excellent reading material for those who like their romance novel with explosive love scenes and a good solid plot."--Fresh Fiction
"Hauntingly sensual, The Secret Desires of a Governess is a compelling read that will have readers hoping for more."—Single Titles
The Seduction of His Wife
"In her second captivating historical romance, Clare turns up the sensual heat with a sizzling, sexy tale of a husband and wife engaged in a seductive battle of wits that proves to be splendidly entertaining."—Booklist
"Steamy."—Publishers Weekly
"The second chapter of Clare's trilogy is as bold and alluring as this exciting newcomer's first book. Clare takes a 'second chance at love' romance, twisting the theme into a highly sensual tale of passion and suspense. But there's also humor, created by secondary characters, and love to round out a tantalizing read."—RT Book Reviews (Top Pick)
"An arousing and amusing Victorian reverse romance!"—Fresh Fiction
"An exciting and imaginative read that captivates the imagination and arouses the senses. Suspense, intrigue and passion abound in this historical romance."—Romance Junkies
"[The Seduction of His Wife] will draw you in….You'll find yourself riveted."—Night Owl Reviews (Top Pick)
"Tiffany Clare has penned another superb and masterfully crafted romance. The Seduction of His Wife has all that I love in a book: humor, suspense, sigh-inducing romance, and fan-your-face, sizzling sex scenes. Ms. Clare's first book, The Surrender of A Lady, was a bold and daring story, and her latest book is equally as entertaining. If you've never read a Tiffany Clare book, run to your nearest bookstore. You don't know what you're missing!"—The Romance Dish
The Surrender of a Lady
 "A unique, unforgettable, sensual love story sweeping from the harems of the east to staid Victorian ballrooms. Watch out for this sizzling new talent to rise to the top."—RT Book Reviews
"Exotic, bold and captivating. Tiffany Clare's rich, sensual prose is delightful indulgence!"—Alexandra Hawkins, author of All Night with a Rogue
"Dazzling, daring and different! Exotic and erotic! The Surrender of a Lady will have you turning the pages until you finish, no matter how late it gets. Tiffany Clare is a brilliant new talent in historical romance."—Anna Campbell, author of Midnight's Wild Passion
"Tiffany Clare has written an exceptionally exciting and heart-wrenching story of devotion and survival of a young mother, sold into the most despicable of circumstances . . . Fast-paced, full of suspense, and totally exciting with each turn of the page. A new and refreshing plot has been woven for the reader."—Fresh Fiction
"Emotion-packed…a heartrending, very sensual historical romance that will touch your heart."—Romance Junkies
Advertisement