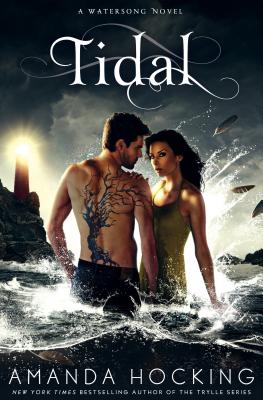 Tidal (Hardcover)
Griffin, 9781250008114, 342pp.
Publication Date: June 4, 2013
Description
Don't miss Tidal, the spellbinding third book in the Watersong series by New York Times bestselling author Amanda Hocking
Gemma and Harper Fisher are facing the fight of their lives. Gemma has been cursed with extraordinary powers that have a terrifying dark side, but she's finally found what she needs a way to break the curse and become human again. But finding the means to do it will be her greatest challenge yet. And now Penn, Lexi and Thea the gorgeous but deadly creatures who cursed her are determined to kill her before she has a chance. Making matters worse, Penn has her sights set on Daniel the guy Harper loves and Penn "always" gets what she wants.

As Gemma and Harper race to break the curse before it's too late, they're thrust deeper into a mythical world of immortal secrets. They must delve into their enemies' past to find the answers they need, even if it means being drawn deeper into their savagely beautiful world. But one of the girls is not what she seems and Gemma finds an unlikely ally as she struggles to save herself. But will it be enough to break an ancient curse that no one has ever escaped alive?
About the Author
AMANDA HOCKING is the author of the New York Times bestselling Trylle trilogy and six additional self-published novels. She made international headlines by selling over a million copies of her self-published books, primarily in eBook format. She lives in Minnesota, where she's at work on the next book in the Watersong series.
Praise For Tidal…
Praise for Amanda Hocking:
"Amanda Hocking is raising the standard for supernatural suspense!  I had a hard time reading without tearing up, gasping in surprise, or feeling indignation on behalf of the characters.  Tidal is an immediate must-read!" –Lovey Dovey  Books
"Amanda Hocking has such an easy and elegant way with her language - her stories just seem to flow well and her words dance. Watersong is going to be another series that I'll fall for." – Into the Hall of Books
"Great chemistry…plus a family history that just makes your heart ache and you've definitely got a recipe for a fantastic new series." —YA Book Central
"Wake will please fans and likely win new ones…the well-structured story and strong characters carry readers." –Publishers Weekly
"There is no denying that Amanda Hocking knows how to tell a good story and keep readers coming back for more.  More is exactly what they will be looking for once they've turned the last page." –Kirkus Reviews
"Filled with mysteries, realistic characters and lots of action…Wake is the next great book. A worthwhile read." – RTBOOKREVIEWS
"Hocking's novel effectively melds myth and contemporary teen life. High school, family, young love, and mythology all combine to create an easy-to-read paranormal suspense story that will have fans eagerly awaiting new installments." – Booklist
"Hocking hits all the commercial high notes… She knows how to keep readers turning the pages." –New York Times Book Review
"Amanda Hocking has a gift for storytelling that will grip readers and keep them wanting more…Entrancing." –Library Thing
 "Explosive and interesting… a nice, smooth story with unique mythology and lovable characters. I thoroughly enjoyed it." – The Teen Bookworm
 "Pure imaginative brilliance! Wake is full of thrills, eerie suspense and mystery… incredibly difficult to put down." –The Book Faery
"Real and vibrant. A brand new series that reawakens everything we love in underwater mythology, Wake by Amanda Hocking will certainly leave you with the desire to pick up more of her titles." – A Cupcake and a Latte
"An amazing story. . . ravishing yet explosive . I am enthralled with the amazing characters and fast-pace plotline. The thrill of the water, the history that propels the reader deeper, Wake is awesome!" – Books with Bite
"Entertaining and surprisingly dark. Amanda Hocking once again had me enjoying her writing and the world she created before my eyes." – Millie D's Words
 "Amanda Hocking is like a breath of fresh air in the young adult paranormal market." –That Bookish Girl Blog
"Amanda Hocking is an author whose storytelling skills keep getting better and better." –Bewitched Bookworms
Advertisement