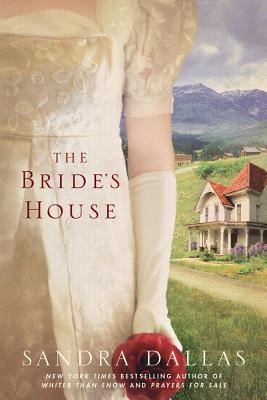 The Bride's House (Paperback)
St. Martin's Griffin, 9781250008275, 400pp.
Publication Date: March 27, 2012
* Individual store prices may vary.
Description
The New York Times bestselling author of Whiter Than Snow delivers a novel about the secrets and passions of three generations of women who live in a Victorian Colorado house
It's 1880, and for Nealie Bent, seventeen, the splendid Victorian house under construction in Georgetown, Colorado, is like a fairy tale come to life. She dreams of living in "the Bride's House," as she calls it, with Will Spaulding, the young entrepreneur sent from the East by his grandfather to learn about the mining business. Will is not the only one who courts Nealie. Charlie Dumas, a miner who lacks Will's polish, wants to marry the hired girl, too, and although Nealie rebuffs him, Charlie refuses to give up. Ultimately, Nealie must deal with lies, secrets, and heartache before choosing the man who will give her the Bride's House.
For the motherless Pearl, growing up in the Bride's House is akin to being raised in a mausoleum. Her father, robbed of the life he envisioned with Nealie, has fashioned the house into a shrine to the woman he loved. He keeps his daughter close. When the enterprising young Frank Curry comes along and asks for Pearl's hand in marriage, Pearl's father sabotages the union. But Pearl has inherited her mother's tenacity of heart, and her father underestimates the lengths to which the women in the Bride's House will go for love.
Susan is the latest in the line of strong and willful women in the Bride's House. She's proud of the women who came before her. Their legacy and the Bride's House's secrets force Susan to question what she wants and who she loves.
About the Author
Award-winning author Sandra Dallas was dubbed "a quintessential American voice" by Jane Smiley, in Vogue Magazine. She is the author of The Bride's House, Whiter Than Snow, Prayers for Sale and Tallgrass, among others. Her novels have been translated into a dozen languages and optioned for films. She is the recipient of the Women Writing the West Willa Award and the two-time winner of the Western Writers of America Spur Award. For 25 years, Dallas worked as a reporter covering the Rocky Mountain region for Business Week, and started writing fiction in 1990. She lives with her husband in Denver, Colorado.
Praise For The Bride's House…
"With a perfect blend of masterful storytelling, sympathetic and realistic characters and prose as crisp as a Colorado creek, Dallas again spins a timeless tale of love and tenacity, tenderness and redemption." —Richmond Times-Dispatch
"Dallas demonstrates an excellent sense of time (tracing several decades), and renders this tumultuous era well (moving from the 1880s into the 20th century)." —Publishers Weekly
"Dallas' straightforward, clean prose is ideal for her beautiful and powerful stories. Her latest novel ... is a tale of family, desire, vengeance and betrayal that more than transcends the ordinary." —RT Book Reviews
"This book is a winning combination of solid historical fiction, vivid enduring characters, and an interesting story that pulls the reader right in. Sandra Dallas is at the top of her game with THE BRIDE'S HOUSE, which will appeal to book clubs, historical fiction fans, and anyone looking for an excellent read." —Bookreporter.com
"I recommend THE BRIDE'S HOUSE to fans of Sandra Dallas as well as readers who enjoy multi-generational family sagas." —Booking Mama
"A sweeping novel of family ties, long-held secrets, and the continuing search for love.... It will resonate strongly with female readers." —Reading the Past