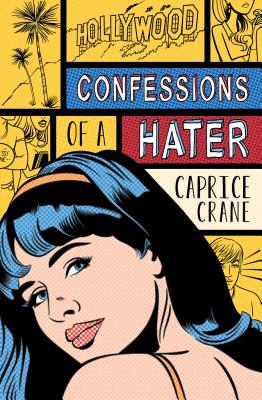 Confessions of a Hater
Hardcover

* Individual store prices may vary.
Other Editions of This Title:
Paperback (8/26/2014)
Compact Disc (8/27/2013)
MP3 CD (8/27/2013)
Compact Disc (8/27/2013)
Description
High school was pretty much like this huge party I wasn't actually invited to, but I still had to show up to every day.
Hailey Harper has always felt invisible. Now her dad has a new job and the family is moving to Hollywood. Just what Hailey needs: starting a new high school.
As she's packing, Hailey finds a journal that belonged to her older sister, Noel, who is away at college. Called "How to be a Hater," it's full of info Hailey can really use. Has Hailey found the Bible of Coolness? Will it help her reinvent herself at her new school? Will her crush notice her? Will she and the other Invisibles dethrone the popular mean girls? After all, they deserve it. Don't they?
In Confessions of a Hater, Caprice Crane's funny—and deeply felt—observations about high school, bullies, popularity, friendship, and romance will leave teens thinking . . . and talking.
Praise For Confessions of a Hater…
"Even for adults looking back, there's a certain comfort in the dissection of the mean girl enterprise and the kind of empowerment in seeing a new generation rebel against it. The questions Crane…address[es] don't get answered neatly and tied up with a bow upon graduation, and perhaps that's why [the novel is] so enjoyable even to those who've crossed that threshold." —The New York Times
"A winning hybrid of Mean Girls, Revenge of the Nerds and The Perks of Being a Wallflower. Expertly disguised beneath layers of snark and humour is an earnest challenge to the prevailing assumption that settling scores is always justified." —Postmedia News
"A poignant, hilarious, and always-realistic portrait of teen angst and high school bullying. In Hailey Harper, Caprice Crane has created another heroine worth rooting for, along with a colorful supporting cast and a few mean girls that readers will love to hate. Don't miss this fresh and funny coming-of-age story!" —Emily Giffin, national bestselling author of Where We Belong and Something Borrowed
"From the first page of Confessions of a Hater, you are magically transported back to the halls of high school, no matter which clique you fell into. Popular, underdog, or other, you will have a character to identify with. Not only is this book laugh-out-loud funny, it packs a punch with a very important message. One of the things I love most about Caprice Crane's writing style is you always feel like you're getting to read a book written by one of your best friends." —Ashley Fink, cast of Glee
"An entertaining, honest, and humorous expression of a deeper truth that we all need to be more understanding of one another. A must-read for every girl in high school." —Missy Peregrym, Rookie Blue
"If laughter is the best medicine, then Caprice Crane's Confessions of a Hater can cure anything. This book is hilarious, snarky, and fun, fun, FUN! Hailey is a fresh, witty character teens will love, hate, and love all over again." —Jessica Brody, author of The Karma Club and Unremembered
"With a personable protagonist and cast of complex supporting characters, Crane's enjoyable, suspenseful coming-of-age novel captures the thrills, chills, highs, and lows of high school." —Publishers Weekly
"Girls who love books about the social pecking order will gravitate to Hailey's search for authenticity." —Booklist
"In this funny story of pranks and mean-girl antics, Hailey Harper is on her way to becoming the Queen Bee of mean–even if she doesn't realize it. . . this is a solid recommendation for those who'd like a glimpse into the life of a Hollywood hater." —School Library Journal
Feiwel & Friends, 9781250008466, 368pp.
Publication Date: August 27, 2013
About the Author
Caprice Crane is the author of several novels for adults, including Stupid and Contagious and With a Little Luck. She was born in Hollywood but don't hold that against her. She doesn't go wandering around with a tiny dog in her purse. Her mother, renowned film, television, and stage actress Tina Louise, is perhaps best known as Ginger Grant from the beloved sitcom Gilligan's Island. Her father is former talk-show host and Grammy winner Les Crane. Caprice has worked for MTV Networks as a writer and producer, and has been a music supervisor for film and TV. Her screenwriting credits include 90210 (2008-13) and the movie Love Wedding Marriage. She divides her time between New York City and L.A.
or
Not Currently Available for Direct Purchase