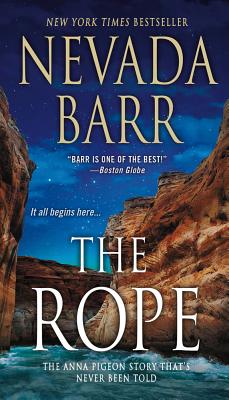 The Rope (Mass Market Paperbound)
St. Martin's Press, 9781250008671, 452pp.
Publication Date: August 28, 2012
Description
The Rope
Nevada Barr
It's 1995. Fresh off the bus from New York City, a broken-hearted 35-year-old named Anna Pigeon takes her first job as a park employee: a decidedly unglamorous, seasonal stint at the Glen Canyon National Recreational Area. On her day off, she goes hiking alone in the park never to return. Her co-workers assume she's moved on since her cabin is cleaned out. But when Anna wakes up trapped at the bottom of a well, naked, with no supplies and no memory of how she got there she must draw upon all of her strength, courage, and skill to survive. Because whoever set Anna's trap isn't through with her yet
About the Author
Nevada Barr is the award-winning author of twenty-one books, including the New York Times bestselling Anna Pigeon novels, most recently Burn and Borderline. A former National Park Service Ranger, she lives in New Orleans.
Praise For The Rope…
Praise for New York Times bestselling author
NEVADA BARR
THE ROPE
"Terrifying…Dark and visceral, the novel is sure to appeal to Barr's legion of fans, especially those who have been clamoring for the author to light the shadows of Anna's past...A crisply written and revelatory entry in the Pigeon series."—Booklist
"Barr's exciting 17th Anna Pigeon thriller takes readers where they've wanted to go for years—to Anna's beginnings as a park ranger.…Misdirection and a rising body count ratchet up the tension."—Publishers Weekly
"Barr's luxuriant depictions of desert landscapes with its colors and hues and details about Lake Powell's tourist population are interwoven into the narrative as an indispensable element of her popular series. Anna emerges from this canyon escapade as a strong, determined woman...Verdict: Another awesome winner for Barr."—Library Journal
Advertisement