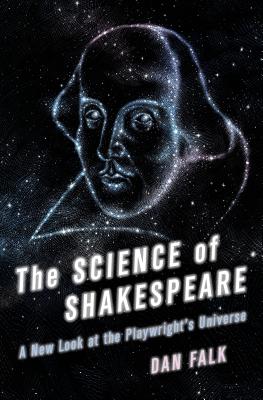 The Science of Shakespeare (Hardcover)
A New Look at the Playwright's Universe
Thomas Dunne Books, 9781250008770, 384pp.
Publication Date: April 22, 2014
Other Editions of This Title:
Hardcover (4/15/2014)
* Individual store prices may vary.
Description
William Shakespeare lived at a remarkable time—a period we now recognize as the first phase of the Scientific Revolution. New ideas were transforming Western thought, the medieval was giving way to the modern, and the work of a few key figures hinted at the brave new world to come: the methodical and rational Galileo, the skeptical Montaigne, and—as Falk convincingly argues—Shakespeare, who observed human nature just as intently as the astronomers who studied the night sky.
In The Science of Shakespeare, we meet a colorful cast of Renaissance thinkers, including Thomas Digges, who published the first English account of the "new astronomy" and lived in the same neighborhood as Shakespeare; Thomas Harriot—"England's Galileo"—who aimed a telescope at the night sky months ahead of his Italian counterpart; and Danish astronomer Tycho Brahe, whose observatory-castle stood within sight of Elsinore, chosen by Shakespeare as the setting for Hamlet—and whose family crest happened to include the names "Rosencrans" and "Guildensteren." And then there's Galileo himself: As Falk shows, his telescopic observations may have influenced one of Shakespeare's final works.
Dan Falk's The Science of Shakespeare explores the connections between the famous playwright and the beginnings of the Scientific Revolution—and how, together, they changed the world forever.
About the Author
Dan Falk has written about science for The Boston Globe, The Globe and Mail, The Walrus, Astronomy, Nature, and New Scientist, and has been a regular contributor to the CBC Radio programs Ideas and Quirks and Quarks. His awards include a Gold Medal for Radio Programming from the New York Festivals and the Science Writing Award in Physics and Astronomy from the American Institute of Physics. His first book, Universe on a T-Shirt, won the 2002 Science in Society Journalism Award from the Canadian Science Writers' Association. He is also the author of In Search of Time. He lives in Toronto, Canada.
Praise For The Science of Shakespeare: A New Look at the Playwright's Universe…
"Dan Falk is the finest science writer working today. This fabulous book will give equal joy to fans of the Bard and to history-of-science buffs. Note to Horatio: Read this -- it'll bring you up to speed." —Robert J. Sawyer, Hugo Award-winning author of Red Planet Blues
"There is science in everything, even the works of the immortal Bard. Dan Falk's rich and fascinating book brings to light the many ways in which Shakespeare and science influenced each other, from telescopes to blood-letting. A great read for anyone who enjoys words and ideas." —Sean Carroll, physicist and author of The Particle at the End of the Universe
"Dan Falk's book provides perhaps the best guide to the scientific worldview prevailing in the Elizabethan Age. We learn, for example, about what Giordano Bruno did while in England, about Thomas Harriot's telescopic view of the Moon's surface drawn some months before Galileo's, and of the appearance of atoms in several of Shakespeare's plays… Falk's narrative voice is smooth, reasonable, likable." —Phillip F. Schewe, author of Maverick Genius
"Dan Falk has written another splendid book. After Universe on a T-shirt and In Search of Time, he moves back four centuries to the science of Shakespeare's day.... Falk sheds enormous light on the Elizabethan outlook and particular puzzles in the plays, all the while entertaining us in a most engaging way." —James Robert Brown, author of The Laboratory of the Mind
"In this thought-provoking book, Dan Falk explores the intriguing connections between the Bard's writings and the dramatic scientific discoveries of the late Renaissance, introducing us to a fascinating cast of characters along the way. A great read." —Ray Jayawardhana, astrophysicist and author of Strange New Worlds and Neutrino Hunters
"A highly entertaining and informative book… Falk has done his homework. He offers something learned but at the same time keeps it personal and unpretentious." —Dennis Richard Danielson, Professor of English, University of British Columbia, and author of The Book of The Cosmos
"Readers will thank Falk for putting Shakespeare and Galileo on the same well-illuminated world stage." —Booklist
"A lively but serious look at the Bard's relationship to his age, particularly what we now call the Scientific Revolution." —Tampa Bay Times
"This eminently readable book should prove fascinating to both lovers of science and bardolators." —Library Journal
"At the heart of his argument is an ambitious effort to offer empirical assurance for what we all intuit -- that art and science need each other, inform and inspire one another, and are branches from the same tree of the human longing in a universe that is more like a mirror of meaning than a window of understanding, beaming back at us whatever imagination we imbue it with." —Brainpickings
"This book is accessible, with clear explanations of potentially challenging concepts in the history of early modern science. It is an enjoyable read, which will appeal to non-specialists, but nonetheless is based on a comprehensive engagement with the pertinent academic scholarship. The work is well-informed, enthusiastic, and recommended to anyone seeking a new take on the oft-studied Bard." —Chemistry World
"What Hawking's [A Brief History of Time] should have been." —Ottawa Citizen on In Search of Time
"Falk seamlessly combines science with literary and philosophical observations… and digresses to fascinating topics like root notions of past and future, the vagaries of memory, and the behavior of birds at breakfast time." —Publishers Weekly (starred review) on In Search of Time
"Time is a big subject and Falk is up to the task." —The Globe and Mail on In Search of Time
"In this thoroughly readable, broad-sweeping, and thought-provoking book, Falk surveys humanity's attempts to record and understand time, and poses some fascinating questions." —New Scientist magazine on In Search of Time
"Falk displays a deft touch with both temporal history and experimentation." —Toronto Star on In Search of Time
"Accessible and Entertaining." —Financial Times on In Search of Time
"Falk is a great writer." —BBC Focus on In Search of Time
"Dan Falk is a riveting writer: his latest book is almost unputdownable." —Martin J. Rees, author of Just Six Numbers and Our Final Hour, on In Search of Time
"An engaging writer who fearlessly tackles potentially brain-freezing topics." —San Francisco Chronicle on In Search of Time
"[Falk] selects, organizes and interprets a mass of lore for our enlightenment and pleasure. We owe him." —Scientific American on In Search of Time
"A highly accessible introduction to some tough and important physics." —American Scientist on Universe on a T-Shirt
"Crisply written, well-researched." —Sky & Telegraph on Universe on a T-Shirt
"[Falk] has a wonderful gift for finding helpful analogies and for writing about science in a way that is accessible without sounding dumbed down." —Booklist on Universe on a T-Shirt
"Falk endorses the idea that the best hope for a so-called theory of everything is in string theory, a difficult area of sicence that Falk nevertheless deftly unravels for the uninitiated." —Science News on Universe on a T-Shirt
or
Not Currently Available for Direct Purchase