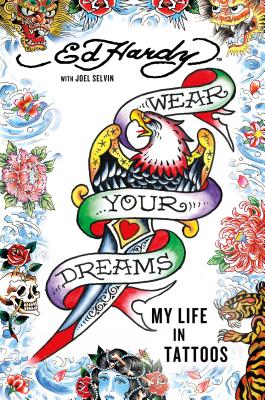 Wear Your Dreams (Hardcover)
My Life in Tattoos
Thomas Dunne Books, 9781250008824, 304pp.
Publication Date: June 18, 2013
Other Editions of This Title:
Compact Disc (6/18/2013)
Paperback (6/17/2014)
Pre-Recorded Audio Player (9/1/2013)
MP3 CD (6/18/2013)
Compact Disc (6/18/2013)
* Individual store prices may vary.
Description
The memoir of iconic tattoo artist Ed Hardy from his beginnings in 1960s California, to leading the tattoo renaissance and building his name into a hugely lucrative international brand
"Ed Hardy" is emblazoned on everything from t-shirts and hats to perfumes and energy drinks. From LA to Japan, his colorful cross-and-bones designs and ribbon-banners have become internationally ubiquitous. But long before the fashion world discovered his iconic designs, the man behind the eponymous brand spearheaded nothing less than a cultural revolution.
In Wear Your Dreams, Ed Hardy recounts his genesis as a tattoo artist and leader in the movement to recognize tattooing as a valid and rich art form, through to the ultimate transformation of his career into a multi-billion dollar branding empire. From giving colored pencil tattoos to neighborhood kids at age ten to working with legendary artists like Sailor Jerry to learning at the feet of the masters in Japan, the book explains how this Godfather of Tattoos fomented the explosion of tattoo art and how his influence can be witnessed on everyone, from countless celebs to ink-adorned rockers to butterfly-branded, stroller-pushing moms. With over fifty different product categories, the Ed Hardy brand generates over $700 million in retail sales annually.
Vividly packaged with original Ed Hardy artwork and ideal for ink devotees and Ed Hardy aficionados alike, Wear Your Dreams is a never-before-seen look at the tattoo artist who rocked the art world and has left a permanent mark on fashion history.
About the Author
A leader in the tattoo world, ED HARDY's renown led to a lucrative licensing agreement in 2004 that made "Ed Hardy" an international retail and lifestyle phenomenon. He currently splits his time between San Francisco, California, and Honolulu, Hawaii.

JOEL SELVIN, co-author of the #1 bestseller Red: My Uncensored Life in Rock with Sammy Hagar, has covered pop music for the San Francisco Chronicle since 1970 and written several other books about pop music including the bestselling account of San Francisco in the '60s, Summer of Love, an award-winning biography of Ricky Nelson and a landmark oral history on Sly and the Family Stone.
Praise For Wear Your Dreams: My Life in Tattoos…
"Tattoo visionary Hardy has produced an engrossing memoir that serves as both a colorful guide to the history of the tattoo revival and a window on the life of an ambitious, blue-collar artist…a thoughtful narrator…He paints vivid thumbnails of characters like Sailor Jerry and Christian Audigier…Hardy has no shortage of anecdotes and he's not shy about copping to his mistakes…he never loses his genial tone. Tattoo couldn't have a better spokesperson." —Publishers Weekly
"Surprisingly heartfelt memoir by an iconic American tattoo artist." —Kirkus
"Hardy shares his life in this memoir exploring how he came to be one of the world's most famous tattoo artists. In his travels and travails, Hardy has helped moving tattooing from the cultural wastebasket to the cultural norm. Here, he shares some of his breakthrough moments, some of his regrets, and much of his inspiration. With a rasp in his voice, Johnny Heller sounds in many ways just like Hardy, and it's clear why he was chosen as the narrator. Hardy's nonchalant attitude about his beginnings and even his success is captured by Heller, who can deliver a light and laid-back tone." —Publishers Weekly audio book review
"Further proof that art is where you find it. Don Ed Hardy had this insight and followed through on it. Though some of his work is now shown in galleries and museums his choice to pursue an artform that, at the time, was decidedly and defiantly alternative lead him down a path that is is both beautiful and hair raising (I wouldn't want to make a mistake tattooing Yakuza in Japan!). The result is a page turner of an art book - and there aren't many of those!" —David Byrne, founding member of Talking Heads
"Ed Hardy, along with Sailor Jerry and others, is one of the earliest artists responsible for making the American traditional style, timeless yet modern, with designs that hearken to past eras while punctuating current eras. His art speaks to a vast array of generations. Gaps that once were divided are now unified as a result of his work... More than can be said for any politician or political party. One of the marks of a great artist is creating a body of work that speaks to multiple genres and will continue to do so for years to come." —Dave Navarro, guitarist for Jane's Addiction and Red Hot Chili Peppers
"Wear Your Dreams gives the reader great insight into the life of tattoo artist Ed Hardy. His unyielding spirit and dedication to the art form is very evident. I couldn't put this book down once I started reading it! A truly great American success story that shouldn't be missed!" —Ace Frehley, lead guitarist of KISS and author of No Regrets
"Ed Hardy broke the mold. Now everyone is trying to rip off his ideas. I love Ed Hardy. As this book shows, he is bad to the bone." —Lita Ford, the lead guitarist for The Runaways
"This book is a stunning and revealing work from one of the greatest artists of our time. Ed Hardy's writing gets under the skin of modern tattooing." —Margaret Cho, comedian and author of I'm The One That I Want
"Ed Hardy's intimate account takes us on a vibrant journey that exemplifies the urgent drive of creativity and curiosity that is emblematic of an artist. He is a maverick whose accomplishments disrupt conventions and whose work greatly impacts our use of the body as a vehicle for self-expression." —Kiki Smith, artist
or
Not Currently Available for Direct Purchase