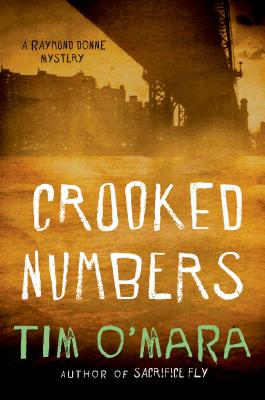 Crooked Numbers (Raymond Donne Mysteries #2)
Hardcover

* Individual store prices may vary.
Description
When one of Raymond Donne's former students is found stabbed to death under the Williamsburg Bridge, Ray draws on his past as a cop to find the truth in Tim O'Mara's second New York mystery.
Raymond Donne's former student Douglas Lee had everything going for him thanks to a scholarship to an exclusive private school in Manhattan, but all of that falls apart when his body is found below the Williamsburg Bridge with a dozen knife wounds in it. That kind of violence would normally get some serious attention from the police and media except when it's accompanied by signs that it could be gang related. When that's the case, the story dies and the police are happy to settle for the straightforward explanation. Dougie's mom isn't having any of that and asks Ray, who had been a cop before an accident cut his career short, to look into it, unofficially. He does what he can, asking questions, doling out information to the press, and filling in some holes in the investigation, but he doesn't get far before one of Dougie's private school friends is killed and another is put in the hospital.
What kind of trouble could a couple of sheltered kids get into that would end like that? And what does is have to do with Dougie's death? None of it adds up, but there's no way Ray can just wait around for something to happen.
Following on the heels of his acclaimed debut, Tim O'Mara's Crooked Numbers is another outstanding mystery that brings the streets of Brooklyn and Manhattan to life and further solidifies O'Mara's place among the most talented new crime fiction writers working today.
Praise For Crooked Numbers (Raymond Donne Mysteries #2)…
"O'Mara's intricate plot delivers an exciting look at the inner workings of education and the economic boundaries that separate people… [and is] enhanced by strong characters." —Oline H. Cogdill, Sun Sentinel
"O'Mara never hits a wrong note in his suspenseful sequel to Sacrifice Fly." —Publishers Weekly (Starred Review)
"A gripping mystery that enlivens the streets of Brooklyn, Crooked Numbers carves O'Mara a place among the most talented of contemporary crime writers." —Brooklyn Daily Eagle
"Everyone's favorite teacher/sleuth from Sacrifice Fly has returned in Tim O'Mara's latest mystery, Crooked Numbers… I hope and pray that in the real world there are teachers like Raymond Donne and that the author is working on another novel in this unique series." —Gumshoe Review
"An authentically gritty debut crime novel . . . rich in hard-boiled New Yorkese." —The New York Times on Sacrifice Fly
"Intriguing debut . . . Strong characters enhance the sturdy plot . . . Sacrifice Fly deserves an A-plus." —Oline H. Cogdill, Sun-Sentinel, on Sacrifice Fly
"In New York City schoolteacher O'Mara's debut novel, he writes what he knows." —New York Post on Sacrifice Fly
Minotaur Books, 9781250009005, 320pp.
Publication Date: October 15, 2013
About the Author
TIM O'MARA, author of Crooked Numbers and the Barry Award nominated Sacrifice Fly, is a teacher in the New York City public school system. He lives in Manhattan's Hell's Kitchen with his wife and daughter. Dead Red is his third Raymond Donne mystery.
or
Not Currently Available for Direct Purchase