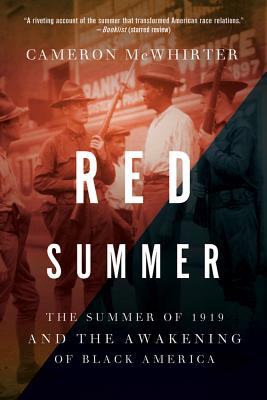 Red Summer (Paperback)
The Summer of 1919 and the Awakening of Black America
St. Martin's Griffin, 9781250009067, 368pp.
Publication Date: July 3, 2012
Other Editions of This Title:
Hardcover (7/19/2011)
* Individual store prices may vary.
Description
A narrative history of America's deadliest episode of race riots and lynchings

After World War I, black Americans fervently hoped for a new epoch of peace, prosperity, and equality. Black soldiers believed their participation in the fight to make the world safe for democracy finally earned them rights they had been promised since the close of the Civil War.

Instead, an unprecedented wave of anti-black riots and lynchings swept the country for eight months. From April to November of 1919, the racial unrest rolled across the South into the North and the Midwest, even to the nation's capital. Millions of lives were disrupted, and hundreds of lives were lost. Blacks responded by fighting back with an intensity and determination never seen before.

Red Summer is the first narrative history written about this epic encounter. Focusing on the worst riots and lynchings—including those in Chicago, Washington, D.C., Charleston, Omaha and Knoxville—Cameron McWhirter chronicles the mayhem, while also exploring the first stirrings of a civil rights movement that would transform American society forty years later.
About the Author
Cameron McWhirter is a writer and staff reporter for the Wall Street Journal. He is the author of Red Summer: The Summer of 1919 and the Awakening of Black America (2011) and a contributor to The Ezra Pound Encyclopedia (2005).
Praise For Red Summer: The Summer of 1919 and the Awakening of Black America…
"McWhirter makes clear in his carefully researched, briskly narrated account of this difficult period in our national history, African Americans were increasingly disinclined to take advice from even well-meaning whites. The NAACP, founded in 1909 by a primarily white group of Northern liberals, was transformed by the events of 1919 into America's premier civil rights organization, led by African Americans from the South." —Wendy Smith, Los Angeles Times

"That it is one of the most shameful periods in our history is beyond question. Yet McWhirter is right to insist that during this same time, forgotten though it may be, 'Black America awakened politically, socially, and artistically [as] never before.' The first stirrings of what became the Harlem Renaissance were felt, and seeds were planted that bore fruit in the civil rights movement of the 1950s and '60s. As McWhirter says, if you explore the whole story of those troubled months, you are left not thinking of America's bald and cruel failings, but of its astounding and elastic resilience. 'The Red Summer' is a story of destruction, but it is also a story of the beginning of a freedom movement." —Jonathan Yardley, The Washington Post

"A riveting account of the summer that transformed American race relations." —Vanessa Bush, Booklist (Starred Review)

"Masterly examination of the widespread outbreak of racially motivated mob violence in the summer of 1919. In his debut, Wall Street Journal staff reporter McWhirter describes in gripping detail a wave of incidents of mob violence that erupted across America in the summer following the end of World War I. . . . Throughout the book, the author writes with professional detachment, permitting his subjects' words and deeds to speak eloquently for themselves, amplified by liberal quotation from the vibrant black press of the period. An unsettling reminder of the cruelty and hatred that can lie beneath the surface of a nation formally committed to equal justice for all, but also a monument to the suffering and perseverance of a people at last determined to demand rights promised but too long denied." —Kirkus Reviews

"The author brings a journalist's diligent digging and skillful storytelling to this historical account; behind the names of towns, he takes the reader into the lives of victims who suffered, perpetrators who destroyed, enablers who dawdled, and politicians who profited, as well as those who fought back. . . . McWhirter's valuable study, in chronologically examining the outbreaks of violence, may well qualify as 'the first narrative history of America's deadliest episode of race riots and lynchings.'" —PW

"McWhirter's narrative style will engage general readers unfamiliar with events during America's early 20th-century civil rights struggle. Professional historians will appreciate the extensive, well-sourced newspaper and archival research." —Frederick J. Augustyn Jr., Library Journal

"McWhirter, a reporter who has worked around the globe and is now based at the Atlanta bureau of the Wall Street Journal, makes his case with deft prose and an exhaustive survey of the historical record… His reportorial skills make this an original and skillful contribution to the literature on the subject." —Jim Cullen, History News Network

"In Red Summer, Wall Street Journal reporter Cameron McWhirter skillfully reconstructs this bloody and unsettling period, a pivotal stretch from April to October that produced ripple effects extending to our time. . . . There's a social consciousness to McWhirter's approach that is enormously appealing. It's as if he's walking through a neglected graveyard, etching names into gravestones that we have allowed to fade for fear of the stories that go with all those deaths. . . McWhirter's insistence on attaching names--to the dead and, when possible, to those responsible for the violence--provides the book with a cumulative power and a sense of historical accountability." —Ken Armstrong, Seattle Times

"Cameron McWhirter, not a historian but a journalist, has written [a fresh, compelling book about race relations]." —Steve Weinberg, Atlanta Journal Constitution

"McWhirter weaves an understated, powerful narrative. . . In unflinching, just-the-facts style bolstered with copious footnotes, McWhirter describes how the entrenched white power structure--small-town police, elected officials, businessmen and even newspapers--were bent on preserving the social order in uncertain economic times. But African-Americans, some of whom had fought with valor in World War I, were chafing under Jim Crow rule and discrimination in the open marketplace." —Joseph Williams, Minneapolis Star-Tribune

"A must read! This visual chronicle is enhanced with pictures and the antidotes of heroes such as Thurgood Marshall, James Weldon Johnson, and W.E. B. Du Bois. I'd characterize this selection as a Black historian's dream work. I tread through the pages spellbound with feelings of sadness, pain, and hope. Students and educators will find this is a book to cite and refer to for many years to come." —Rosetta Codling, Atlanta Examiner

"There are plenty of eye-opening revelations in Red Summer. . . the first narrative history of that epochal year. McWhirter is a reporter for The Wall Street Journal, and much of the obviously extensive research he has done involves the way the newspapers covered the violence at the time. Not only does he give narratives of the causes and details of the riots in Chicago, Washington, Omaha and other cities, he gives a broader picture of the reasons 1919 should have been a particular year for racial violence, and the changes the violence wrought." —Rob Hardy, The Columbus Dispatch

"It has taken nearly a century for a narrative history of this tragic episode in American history to be written, and Wall Street Journal reporter Cameron McWhirter has done a superb job in Red Summer: The Summer of 1919 and the Awakening of Black America. The book is well-researched, and McWhirter's journalistic skills serve him well in writing about such a sensitive subject. His prose is carefully constructed and clear, and he avoids the temptation to embellish." —Michael Taylor, Richmond Times Dispatch

"Cameron McWhirter, staff reporter for the Wall Street Journal and author of Red Summer: The Summer of 1919 and the Awakening of Black America has done a top-notch job of shining a light on a particularly horrific chapter in a long line of appalling treatment of African-Americans." —Peggy Carlson, Fredericksburg Free Lance-Star

"Weaving the great economic and political tides of the post-World War I era together with deeply personal stories, researched and written with an artist's eye for detail and a novelist's sense of pacing, Cameron McWhirter recounts an eight-month 'spasm of brutality' in which white mobs attached more than two dozen African-American communities." —Hamilton College Magazine

"The old boast is that everything is bigger and better in America. Cameron McWhirter's comprehensive history of the terrible Red Summer of 1919 reminds us that, because our failures at democracy are also very big, we have to be even better at understanding why." —David Levering Lewis, author of King: A Biography and W.E.B. Du Bois: Biography of a Race, 1868-1919