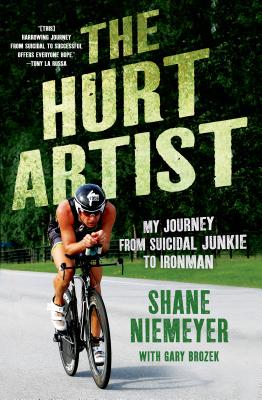 The Hurt Artist
My Journey from Suicidal Junkie to Ironman
Hardcover

* Individual store prices may vary.
Description
With troubles beginning as early as childhood, the trajectory of Shane Niemeyer's life seemed to have only one direction: down. His struggles with heroin addiction led him to jail, and he eventually hit rock bottom. Soon, his two pack a day cigarette habit was the healthiest thing he did. One dark night in jail, his suicide attempt failed. What happened next transcends the term recovery.
The Hurt Artist is the searing yet luminous travelogue of Shane's powerful journey from suicidal addict to Ironman. He vividly depicts the landscape of pain in which he's lived his life—emotional and physical pain inflicted upon him and that he inflicts upon himself, pain that pulls him down, and, in detailing his training, the pain he harnesses to lift himself up. Ultimately, Shane's story is one of redemption and triumph, a lesson in the value of second chances and a clear reminder that nobody, regardless of how seemingly desperate their circumstances, is beyond the reach of salvation.
From inmate #71768 to Ironman Triathlon World Championship competitor #1419, Shane paints a stirring self-portrait in this hilarious, horrifying, and hopeful account that is sure to hook readers of edgy sports biographies.
Praise For The Hurt Artist: My Journey from Suicidal Junkie to Ironman…
"Talk about being competitive and being down to his last strike, Shane Niemeyer's harrowing journey from suicidal to successful offers everyone hope that change is possible and victory only comes when you refuse to give up or give in. I was alternately horrified and hopeful as I read the pages of this honest and intense book." —Tony La Russa, National Baseball Hall of Fame Inductee and New York Times bestselling author of One Last Strike
"What does a junkie do with their life after abusing their body and mind for years with drugs and alcohol? He continues to push the limits the human body can withstand while becoming one of a handful of athletes that can call themselves an Ironman! The Hurt Artist is a riveting memoir by Shane Niemeyer that takes us on a raw, unedited life journey that includes the struggles of an addict trying to find peace and the joy and journey to every triathletes promised land: Kona, Hawaii!" —Jason Peter, New York Times bestselling author of Hero of the Underground
"An honest, gritty portrayal of a life that began in Loveland, Colorado and derailed somewhere in childhood between California and the Midwest. Niemeyer's once slippery slope lifestyle was turned on its head with the ultimate goal of competing the Iron-Man World Championships in Kona, Hawaii." —5280 Magazine
"Like most of us, Shane Niemeyer likes to test his limits. THE HURT ARTIST gave me an entirely different perspective on just how far he fell before becoming an Ironman. His life story deserves to be told and demonstrates what perseverance can do for anyone no matter how hopeless they may feel their situation is. You may never compete in an Ironman Triathlon, but Shane shows how anyone can overcome any obstacle and pursue their dream with passion." —Craig Alexander, Five-time Triathlon World Champion and author of As The Crow Flies
"The Hurt Artist is an open, honest account of a misspent youth and young adulthood, centered on an incomprehensible life of drug abuse, self-loathing, and stints in jail and rehab. Shane's metamorphosis from imprisoned drug addict to an accomplished Ironman athlete is truly inspiring. Ditching needles for Lycra was no easy task, but the vigor and enthusiasm with which Shane made this transition is sure to motivate anyone looking to achieve an insurmountable goal." —Joanna Zeiger, Olympian and Ironman 70.3 World Champion
"It takes a strong person to conquer their demons but even stronger to share and expose their weakness allowing for judgment and criticism. Shane has met his demons and come out the other side on top with one of the best attitudes we know" —Laura Bennett and Greg Bennett, Olympians
Thomas Dunne Books, 9781250009081, 272pp.
Publication Date: May 20, 2014
About the Author
SHANE NIEMEYER, author of The Hurt Artist, developed and executed a plan to turn his life around and become a world class endurance athlete, speaker, and expert in the field of strength and conditioning. He currently resides in Boulder, Colorado where he coaches, trains, competes, and plays.

GARY BROZEK has collaborated on more than twenty books, five of which have gone on to become New York Times bestsellers, including Trident K9 Warriors. He lives in Evergreen, CO.
or
Not Currently Available for Direct Purchase