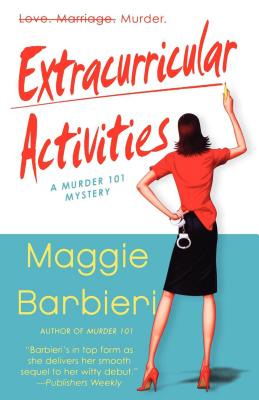 Extracurricular Activities (Murder 101 Mystery) (Paperback)
St. Martins Press-3pl, 9781250009364, 320pp.
Publication Date: September 30, 2008
* Individual store prices may vary.
Description
You'd think, now that she's off the hook for murder, that Alison, an English professor at a cushy college campus just north of chaotic New York City, would be able to relax. But how can she, with a wedding in the works? A Ph.D can only go so far...
The recently-divorced Alison couldn't be happier for her best friend, the bride Max. The problem is with the groom. Namely, his best man: the stunningly handsome yet technically married NYPD homicide detective Bobby Crawford. Alison just can't stop day-dreaming about him--until a new nightmare unfolds.
Alison's ex-husband has just turned up dead. And now that's she's being dragged into another murder investigation--his time, involving the Mob-boss parent of a student--Bobby might be the only man she can trust with her life. But will he ever make Alison his wife? With a killer on the loose, the pursuit of happiness may just have to wait...
About the Author
Maggie Barbieri, author of Murder 101, is a freelance textbook editor as well as a mystery novelist. Her father was a member of the New York Police Department, and his stories provide much of the background for her mysteries. This is her second novel. She lives in Westchester County, New York.
Praise For Extracurricular Activities (Murder 101 Mystery)…
"Barbieri's in top form as she delivers her smooth sequel to her witty debut."—Publishers Weekly
"QUIRKY, ROMANTIC…fashionable, free-spirited [and] intense "—Tampa Tribune
"Will please readers who like action and romance in the same package."—Booklist
"Series Grade: A."—Susan McBride, author of the Debutante Dropout Mysteries