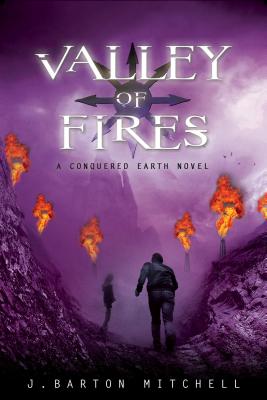 Valley of Fires
A Conquered Earth Novel (The Conquered Earth Series #3)
Hardcover

* Individual store prices may vary.
Description
VALLEY OF FIRES had won the 2014 RT BOOK REVIEWS Reviewers' Choice Awards for best Science Fiction Novel!

J. Barton Mitchell's sci-fi tour de force Conquered Earth series concludes as the characters try and unite Earth's disparate survivors to overthrow its alien invaders once and for all.

The Severed Tower is no more. Zoey has been taken by the Assembly, and time is running out. Just as their feelings are finally out in the open, Holt Hawkins and Mira Toombs are forced apart onto individual quests to try and unite Earth's survivors against their alien invaders.

Mira ventures west, holding together a fragile coalition of Wind Traders, White Helix, and rebel Assembly, a mix of groups that do not trust the other. The voices of the Assembly in Mira's head threaten to drive her mad, and she soon learns a grim reality: that the one resource they have on their side, the Strange Lands artifacts, are dying, and soon the world will be a very different place.

Meanwhile, Holt travels with Ravan and Avril to Faust, the dangerous desert city of the Menagerie pirate guild. He goes not only to resolve his issues with Tiberius, its tyrannical leader, but to enlist the Menagerie in the fight to save Zoey. Except Tiberius has his own problems. The Menagerie is splintering, word of rebellion is spreading. If Holt wants their help, he might have to side with his greatest enemy in exchange.

Valley of Fires is the final installment in J. Barton Mitchell's Conquered Earth series, following Midnight City and The Severed Tower, and it brings the genre-bending series to an utterly unforgettable close.
Praise For Valley of Fires: A Conquered Earth Novel (The Conquered Earth Series #3)…
"Thrilling…this wrap-up is one that series fans won't want to miss." —School Library Journal

"Mitchell's epic young adult science fiction masterpiece ends as it began: with a cataclysmic bang. His narrative is so highly, expertly visual, it vividly brings to life the horrors and hopes of his triad of unlikely young champions. The worldbuilding is utterly phenomenal, the semi-familiar scenes breathtakingly ingenious, the enemy ruthless and the co-stars unforgettable. This soon-to-be classic series should be read in order. Bravo!" —Romantic Times, Top Pick Gold on Valley of Fires

"In the conclusion to his science-fantasy trilogy… the battles are intense and numerous. Series readers will enjoy it." —Kirkus Reviews on Valley of Fires

"Readers looking for strong, diverse characters in an interesting postapocalyptic world--similar to Julianna Baggott's Pure or Dan Wells' Partials series--will want to add this trilogy to their list." —Booklist on Valley of Fires

"Mitchell's second in his young adult trilogy is a masterful mix of post-apocalyptic, dystopian science fiction with just a hint of steampunk. His narrative is edge-of-your-seat and nail-bitingly thrilling, his prose concise and visual, his battles epic, his characters memorable, his evildoers nightmarishly atrocious and his stars utterly unforgettable." —Romantic Times on The Severed Tower

"Action keeps pages turning." —Kirkus Reviews on The Severed Tower

"Reminiscent of the fighting between Terminator-style robots and human beings, The Severed Tower is a good choice for teens who enjoyed writings like War of the Worlds by H. G. Wells and fans of science fiction television shows like Doctor Who This trilogy is sure to captivate a wide variety of teen readers." —Voya Magazine on The Severed Tower

"Mitchell's prose debut, the first in a dystopian sci-fantasy series, is an imaginative mix of danger and humor...The action will keep readers turning the pages." —Kirkus Reviews on Midnight City
Thomas Dunne Books, 9781250009487, 416pp.
Publication Date: December 2, 2014
About the Author
J. BARTON MITCHELL is a screenwriter, comic book writer, and author. He studied creative writing at the University of Houston before going on to receive a B.S. in Film Studies from the University of Texas. After selling screenplays to Warner Bros. and 20th Century Fox, he created and wrote the comic book series Poe, published by Boom! Studios in 2009. Mitchell lives and writes in the Los Feliz area of Los Angeles.