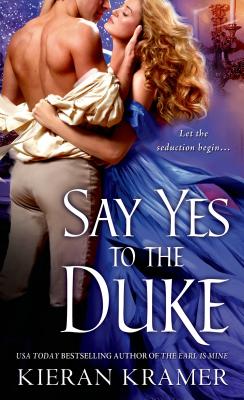 Say Yes to the Duke (House of Brady #3) (Mass Market)
St. Martin's Paperbacks, 9781250009906, 368pp.
Publication Date: August 27, 2013
* Individual store prices may vary.
Description
SAY YES TO THE DUKE
Kieran Kramer
Janice Sherwood wants to marry for love, but she's failed to make a match after two Seasons. Her parents, the Marquess and Marchioness of Brady, arrange to send her to the Duke of Halsey's country estate as a short-term guest of his grandmother, the dowager, in hopes that she might win the duke's affections. What they never could have imagined is that Janice would fall for the ruggedly handsome servant Luke, who lives in the stables and carries an air of mystery and temptation.
When Luke Callahan learns that he is the legitimate heir to a dukedom, he will stop at nothing to claim what is his. But first, he must begin a game of disguise to secure his rightful inheritance. Janice isn't part of his plan. But by engaging her in this dance of deception, might he lose her forever?
About the Author
USA Today bestselling author Kieran Kramer is a former CIA employee, journalist, and English teacher who lives in the Lowcountry of South Carolina with her family. Game show veteran, karaoke enthusiast, and general adventurer, her motto is, "Life rewards action."
Kieran is the author of the House of Brady novels, including Say Yes to the Duke and The Earl is Mine.
Praise For Say Yes to the Duke (House of Brady #3)…
"The third book in Kramer's "House of Brady" series offers everything this author's fans have come to expect including a sinfully sexy romance between two perfectly matched protagonists, a richly amusing cast of unconventional secondary characters, and a lively plot that doesn't take itself too seriously." —Booklist
"Kramer's gift is her innate ability to tell a story with unerring honesty, deep emotion and humor. Readers will laugh, cry and deeply sigh from beginning to end of this beautifully told, enchanting love story." —RT Book Reviews TOP PICK!
"Kramer's unique take on the TV series The Brady Bunch is a delight: funny, sweet, sexy, smart, and more charming than the show. With Kramer's enchanting sense of humor, the blonde, lovely Brady girls and their irascible brothers, loving parents, and housekeeper Alice are off on a romp that rivals Shakespeare for a comedy of errors. Readers will be up all night before drifting off to dream of a love story like this." —RT Book Reviews on Loving Lady Marcia
"Kramer scores with the inaugural House of Brady imbroglio…Though [she] includes her characteristic lighthearted touches, she's smart and confident enough to take her characters and their situations seriously, turning what could have been a one-line joke into a deep and appealing story." —Publishers Weekly on Loving Lady Marcia
"A delectable debut…I simply adored it!" —Julia Quinn, #1 New York Times bestselling author of the Bridgerton series, on When Harry Met Molly
"Clever banter, stellar pacing, and appealing, exceptionally well-drawn characters make this fresh, sexy, and gloriously funny debut a knockout and a perfect start to Kramer's Regency-set quartet." —Library Journal (starred review) on When Harry Met Molly
"An exquisite debut!" —Kathryn Caskie, New York Times bestselling author, on When Harry Met Molly
"Utterly charming and delightful with a twisted spy plot mixed in with Russian Royalty, unruly dogs and gossipy cooks." —Publishers Weekly
"Kramer's captivating Impossible Bachelors series returns with another memorable, well-crafted, deftly plotted story as enchanting and romantic as the first. There is great joy in her storytelling (and titles) that compel readers to smile and laugh with her characters. You'll be up all night until the satisfying conclusion to this delicious romance." —RT Book Reviews, 4 ½ Stars TOP PICK on Dukes To the Left Of Me, Princes to the Right
or
Not Currently Available for Direct Purchase