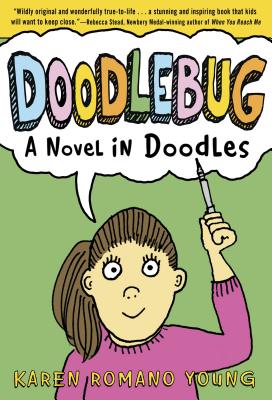 Doodlebug (Paperback)
A Novel in Doodles
Square Fish, 9781250010209, 128pp.
Publication Date: October 16, 2012
Other Editions of This Title:
Hardcover (7/6/2010)
* Individual store prices may vary.
Description
Moving is tough. Being the new kid in school is even tougher. But the hardest thing of all about the move that Doreen "Dodo" Bussey's family is making is that she suspects it might be because of her. She got into trouble at her last school.
On the drive to their new home, her mother gives Dodo a blank notebook, which she uses to chronicle the move, the first days in a new city, and the ups and downs of starting a new school and making new friends. In the process, she reinvents herself as the Doodlebug. Her little sister seems to adjust to everything so easily—why is it so hard for Dodo?
About the Author
Karen Romano Young is the author of over a dozen books for children, both fiction and nonfiction, including The Beetle and Me: A Love Story, which has won several state awards, received starred reviews from Kirkus Reviews and Publishers Weekly, and earned her a "Flying Start" in Publishers Weekly. She lives in Bethel, Connecticut, with her family.
Praise For Doodlebug: A Novel in Doodles…
"We can only hope that this amusing and touching title will soon have a sequel so that we can once again share in Dodo Doodlebug's world." —Through the Looking Glass Children's Book Reviews
"Like Melissa Moss' Amelia books, Young presents the story as if it is Doodlebug's notebook, incorporating drawings, graphs, and different kinds of lettering that are an integral part of the story and make this insightful look into a middle-grader's life a pleasure to read." —Booklist
"This novel's graphic format, showcasing narrator Doreen's clever doodles, will fascinate readers. They also will admire Doreen's spunk, honesty and problem-solving skills." —The Topeka Capital-Journal
"It is sure to inspire creativity in children and teach them they can overcome obstacles that they may encounter." —The Kansas City Star
"Young provides an engaging story about how Dodo reinvents herself as the Doodlebug in her new school, tracking her year in an illustration-filled notebook." —Scripps News
"An engaging, original heroine, a satisfying story and lots of great pictures. . . . Charming and thoughtful." —Kirkus Reviews, starred review