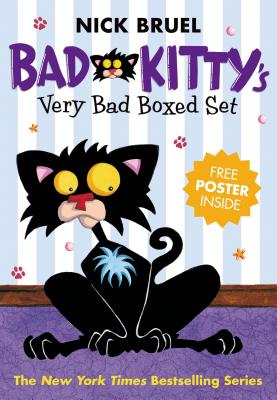 Bad Kitty's Very Bad Boxed Set (#1) (Multiple copy pack)
Bad Kitty Gets a Bath, Happy Birthday, Bad Kitty, Bad Kitty vs Uncle Murray - with Free Poster!
Square Fish, 9781250010346
Publication Date: October 16, 2012
* Individual store prices may vary.
Description
Hack up those fur balls, sharpen those claws because we've got three Bad Kitty adventures coming your way!
In Bad Kitty Gets a Bath, Kitty has to, well . . . take a bath. But she absolutely, positively doesn't want to! Young readers will be cracking up at the antics that ensue, and at the lively line art of frantic, bad Bad Kitty as she desperately, at times crazily, tries NOT to take a bath.
In Happy Birthday, Bad Kitty, Bad Kitty is back again and badder than ever. But it's party time now, and a new cast of kitties is coming over to celebrate in her second illustrated novel for young readers.
And lastly, in Bad Kitty vs Uncle Murray, Bad Kitty's antics continue as she prepares for a battle royale when Uncle Murray steps into the role of petsitter.
But wait, there's more! Included in the boxed set is a full size poster featuring the cover of Bad Kitty for President. So put your paws up and vote!
About the Author
Nick Bruel is the author and illustrator of New York Times bestseller Boing, Bad Kitty, Bad Kitty Gets a Bath and Bad Kitty Meets the Baby, among others. Nick is a freelance illustrator and cartoonist, and during his down time, he collects PEZ dispensers and grows tomatoes in the backyard. He lives in Tarrytown, NY with his wife Carina and their lovely cat Esmerelda.
Praise For Bad Kitty's Very Bad Boxed Set (#1): Bad Kitty Gets a Bath, Happy Birthday, Bad Kitty, Bad Kitty vs Uncle Murray - with Free Poster!…
"* Multiple copies are a must." —Kirkus Reviews, starred review, on Bad Kitty Gets a Bath
"Young and reluctant readers will get plenty of laughs from this comic and informative chapter book." —Booklist, on Bad Kitty Gets a Bath
"Just plain hysterical . . . Fun for all, especially fans." —Kirkus Reviews, on Happy Birthday, Bad Kitty
"The style gives the book a fast pace and adds to the comedic atmosphere. However, it's Uncle Murray's good-natured bumbling against Bad Kitty's cranky craziness that will get the giggles going." —School Library Journal, on Bad Kitty vs Uncle Murray