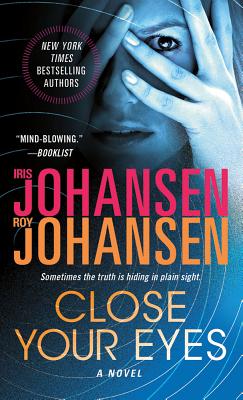 Close Your Eyes (Mass Market Paperbound)
St. Martin's Press, 9781250010414, 370pp.
Publication Date: January 29, 2013
Description
Close Your Eyes
Iris Johansen
Roy Johansen
Blind for the first twenty years of her life, Kendra Michaels honed her other senses to almost superhuman perfection and unintentionally became a secret weapon for the FBI. Her uncanny ability to pick up the most subtle audio, olfactory, and tactile cues in the world around her made her a law-enforcement legend. Today, her expertise is called for once again.
When Kendra is approached by a dubious source about a serial murder investigation, her instincts tell her to steer clear. This time, however, the case is personal: The next name to turn up on the killer's hit list is Kendra's own ex-lover, an FBI agent who disappeared without a trace. Now it's up to Kendra to pick up the trail or close her eyes again forever.
About the Author
Iris Johansen is the New York Times bestselling author of Eve, Quinn, Bonnie, What Doesn't Kill You, Chasing the Night, Eight Days to Live, Blood Game, Deadlock, Dark Summer, Quicksand, Pandora's Daughter, Stalemate, Killer Dreams, On the Run, Countdown, and many more.Roy Johansen is an Edgar Award-winning author and the son of Iris Johansen. He has written many well-received mysteries, including Deadly Visions, Beyond Belief, and The Answer Man. Iris Johansen and Roy Johansen have together written Shadow Zone, Storm Cycle, and Silent Thunder.
Praise For Close Your Eyes…
Praise for Close Your Eyes
"Gripping…The authors combine idiosyncratic yet fully realized characters with dry wit and well-controlled suspense that builds to a satisfying conclusion."—Publishers Weekly

"Mind-blowing…The scenes with Adam and Kendra ooze sexual tension, making this thriller a titillating delight."—Booklist
"Intrigue at its best!"—Reader to Reader
Advertisement