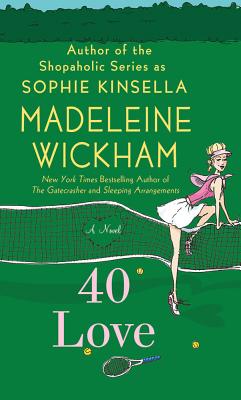 40 Love (Mass Market Paperbound)
St. Martin's Press, 9781250010421, 293pp.
Publication Date: October 30, 2012
* Individual store prices may vary.
or
Not Currently Available for Direct Purchase
Description
40 Love

Madeleine Wickham
Patrick Chance has the perfect setting for a tennis party the White House. Bought out of his bonuses as an investment salesman, it is complete with stable, bar, jacuzzi, shell-shaped bedheads, and, of course, the tennis court. But what is the real reason for the party? His brash and beautiful wife, Caroline, hides her suspicions in a cloud of Pimm's-induced laughter. She's happy to welcome Stephen and Annie, their impoverished former neighbors, less happy to see newly wealthy Charles and his aristocratic wife, Cressida, and barely able to tolerate the deadly competitive Don and Valerie. As the first ball is served over the net, it signals the start of two days of tempers, shocks, revelations, the arrival of an uninvited guest and the realization that the weekend is about anything but tennis.
About the Author
MADELEINE WICKHAM is the "New York Times "bestselling author of several acclaimed novels, including "A Desirable Residence, The Wedding Girl, Sleeping Arrangements, The Gatecrasher, Cocktails for Three," and "Swimming Pool Sunday. "As Sophie Kinsella, she has written the bestselling Shopaholic series and "The Undomestic Goddess." She lives in London.
Praise For 40 Love…
Praise for the bestselling novels of Madeleine Wickham
A Desirable Residence
"A well-executed and unexpected ending caps the dizzying action and demonstrates why Wickham is so deservedly on her genre's A-list."—Publishers Weekly (starred review)
"A remarkably assured tale of adultery, avarice, and angst." —The Daily Mail (UK)
sleeping arrangements
"A delightful story…surprises abound…Wickham does a bang-up job."—Publishers Weekly
"Wickham's [Sleeping Arrangements] has a different tone than do her Shopaholic tales, but it's an equally engaging yarn, sure to please her many fans and gain her new ones. —Booklist
THE GATECRASHER
"Memorable characters who are as unpredictable and multifaceted as they are stylish."
—Publishers Weekly
"Wickham [is] an observant and engaging storyteller."—Kirkus Reviews
"[A] witty and deeply biting novel of modern manners and morals."
—Library Journal
"Wickham knows her characters well and the story never drags... an enjoyable read."
—Booklist
"Wickham has a shrewdly malicious touch with her characters."—The Atlantic Monthly
COCKTAILS FOR THREE
"Deliciously funny... witty and wicked."—Kirkus Reviews
"Wickham serves up a healthy dose of good-natured witticisms mixed with biting retorts."—Publishers Weekly
"Wickham writes a witty tale that goes beyond mere gossip, fashion, and fun; she provides a wickedly insightful look at the choices women make between career, children, and relationships."—Booklist
THE WEDDING GIRL
"Kinsella fans will feel right at home... At this Wedding, prepare to laugh, and maybe get a little misty."—USA Today
Advertisement