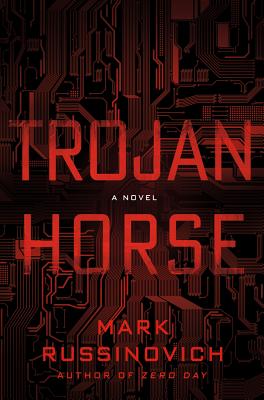 Trojan Horse (Hardcover)
Thomas Dunne Books, 9781250010483, 319pp.
Publication Date: September 4, 2012
* Individual store prices may vary.
or
Not Currently Available for Direct Purchase
Description
It's two years after the Zero Day attacks, and cyber-security analyst Jeff Aiken is reaping the rewards for crippling Al-Qaida's assault on the computer infrastructure of the Western world. His company is flourishing, and his relationship with former government agent Daryl Haugen has intensified since she became a part of his team.
But the West is under its greatest threat yet. A revolutionary, invisible trojan that alters data without leaving a trace---more sophisticated than any virus seen before---has been identified, roiling international politics. Jeff and Daryl are summoned to root it out and discover its source. As the trojan penetrates Western intelligence, and the terrifying truth about its creator is revealed, Jeff and Daryl find themselves in a desperate race to reverse it as the fate of both East and West hangs in the balance.
A thrilling suspense story and a sober warning from one of the world's leading experts on cyber-security, "Trojan Horse" exposes the already widespread use of international cyber-espionage as a powerful and dangerous weapon, and the lengths to which one man will go to stop it.
About the Author
MARK RUSSINOVICH works at Microsoft as a Technical Fellow, Microsoft's senior-most technical position. A cofounder of Winternals, he joined Microsoft when the company was acquired in 2006. He is author of the popular Sysinternals tools as well as coauthor of the Windows Internals book series, a contributing editor for "TechNet Magazine, " and a senior contributing editor for "Windows IT Pro Magazine." His first Jeff Aiken novel, "Zero Day, " was published in 2011. He lives in Washington State.Learn more at www.trojanhorsethebook.com.
Praise For Trojan Horse…
Praise for Mark Russinovich "To IT folks, Mark is every bit a hero as Wozniak, Gates or Ken Olsen."—Doug Barney, Redmond Mag "Russinovich scares us all in this techno thriller that gets the details right!"—Mikko Hypponen, Chief Research Officer, F-Secure Corporation "Scarily plausible."—Library Journal "Top-notch geek lit."—Kirkus Reviews
"Russinovich works for Microsoft and understands the world of computer software. He's able to convey complex technical information in easy-to-understand terms. Thrills and strong characters add to the fun. Fans of Daniel Suarez and other technothriller scribes should add Russinovich to their reading lists."
—Booklist

"An expert in the field, Mark Russinovich writes about cyberterrorism with a mix of technical authority and dramatic verve."
—William Landay, author of Defending Jacob

"While what Mark wrote is fiction, the risks that he writes about eerily mirror many situations that we see today."
—Howard A. Schmidt, White House Cyber Security Coordinator

"When someone with Mark Russinovich's technical chops writes a tale about tech gone awry, leaders in the public and private sector should take notes."
—Daniel Suarez, author of Daemon

"It is Mark Russinovich's in-depth knowledge of Windows and how data traverses over the digital landscape that creates the chilling realism in the backdrop of Trojan Horse."
—Kevin Mitnick, bestselling author of Ghost in the Wires, from the foreword Praise for Trojan Horse 
"Russinovich crafts a chilling, intricate, fast-moving tale of middle-east intrigue, conspiracies and assassinations."
—BookPleasures
Advertisement