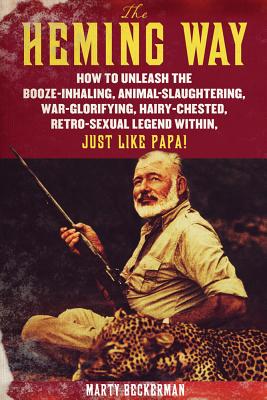 The Heming Way
How to Unleash the Booze-Inhaling, Animal-Slaughtering, War-Glorifying, Hairy-Chested Retro-Sexual Legend Within, Just
Hardcover

* Individual store prices may vary.
Other Editions of This Title:
Paperback (5/1/2011)
Description
Marty Beckerman's hilarious guide for the modern man to booze, battle, and bull-fight his way to becoming more like Hemingway

More than fifty years have passed since the death of Ernest Hemingway, history's ultimate man, and young males today obsessed with Facebook, Twitter, and Playstation know nothing about his legendary brand of rugged, alcoholic masculinity. They cannot skin a fish, dominate a battlefield, or transform majestic creatures of the Southern Hemisphere into piano keyboards.
"The Heming Way" demonstrates how modern eunuchs brainwashed by PETA and Alcoholics Anonymous can learn from Papa's unparalleled example: drunken, unshaven, meat-devouring, wife-divorcing, and gloriously self-destructive.
Advice includes:
How to kill enough animals to render a species endangered just like Papa
Getting your friends to think drinking a daiquiri is manly . . . just by drinking one nine yourself
Achieving sufficiently high testosterone levels to never have to worry about the chance of having a daughter instead of a son
And much more
Profane, insightful, hilarious and loaded with more than 150 photos, facts and insights about Papa, "The Heming Way" is a difficult path, and not for the weak, but truth is manlier than fiction.
Praise For The Heming Way: How to Unleash the Booze-Inhaling, Animal-Slaughtering, War-Glorifying, Hairy-Chested Retro-Sexual Legend Within, Just…
"Within this raucous self-help handbook to hairy-chested masculinity (and cat ownership), as exemplified by Papa Hemingway, lurks a serious message: turn off the TV, log off Facebook, and get out there and live! A great choice for manly men and/or couch potatoes."  —Booklist
Griffin, 9781250010605, 210pp.
Publication Date: November 27, 2012
About the Author
MARTY BECKERMAN has written for The New York Times, Esquire (where he served as an editor), Playboy, Salon, Discover, Gawker, The Huffington Post, and the Daily Beast, among others. He lives in New York.
or
Not Currently Available for Direct Purchase