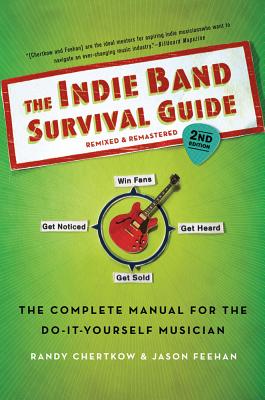 The Indie Band Survival Guide, 2nd Ed. (Paperback)
The Complete Manual for the Do-it-Yourself Musician
St. Martin's Griffin, 9781250010759, 400pp.
Publication Date: September 4, 2012
* Individual store prices may vary.
Description
"[Chertkow and Feehan] are the ideal mentors for aspiring indie musicians who want to navigate an ever-changing music industry." -Billboard Magazine

Newly revised and expanded, the acclaimed handbook for musicians looking to write, record, and promote without a label
More musicians are recording, distributing, marketing, and selling their own music now than ever before in history. The Indie Band Survival Guide is the critically-acclaimed, do-it-yourself modern classic that has been telling them how for years.
In this up-to-the-moment edition, musicians and web gurus, Randy Chertkow and Jason Feehan, cover everything musicians need to know. Drawing on their in-the-trenches experiences, they tell musicians how to:
- Sell on iTunes, Amazon, and Spotify
- Get played on radio, podcasts, and blogs
- Effectively market on Facebook, Twitter, and YouTube
- Copyright, license, and make money- And much more
This information exists nowhere else. Chertkow and Feehan are pioneers in using the Internet to do what only labels could do in the past and will help your band go from garage to global.
About the Author
Professionally, Randy Chertkow is an Information Technology specialist with over twenty years of experience in Fortune 100 enterprise environments. He has a Bachelor's in Business Administration in Information Systems and an MS in Computer Science: Data Communications, with a secondary concentration in Artificial Intelligence.
Randy has played music all his life, including jazz, rock, and classical music. His instruments include baritone, tenor, alto, and soprano saxophones; flute; Bb and bass clarinet; guitar; bass; and, really, anything else he can get his hands on. He started at the intensive New Trier High School Jazz program and went on to study jazz at Berklee College of Music and then completed a Perfect Set course at the Bloom School of Jazz.
Jason Feehan
is a licensed attorney who also specializes in project and program management, product management, and business operations. Basically, he improves things and gets stuff done—whether it's for Fortune 500 businesses or his own band, Beatnik Turtle (which successfully released one song a day for all of 2007). He has a Bachelor of Science in Political Science and Psychology and a J.D. He plays guitar, keyboards, sings, records, engineers, and produces. He founded Beatnik Turtle in 1997, as a four-piece band and grew it into an eight-piece with a full horn section and a recording studio all its own.
Praise For The Indie Band Survival Guide, 2nd Ed.: The Complete Manual for the Do-it-Yourself Musician…
"[Chertkow and Feehan] are the ideal mentors for aspiring indie musicians who want to navigate an ever-changing music industry." —Billboard Magazine
"I've seen a lot of books over the years; I've worked on every side of it….[Chertkow and Feehan] have the most up to date reference book for young musicians." —Matt Pinfield, radio and MTV/VH1 television personality
"Finally! A comprehensive and practical guide for musicians that explains how to navigate today's music world without a label. A must-read!" —Derek Sivers, founder of CD Baby and HostBaby
"This is just the sort of zero-BS guide to modern artistic survival that should be in every artist's handbag." —Cory Doctorow
"Dear Parent: I hear your kid's band is starting to sound pretty good! The band is getting regular practices in; they're gigging a bit; they've got a logo and a Facebook page. How can you help them now? … Take a look at: The Indie Band Survival Guide: The Complete Manual For The Do-It-Yourself Musician by Randy Chertkow and Jason Feehan." —Laura Lamere, "Parenting Creative Kids" blog
"Chertkow and Feehan are plugged-in to the mercurial world that is the music industry. Their straightforward approach to making your own rules in a world without them is exactly what new and experienced artists need… I'm going to call the publisher to inquire about a quantity discount for studios. Seriously. We should hand these out to every new client who comes in the door." —Garrett Haines, TapeOP Magazine
"The Internet is an extraordinary opportunity for musicians to make and profit from their music. This clearly written and comprehensive book shows exactly how. A perfect balance between the mess of the law and the promise of the technology, it should be read by anyone who wants to take their talent and share it--for the love of sharing, or for the profit." —Lawrence Lessig, author of Code, professor at Stanford Law School, founder of the Center for the Internet and Society, and CEO of the Creative Commons project
"Jam-packed full of incredible information. The Indie Band Survival Guide is a book that all artists, independent or not, need to own." —Ariel Hyatt, author, publicist, and founder of CyberPR
"[Chertkow and Feehan have] effectively produced a take-along, dog-earable handbook so anyone can follow in these well tread footsteps. " —BoingBoing
"Highly, highly recommended--for not only musicians, but for anyone and everyone living DIY.... It's also an incredibly invaluable resource for techies, writers, bloggers, social/digital media folk, producers, editors, and just about anybody with an interest in Indie/DIY culture." —Rockthought.com
"[Chertkow and Feehan] have collected a wealth of information and tools to help the indie band in getting recognized and their music distributed to their fans and, more importantly, the rest of the market." —Cybergrass
"The reason the guide is so good is simple...It's written by a pair of musicians, Randy Chertkow and Jason Feehan...I'll be recommending for years to come." —Journal Star (Lincoln, NE)
"Indispensable... This lively book offers such essential guidance in these changing times, no band should be without a copy." —Publishers Weekly
or
Not Currently Available for Direct Purchase