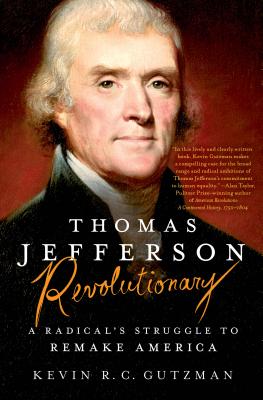 Thomas Jefferson - Revolutionary (Hardcover)
A Radical's Struggle to Remake America
St. Martin's Press, 9781250010803, 304pp.
Publication Date: January 31, 2017
Other Editions of This Title:
Paperback (2/6/2018)
* Individual store prices may vary.
Description
"In this lively and clearly written book, Kevin Gutzman makes a compelling case for the broad range and radical ambitions of Thomas Jefferson's commitment to human equality." - Alan Taylor, Pulitzer Prize winning author of American Revolutions: A Continental History, 1750-1804
Though remembered chiefly as author of the Declaration of Independence and the president under whom the Louisiana Purchase was effected, Thomas Jefferson was a true revolutionary in the way he thought about the size and reach of government, which Americans who were full citizens and the role of education in the new country. In his new book, Kevin Gutzman gives readers a new view of Jefferson—a revolutionary who effected radical change in a growing country.
Jefferson's philosophy about the size and power of the federal system almost completely undergirded the Jeffersonian Republican Party. His forceful advocacy of religious freedom was not far behind, as were attempts to incorporate Native Americans into American society. His establishment of the University of Virginia might be one of the most important markers of the man's abilities and character.
He was not without flaws. While he argued for the assimilation of Native Americans into society, he did not assume the same for Africans being held in slavery while—at the same time—insisting that slavery should cease to exist. Many still accuse Jefferson of hypocrisy on the ground that he both held that "all men are created equal" and held men as slaves. Jefferson's true character, though, is more complex than that as Kevin Gutzman shows in his new book about Jefferson, a revolutionary whose accomplishments went far beyond the drafting of the Declaration of Independence.
About the Author
KEVIN R. C. GUTZMAN, JD, PhD, is author of James Madison and the Making of America. Professor of History at Western Connecticut State University and a faculty member at LibertyClassroom.com, he is the author of several books, including best-sellers, has published in all the leading history journals, and writes and speaks frequently for popular audiences. He lives with his son in Connecticut.
Praise For Thomas Jefferson - Revolutionary: A Radical's Struggle to Remake America…
Praise for Thomas Jefferson - Revolutionary:
"For those who think that everything has been said about Thomas Jefferson, Kevin Gutzman's remarkable new book proves them wrong. Gutzman offers striking new insights into Jefferson's views on federalism, the freedom of conscience, race relations, primary and secondary education, and the University of Virginia. Arguing that Jefferson was "the most significant statesman in American history," Gutzman nonetheless points out what he believes are some of the critical flaws in Jefferson's thoughts and actions. Written in a clear and direct style, Thomas Jefferson—Revolutionary will be of interest to historians, legal scholars, and students of American political thought." - James W. Ceaser, The University of Virginia
"Perhaps no figure has cast a longer shadow across the American political landscape than Thomas Jefferson; and the political thought and legacy of few figures have been the subject of more debate. In his engaging examination of Jefferson's public life, Kevin Gutzman takes his readers on a rip-roaring ride through the contests and controversies of the founding era and early republic, inviting readers along the way to challenge conventional interpretations of history and reconsider first principles. Brimming with keen insights, Thomas Jefferson — Revolutionary focuses on Jefferson's often radical views on federalism, the rights of conscience, race, slavery, and public education, casting light on the great political controversies that have long roiled the republic." - Daniel L. Dreisbach, American University, and author of Thomas Jefferson and the Wall of Separation Between Church and State

"No statesman of the United States' founding years has suffered a more precipitous decline in his reputation than Thomas Jefferson. He has been one of the principal victims of our era's small-minded rage against the very idea that imperfect men can still be heroes. It is time for a spirited corrective to this folly, and Kevin Gutzman has provided one in this book, reminding us of Jefferson's astounding range of accomplishments, and his steadfast confidence in the dignity and unrealized potential in the minds and hearts of ordinary people. Whenever we search for the core of what is greatest in the American democratic experiment, we find the towering figure of Jefferson, and the abundant evidence of his influence." - Wilfred M. McClay, G.T. and Libby Blankenship Chair in the History of Liberty, University of Oklahoma
"When Jefferson wrote the inscription for his tombstone, he ignored the many offices he'd held and instead listed as his signature achievements the Declaration of Independence, the Virginia Statute for Religious Freedom, and the University of Virginia. Kevin Gutzman's important new book connects the dots between these and other contributions to make a compelling case that Jefferson was neither an enigma nor a paradox. Instead, he was an American Revolutionary with a consistent and coherent agenda to make America a land of liberty and opportunity the likes of which the world had never seen." - Robert M. S. McDonald, Professor of History, United States Military Academy, author of Confounding Father: Thomas Jefferson's Image in His Own Time
"Kevin Gutzman's Thomas Jefferson--Revolutionary offers a provocative and original perspective on the great Virginian's radical vision of America's--and Virginia's--future. Sharply focused, powerfully argued, and engagingly written, Gutzman's book is sure to generate the kind of controversy that will guarantee Jefferson's continuing relevance." - Peter S. Onuf, University of Virginia and the Thomas Jefferson Foundation, (Monticello), co-author, with Annette Gordon-Reed, of Most Blessed of the Patriarchs: Thomas Jefferson and the Empire of the Imagination
"Kevin Gutzman has written a learned and combative book about one of the central figures in a transatlantic age of democratic revolution. In attempting to fathom the mind of Thomas Jefferson, his fears as well as his aspirations, Gutzman has fresh things to say not only about Jefferson himself, but on an entire period of American history." - Robert L. Paquette, Executive Director, Alexander Hamilton Institute
"In this lively and clearly written book, Kevin Gutzman makes a compelling case for the broad range and radical ambitions of Thomas Jefferson's commitment to human equality." - Alan Taylor, Pulitzer Prize winning author of American Revolutions: A Continental History, 1750-1804
Praise for James Madison and the Making of America:
Gutzman's meticulous disquisition on the proceedings of the Philadelphia Constitutional Convention ... will most profit scholars. His perspective on an important Founder, and his minute examination of the Federalist Papers, will ... appeal to serious readers. —Library Journal
A well-considered and written biography of this gifted Founding Father's many contributions to the early republic. —Kirkus
With James Madison and the Making of America, Kevin Gutzman has raised a glorious standard to illustrate and illuminate the importance of Madison and why he may be unfairly overlooked and buried in the shadow of Jefferson. On the whole, [it] is an impressive book. Gutzman makes history easy to read and keeps the expected dry boredom of reliving the 1700s at bay, making them vibrant and exciting, as they no doubt were to the people who lived them. With this book, the foundations of America are laid open for examination, and the specific work Madison undertook to bring about the glorious new nation with a republican-style government gets the attention it properly deserves. —Book Reporter
Kevin R. C. Gutzman, relying for the most part on primary sources, gives us an authoritative, vivid and wide-ranging exploration of Madison's public career in James Madison and the Making of America... a solid and insightful biography that should appeal to both those readers who know a lot about Madison and those who want an introduction to him. —BookPage
or
Not Currently Available for Direct Purchase