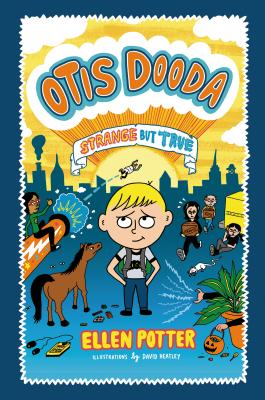 Otis Dooda: Strange But True (Hardcover)
Strange But True
Feiwel & Friends, 9781250011763, 223pp.
Publication Date: June 4, 2013
Description
HARDY-HAR-HAR
Meet Otis Dooda. Yes, that's his name. Go on and have a good laugh. He's heard it all before. He's been called things like Otis Poopy Stink and Otis Toilet Twinkie. That's right, yuck it up and get it out of your system. We'll wait.
All right then. This is the story of Otis and the Dooda family (including their rat named Smoochie) moving to New York City, and the incredibly strange, but true, things that happened to them. It all started with Otis getting cursed by a guy in a potted plant in their apartment building lobby, and then meeting a bunch of their neighbors, including a farting pony named Peaches who was disguised as a dog. And that was just the first day.
About the Author
Meet Ellen Potter. She's the author of Otis Dooda and is known for her bestselling Olivia Kidney series, as well as her star-studded novels The Kneebone Boy and The Humming Room. She swears that everything in this novel is absolutely not true, but we're still looking for the poodles of mass destruction. Read it for yourself.Meet David Heatley. He drew all the pictures for Otis Dooda. When he's not writing songs or playing with Legos or daydreaming, he creates art for magazines, books, and Web sites all over the world, including The New Yorker, The New York Times, and Nickelodeon magazine. Otis Dooda is his first book for kids.
Praise For Otis Dooda: Strange But True…
"Heatley strikes an apt balance between cartoony and creepy in his b&w artwork, and Potter has a firm handle on both Otis's self-effacing, drily funny voice and her audience's love of Legos, bizarre plot developments, and bountiful scatological humor."--Publishers Weekly   "There are plenty of poop and fart jokes, and the black-and-white illustrations add a graphic-novel feel. Give this one to fans of the "Diary of a Wimpy Kid" (Abrams) and "Captain Underpants" (Scholastic) series." -- School Library Journal
Advertisement