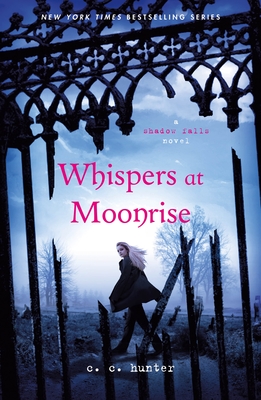 Whispers at Moonrise (A Shadow Falls Novel #4)
Paperback

* Individual store prices may vary.
Other Editions of This Title:
Digital Audiobook (10/1/2012)
CD-Audio (12/2/2014)
Mass Market (7/16/2013)
Description
Shadow Falls Camp is back in session with the most explosive installment yet. A shocking new threat will rock Shadow Falls—changing it forever and altering Kylie's journey in ways she never imagined.

Even at a camp for supernatural teens, Kylie Galen has never been normal. Not only can she see ghosts, but she doesn't seem to belong to any one species—she exhibits traits from them all. As Kylie struggles to unlock the secrets of her identity, she begins to worry that Lucas will never be able to accept her for what she is, and what she isn't…a werewolf. With his pack standing in their way, Kylie finds herself turning more and more to Derek, the only person in her life who's willing to accept the impossible.

As if life isn't hard enough, she starts getting visits from the ghost of Holiday, her closest confidante. Trouble is, Holiday isn't dead…not yet anyway. Now Kylie must race to save one of her own from an unseen danger before it's too late—all while trying to stop her relationship with Lucas from slipping away forever. In a world of constant confusion, there's only one thing Kylie knows for sure. Change is inevitable and all things must come to an end…maybe even her time at Shadow Falls.

Don't miss Whispers at Moonrise, the breathtaking fourth installment of the New York Times bestselling Shadow Falls series from author C. C. Hunter.
Praise For Whispers at Moonrise (A Shadow Falls Novel #4)…
"The relationship Kylie has with both Lucas and Derek is addicting! How could anyone choose between the two? It's not often that I love a series as much as I have with Shadow Falls. I find myself thinking of nothing else! This has been one of my favorite series of all time!" —Open Book Society

"I absolutely loved the story. I found it to be a very exciting and entertaining beginning to, what i can only pray to be, an equally amazing series." —Mocha Latte Reads

"I loved Born at Midnight! It rocked and was definitely a fun and mysterious read!" —The Bookworms

"As always, C. C. Hunter never fails to amaze me with her storytelling. I just loved this series. The plot twists were intriguing, there was just the right amount of mystery, tension, laugh out loud moments, romance and very emotional scenes. This is the kind of book that every teenager should read." —Fic Book Reviews

"Shadow Falls Camp is a place I would like to visit, and being there with Kylie was an absolute pleasure. This was one of my favorite reads this year." —Down The Rabbit Hole

"The Shadow Falls series belongs to my favorite YA series. It has everything I wish for in a YA paranormal series. A thrilling tale that moves with a great pace, where layers of secrets are revealed in a way that we are never bored. It continues a gripping story about self-discoveries, finding a place in the world, friendship, and love. So if you didn't start this series yet, I can only encourage you to do so." —Bewitched Bookworms

"TAKEN AT DUSK starts off with action and never loses momentum. C.C. Hunter takes readers on a supernatural thrill ride, full of suspense, drama, laughter and intense emotions from page one all the way through the last page, ending in one of the biggest cliffhangers I've read." —Guilty Pleasures Book Reviews

"Ms. Hunter handles this series with such deftness, crafting a wonderful tale that speaks to the adolescent in me. I highly recommend this series filled with darkness and light, hope and danger, friendship and romance." —Night Owl Reviews (Top Pick)

"Taken At Dusk has even more drama and answers for Kylie. Jam-packed with action and romance from the very beginning, Hunter's lifelike characters and paranormal creatures populate a plot that will keep you guessing till the very end. A perfect mesh of mystery, thriller, and romance. Vampires, weres and fae, oh my!" —Romantic Times

"Awake At Dawn was an enjoyable read with a refreshing cast of teenagers with a unique take on the paranormal… The ending took me totally by surprise and I am anxious to see what the next book holds!" —Night Owl Teen Reviews

"AWAKE AT DAWN is an emotional thrill ride full of suspense, action, laughter, multiple love stories and an intriguing variety of paranormal species. I could not put this book down and can't wait to start TAKEN AT DUSK as soon as I finish this review." —Guilty Pleasures Book Reviews

"Recommended this book to people who like the House of Night series, Hush, hush, Nightshade, Fallen and Hex Hall." —Flamingnet Book Reviews

"Awake At Dawn is the second book in the Shadow Falls series and it is easily as awesome as the first! There is almost always something new or exciting going on…and readers will easily connect to Kylie and some of the secondary characters." —Live To Read Blog

"Awake at Dawn is addicting. Somewhere close to the middle, I knew I had to finish that day or I would not be able to sleep. I needed my answers and I just knew if I waited a little longer I would get some Lucas action….You are going to love Awake At Dawn!" —Awesome Sauce Book Club

"Born at Midnight is addicting. Kylie's journey of self-discovery and friendship is so full of honesty, it's impossible not to fall in love with her and Shadow Falls..and with two sexy males vying for her attention, the romance is scorching. Born at Midnight has me begging for more, and I love, love, love it!" —Verb Vixen

"The evolving, not-always-easy relationships among Kylie and her cabin mates Della and Miranda are rendered as engagingly as Kylie's angst over dangerous Lucas and appealing Derek. Just enough plot threads are tied up to make a satisfying stand-alone tale while whetting appetites for sequels to come" —Publishers Weekly

"This book has it all, and readers wont' ant to put it down. Hunter packs on the twists, and then leaves you handing with an amazing hook ending, just waiting for more." —Romantic Times

"With intricate plotting and characters so vivid you'd swear they are real, BORN AT MIDNIGHT is an addictive treawt. Funny, poignant, romantic and downright scary in places, it hits all the right notes. Hightly recommended." —Houston Lifestyles and Homes Magazine

"I laughed and cried so much while reading this…I LOVED this book. I read it every chance I could get because I didn't want to put it down. The characters were well developed and I felt like I knew them from the beginning. The storyline and mystery that went along with it kept me glued to my couch not wanting to do anything else but find out what the heck was going on." —Urban Fantasy Investigations Blog

"This has everything a YA reader would want…I read it over a week ago and I am still thinking about it. I can't get it out of my head. I can't wait to read more. This series is going to be a hit!" —Awesome Sauce Book Club

"The newest in the super-popular teen paranormal genre, this book is one of the best. Kylie is funny and vulnerable, struggling to deal with her real-world life and her life in a fantastical world she's not sure she wants to be a part of. Peppered throughout with humor and teen angst, Born At Midnight is a laugh-out-loud page-turner. This one is going on the keeper shelf next to my Armstrong and Meyer collections!" —Fresh Fiction

"Seriously loved this book! This is definitely a series you will want to watch out for. C.C. Hunter has created a world of hot paranormals that I didn't want to leave." —Looksie Lovitz Book Blog

"Born at Midnight has a bit of everything…a strong unique voice from a feisty female lead, a myriad of supporting Supernatural characters, a fiery romance with two intriguing guys - mixed all together with a bit of mystery – making Born at Midnight a sure fire hit!" —A Life Bound By Books

"Very exciting, taking twists and turns I never expected. The main character grows very well throughout the story, overcoming obstacles and realizing things she never thought possible. And the author masterfully ended it just right." —Flamingnet Book Reviews
St. Martin's Griffin, 9781250011916, 400pp.
Publication Date: October 2, 2012
About the Author
C.C. Hunter is the author of the young adult fantasy series Shadow Falls, including the books Born at Midnight and Awake at Dawn. She grew up in Alabama, where she caught lightning bugs, ran barefoot, and regularly rescued potential princes, in the form of Alabama bullfrogs, from her brothers. Today, she's still fascinated with lightning bugs, mostly wears shoes, but has turned her focus to rescuing mammals. She now lives in Texas with her four rescued cats, one dog, and a prince of a husband, who for the record, is so not a frog. When she's not writing, she's reading, spending time with her family, or shooting things--with a camera, not a gun. C.C. Hunter is a pseudonym. Her real name is Christie Craig and she also writes humorous romantic suspense romance novels.
or
Not Currently Available for Direct Purchase