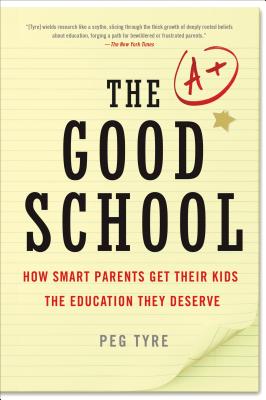 The Good School (Paperback)
How Smart Parents Get Their Kids the Education They Deserve
St. Martin's Griffin, 9781250012159, 256pp.
Publication Date: August 21, 2012
* Individual store prices may vary.
Description
Award-winning education journalist Peg Tyre mines up-to-the-minute research to equip parents with the tools and knowledge necessary to get their children the best education possible
We all know that the quality of education served up to our children in U.S. schools ranges from outstanding to shockingly inadequate. How can parents tell the difference? And how do they make sure their kids get what's best? Even the most involved and informed parents can feel overwhelmed and confused when making important decisions about their child's education. And the scary truth is that evaluating a school based on test scores and college admissions data is like selecting a car based on the color of its paint. Synthesizing cutting-edge research and firsthand reporting, Peg Tyre offers parents far smarter and more sophisticated ways to assess a classroom and decide if the school and the teacher have the right stuff. Passionate and persuasive, The Good School empowers parents to make sense of headlines; constructively engage teachers, administrators, and school boards; and figure out the best option for their child—be that a local public school, a magnet program, a charter school, homeschooling, parochial, or private.
About the Author
Peg Tyre is the author of the New York Times bestseller The Trouble with Boys. She was awarded the prestigious Spencer Research Fellowship at the Columbia Graduate School of Journalism where she began work on her book The Good School. Her writing about education has appeared in Newsweek, The New York Times, Family Circle, and iVillage.com. She lives in Brooklyn, New York.
Praise For The Good School: How Smart Parents Get Their Kids the Education They Deserve…
"Peg Tyre lays out the fundaments of a good school--and a good education--clearly and without bias. How I wish I'd had this book when my husband and I were choosing an elementary school for our daughter!" —Peggy Orenstein, author of the New York Times-bestselling Cinderella Ate My Daughter
"[Tyre] wields research like a scythe, slicing through the thick growth of deeply rooted beliefs about education, forging a path for bewildered or frustrated parents." —The New York Times
"Journalist Peg Tyre's new book...condenses decades of education research to help parents make better choices about selecting schools for their children." —USA Today
"Tyre offers solutions. With a splash of history, the author discusses pedagogies, as well as what to look for in a good preschool teacher...[and] provides respectful ways for approaching--or changing--the system...This is not an indictment of teachers, but rather an eye-opening tool for parental involvement." —Kirkus
"With research and news reports documenting a range in school quality from glorious to horrendous, how is a parent to know where their child's school fits in that range? Education journalist Tyre analyzes the factors that contribute to a good school, giving parents practical advice on how to evaluate schools...An engaging and valuable resource." —Booklist
"If you have young children or have children who have young children, I hope you will [read this book]-- it's a chatty, non-theoretical story of how our schools got to be testing-machines-so-the-states-get-federal-education-money and how, despite that, you can help your offspring acquire some book learning...[Tyre is] as much of a resource as a great librarian or that teacher you'll never forget. Use her." —Jesse Kornbluth, The Huffington Post
"Tyre mines education research data to find out which programs and strategies give kids the highest probabilities of academic success. The result is a concise handbook for parents, one that applies a macro-economic view of education in an effort to create a more rational market around school choice." —Freakonomics.com