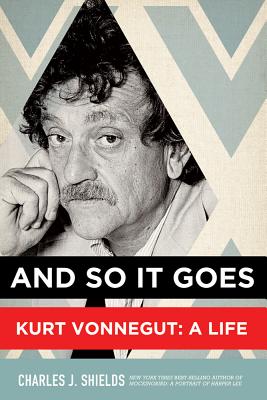 And So It Goes
Kurt Vonnegut: A Life
Paperback

* Individual store prices may vary.
Other Editions of This Title:
Digital Audiobook (5/10/2012)
Description
From the author of Mockingbird—the first authoritative biography of Kurt Vonnegut Jr., a writer who forever altered American literature

In 2006, Charles Shields reached out to Kurt Vonnegut in a letter asking for his endorsement for a planned biography. The first response was no ("A most respectful demurring by me for the excellent writer Charles J. Shields, who offered to be my biographer"). Unwilling to take no for an answer, propelled by a passion for his subject, and already deep into his research, Shields wrote again and this time, to his delight, the answer came back: "O.K." For the next year—a year that ended up being Vonnegut's last—Shields had unprecedented access to Vonnegut and his letters.

While millions know Vonnegut as a counterculture guru, antiwar activist, and satirist of American culture, few outside his closest friends and family knew the full arc of his extraordinary life. And So It Goes changes that, painting the portrait of a man who made friends easily but always felt lonely, sold millions of books but never felt appreciated, and described himself as a humanist but fought with humanity at large. As a former public relations man, Vonnegut crafted his image carefully—the avuncular, curly-haired humorist—though he admitted, "I myself am a work of fiction."

The extremely wide and overwhelmingly positive review coverage for And So It Goes has been nothing less than extraordinary and confirm it as the definitive biography of Kurt Vonnegut.
Praise For And So It Goes: Kurt Vonnegut: A Life…
"An incisive, gossipy page-turner of a biography." —Janet Maslin, The New York Times

"An engaging, surprising and empathetic page-turner" —Deirdre Donahue, USA Today

"The first truly exacting look into the life of a man who has fascinated so many." —Esquire Magazine

"Engaging and well paced, the book fills in the reality behind Vonnegut's work" —Christen Aragoni, The American Prospect

"This first authorized biography probes both Vonnegut's creative struggles and family life, detailing his transition from 'the bowery of the book world' to counterculture icon. Shields delivers a vivid recreation of Vonnegut's ghastly WWII experiences as a POW during the Dresden firebombing that became the basis for Slaughterhouse-Five. . . . Tragedies and triumphs are contrasted throughout, along with an adroit literary analysis that highlights obscure or overlooked influences on Vonnegut. . . . With access to more than 1,500 letters, Shields conducted hundreds of interviews to produce this engrossing, definitive biography." —PW, Starred Review

"This book fills a much-needed gap, since very little seems to be known about the late Kurt Vonnegut, despite his immense popularity over almost five decades. Shields did a thorough job, interviewing Vonnegut and his friends and family, and examining many letters. Vonnegut was one of the most influential authors of the late twentieth century, and this biography is essential reading." —Anis Shivani, Huffington Post

"Provide[s] a definitive and disturbing account of the late author, whose ambition and talent transformed him from an obscure science fiction writer to a countercultural icon." —Steve Almond, The Boston Globe

"[A] thorough and excellent new biography." —Tim Gebhart, The Seattle Post-Intelligencer

"The richest portrait of Vonnegut to date." —Craig Fehrman, Indianapolis Monthly

"[A] balanced, well-researched study of a flawed yet powerfully imaginative artist." —Ariel Gonzalez, Miami Herald Tribune

"A triumphant biography: scrupulously researched and powerfully written, compassionate, clear-eyed and compelling. Charles J. Shields manages a rare feat: offering a lucid assessment of Kurt Vonnegut's literary life alongside the moving tale of an American original and a misunderstood hero. From his harrowing survival of the Dresden firebombing through forty years of culture clashes and domestic battles, here is the Vonnegut we all thought we knew and the man we never got to see, a writer of searing wit and wisdom, of driving ambition, and perhaps most of all, of aching loneliness." —Jess Walker, author of The Financial Lives of the Poets and Citizen Vince

"Vonnegut's life was a fascinating tragicomedy worthy of his best novels, and I can hardly imagine a better teller of that tale than Shields. A superbly researched and above all very entertaining biography." —Blake Bailey, author of Cheever: A Life

"And So It Goes will entrance lovers of Kurt Vonnegut's fiction. With the blessing of Vonnegut himself and help from scores of Vonnegut's friends, relations, and acquaintances, Charles J. Shields gives us a distinguished, fearless, page-turner of a biography." —Carol Sklenicka, author of Raymond Carver: A Writer's Life

"Vonnegut once said that he kept losing and regaining his equilibrium, and Shields dexterously captures the ups and downs of Vonnegut's life and work in this definitive biography." —Henry L. Carrigan, Bookpage
St. Martin's Griffin, 9781250012180, 544pp.
Publication Date: October 16, 2012
About the Author
Charles J. Shields is the author of Harper Lee's New York Times bestselling biography Mockingbird, the Kurt Vonnegut biography And So It Goes, and the biography of John Edward Williams, The Man Who Wrote the Perfect Novel. Shields has spoken to hundreds of large audiences in schools, libraries, museums, and historic theaters and appeared in newspapers and magazines worldwide, including the Wall Street Journal, New Yorker, Huffington Post, and New York Times.