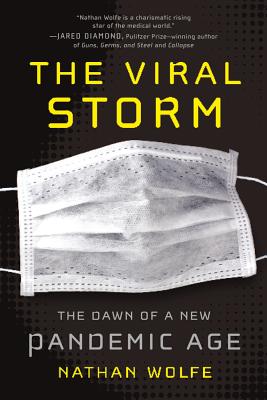 The Viral Storm: The Dawn of a New Pandemic Age (Paperback)
The Dawn of a New Pandemic Age
Griffin, 9781250012210, 304pp.
Publication Date: October 16, 2012
Description
" A] quietly terrifying book. . . . It's hard not to feel a bit feverish at times while reading." "The Boston Globe"
In "The Viral Storm," award-winning biologist Nathan Wolfe tells the story of how viruses and human beings have evolved side by side through history; how deadly viruses like HIV, swine flu, and bird flu almost wiped us out in the past; and why modern life has made our species vulnerable to the threat of a global pandemic. He takes readers along on his groundbreaking and often dangerous research trips to reveal the surprising origins of the most deadly diseases and to explain the role that viruses have played in human evolution.
In a world where each new outbreak seems worse than the one before, Wolfe points the way forward, as new technologies are brought to bear to neutralize these viruses and even harness their power for the good of humanity. His provocative vision of the future will change the way we think about viruses, and perhaps remove a potential threat to humanity's survival.
About the Author
NATHAN WOLFE is the Lorry I. Lokey Visiting Professor in Human Biology at Stanford University and the founder and CEO of Global Viral Forecasting, an independent research institute devoted to early detection and control of epidemics. He holds degrees from Stanford and Harvard and has been published in or profiled by Nature, Science, The New York Times, The New Yorker, The Economist, Wired, Discover, Scientific American, NPR, Popular Science, Seed, and Forbes. In 2011 he was named one of Time magazine's 100 Most Influential People in the World. He lives in San Francisco.
Advertisement