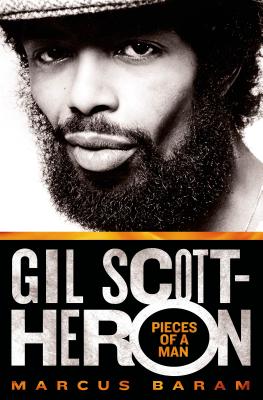 Gil Scott-Heron (Hardcover)
Pieces of a Man: Pieces of a Man
St. Martin's Press, 9781250012784, 320pp.
Publication Date: November 11, 2014
* Individual store prices may vary.
Description
Best known for his 1970 polemic "The Revolution Will Not Be Televised," Gil Scott-Heron was a musical icon who defied characterization. He tantalized audiences with his charismatic stage presence, and his biting, observant lyrics in such singles as "The Bottle" and "Johannesburg" provide a time capsule for a decade marked by turbulence, uncertainty, and racism. While he was exalted by his devoted fans as the "black Bob Dylan" (a term he hated) and widely sampled by the likes of Kanye West, Prince, Common, and Elvis Costello, he never really achieved mainstream success. Yet he maintained a cult following throughout his life, even as he grappled with the personal demons that fueled so many of his lyrics. Scott-Heron performed and occasionally recorded well into his later years, until eventually succumbing to his life-long struggle with addiction. He passed away in 2011, the end to what had become a hermit-like existence.
In this biography, Marcus Baram--an acquaintance of Gil Scott-Heron's--will trace the volatile journey of a troubled musical genius. Baram will chart Scott-Heron's musical odyssey, from Chicago to Tennessee to New York: a drug addict's twisted path to redemption and enduring fame. In Gil Scott-Heron: Pieces of a Man, Marcus Baram puts the complicated icon into full focus.
About the Author
MARCUS BARAM is Managing Editor at International Business Times and a former news editor at the New York Observer, The Wall Street Journal, and Huffington Post. He has also worked at the New York Daily News and ABC News and has written for The New York Times, The New Yorker, New York magazine, Vibe, the Village Voice, and the New York Post. Gil Scott-Heron: Pieces of a Man is his first book. A life-long fan, Baram knew Gil Scott-Heron and they were discussing collaborating on a memoir before he died.
Praise For Gil Scott-Heron: Pieces of a Man: Pieces of a Man…
"Controversial and enigmatic, the tragic trajectory of Scott-Heron's life and career is expertly examined in this testament to one of the last great radical artists." —Kirkus
"Baram's exacting, intimate, and sensitive portrait preserves and honors Scott-Herron's unique genius and essential legacy." —Booklist
"A poignant portrait... of the artist as a black man struggling to make sense of his culture from the 1960s to his death… Baram's appreciative biography offers a glimpse into the complex feelings and thoughts of this Renaissance man we lost much too soon." —Publishers Weekly
"An addict and a recluse; a genius and a poet; a defacto founder of hip=hop who died in poverty, afraid to open his front door. Baram...traces Gil Scott-Heron's complicated path in the first full-on biographical work devoted to a career as turbulent as it was brilliant." —NOLA.com, The Times-Picayune