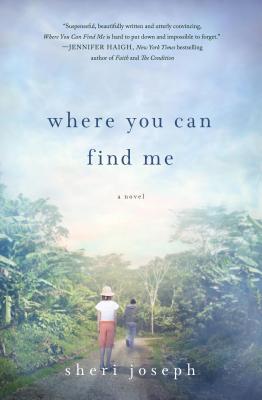 Where You Can Find Me (Hardcover)
Thomas Dunne Books, 9781250012852, 336pp.
Publication Date: April 16, 2013
Other Editions of This Title:
Hardcover, Large Print (9/11/2013)
* Individual store prices may vary.
Description
"A searing exploration of a family's struggle to heal in the wake of unthinkable tragedy "
""
A week after his eleventh birthday, Caleb Vincent vanishes with hardly a trace. After a three-year search, he is found living a seemingly normal life under a new name with a man he calls his father.
While outwardly stunned with joy at his safe recovery, Caleb's parents and sister are privately scrambling to gather together the pieces of a shattered family. To escape the relentless media attention surrounding her son's return, Caleb's mother, Marlene, decides to flee the country and seek refuge in Costa Rica with Caleb and his younger sister, against her estranged husband's wishes. There Marlene forms a makeshift household with her husband's expat mother and his charming, aimless older brother, all residing in a broken-down hotel perched at the blustery apex of the continental divide. In the clouds of their new home, the mystery of Caleb's time gone unfolds while new dangers threaten to pull him back toward his former life.
"Where You Can Find Me," a darkly incandescent novel that progresses with page-turning suspense, is sure to establish award-winning author Sheri Joseph as a household name.
About the Author
SHERI JOSEPH is the author of Stray, winner of the Grub Street National Book Prize, and Bear Me Safely Over. In addition to numerous residencies and fellowships, she has been awarded a National Endowment for the Arts fellowship for the first chapter of Where You Can Find Me. She lives in Atlanta, where she teaches in the creative writing program at Georgia State University and serves as fiction editor of Five Points.
Praise For Where You Can Find Me…
"Sheri Joseph (Bear Me Safely Over, Stray) takes this darker than dark scenario and transforms it into a searching, layered investigation…The strength of her novel lies in precisely this generosity and grace, a willingness to turn their strange prism of experience a hundred ways until, unexpectedly, it finally reveals a glimmer of hope."
—The Atlanta Journal-Constitution

"This is an intense read, well worth it."
—Suspense Magazine

"Joseph writes about the disappearance of a child with grace and complexity…Where You Can Find Me doesn't explain the unexplainable, but instead opens us to a complicated world of pain and love and mystery, a world that we both know and can never know."
—FictionWritersReview.com

"Joseph (Stray, 2007) turns the sensationalistic story of an abused boy who has seen the darkest parts of life into a transformative and often suspense-filled tale of identity and resilience. A deeply moving novel about a family determined to survive the greatest of tragedies."
—Booklist (starred)

"A fraught subject, handled with gravitas and, improbably, grace."
—Kirkus Reviews

"All seems to be well, but one mark of a good writer is the ability to hint at the disquiet beneath what looks like a calm surface. Like Hilda's old hotel, part of it fallen into the valley and the rest teetering on the edge of a cliff, the reader is kept in a state of almost nail-biting uncertainty when it comes to this family's recovery. In Where You Can Find Me, Joseph takes on a difficult subject and makes it work."
—Bookpage

"With compassion and profound psychological insight, Sheri Joseph follows one family through the aftermath of every parent's worst nightmare . . . . Suspenseful, beautifully written and utterly convincing, Where You Can Find Me is hard to put down and impossible to forget."
—Jennifer Haigh, New York Times bestselling author of Faith, Mrs. Kimble, Baker Towers and The Condition

In Where You Can Find Me, Sheri Joseph has written an engrossing, deeply moving, and emotionally complex novel that has stayed with me every moment since I first read it, months ago. Joseph writes swift and faultless prose and miraculously real characters. This book spurs you to pay close attention to those around you and to love as fully in this life as you possibly can."
—Lauren Groff, author of Arcadia and The Monsters of Templeton

"What a gorgeous writer! Sheri Joseph's prose is reminiscent of Michael Cunningham's, brave, compassionate, as clear and artful as blown glass. What is most shocking is not the devastation wrought on Caleb Vincent and his family but the grace with which they manage to grow into their new selves. I did not want Where You Can Find Me to end, but the climax is so gripping--and terrifying--I tore through the pages."
—Susan Rebecca White, author of A Soft Place to Land and Bound South

"Where You Can Find Me is a tender, ticking bomb. Joseph's haunting novel of lost innocence and second chances is both terrifying and indelible, and will leave you clutching your family close."
—Alexi Zentner, author of Touch

"Where You Can Find Me is a vivid, page-turning thriller about a terrible crime, and the way one fractured family puts itself back together in the aftermath. Beautifully told, with indelible characters, this novel is full of wisdom about the darkness of the world, and the power we have to survive it."
—Alix Ohlin, author of The Missing Person and Babylon and Other Stories

"In the mesmerizing and disturbing Where You Can Find Me, Sheri Joseph implicates the reader in a journey to the darkest corners of the soul as she explores the aftermath of horror for a teenage boy and his family. Yet all is not dark; the complex and vibrant characters find ample opportunity for surprising beauty.  What happens in the present is as gripping as the mystery of the past, and Joseph creates a delicate balance of uncertainty and hope that carries us through to the piercing final pages."
—Scott Heim, author of Mysterious Skin and We Disappear
or
Not Currently Available for Direct Purchase