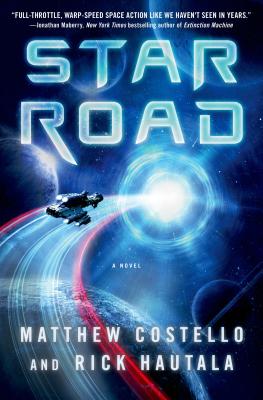 Star Road
Hardcover

* Individual store prices may vary.
Other Editions of This Title:
Digital Audiobook (12/25/2014)
Description
A rebel and an outlaw lead an unsuspecting group of adventurers on a secret mission across the vastness of space, in Matthew Costello's "Star Road"
Ivan Delgato, a former leader of a rebel group called the Runners, is released from jail on the condition that he carry out a secret mission for the World Council. His assignment is simple: stay under cover, but do absolutely anything necessary to reach the planet Omega IX and offer the renegade Runners clemency if they surrender---which may be complicated since Ivan's brutally violent brother has taken lead of the Runners in Ivan's absence.
In search of the Runners, Ivan catches a ride out to the wildest reaches of the galaxy via a mysterious transportation system, the Star Road. His fellow passengers on Star Road Vehicle-66 are a suspicious group, all with their own hidden reasons for traversing the star road. As the travelers contend with increasingly deadly encounters, it isn't long before suspicions build against Ivan.
And as the Runners must choose one brother over the other, on a planet filled with ancient secrets, those who survive will confront a mystery that changes the Star Road, and humanity, forever.
Praise For Star Road…
"Buy it, don't miss it" —PRX.org

"I'll start this review straight out by saying that Star Road ranks as my number one fiction read in all of 2013. It is no exaggeration when I write that not only was Star Road my most captivating read over the past 12 months, but I can't remember the last time I had so much fun reading a novel." —HorrorWorld

"The action never falters as what starts out as a routine drive for Star Road Vehicle-66's lively crew and passengers rapidly turns into a video game–inspired nightmare, with hairsbreadth escapes, dastardly plots, heroic rescues, gnomic utterances, monsters, love interests, guns and violence, aliens, and Raiders of the Lost Ark–style tests of nerve and analysis…All in all, something for everyone." —Kirkus Reviews

"The emphasis on the unexplored evokes the vision of classic science fiction, neatly packaging this espionage novel in a speculative wrapper." —Publishers Weekly
"Star Road is full-throttle, warp-speed space action like we haven't seen in years. A grand adventure of heroes and villains written with smarts, grit and a great sense of fun. Highly recommended!" —Jonathan Maberry, New York Times bestselling author of Extinction Machine and Fire & Ash

"Matt Costello and Rick Hautala have a hit on their hands with Star Road. From its Stagecoach-on-hyper-drive opening to its Lovecraftian climax deep in a stygian alien cave, with its non-stop action and pulse pounding horror, the universe of the 'star road' is classic science fiction, a mind boggling concept with limitless possibilities." —Brian Yuzna, writer/director of Re-Animator and Honey I Shrunk the Kids

"Matthew Costello and Rick Hautala have teamed up to create in Star Road, a near-on mythical mixture of thrills and spills in a galaxy-spanning tale of interplanetary excitement and derring-do. They've given us back the future we always wanted." —Pete Crowther, award winning author of Forever Twilight

"Matthew Costello and Rick Hautala take us on a thrilling ride across the Galaxy as the band of travelers aboard SRV-66 encounter monstrous alien predators, the wonderfully creepy Road Bugs, the technological perils of the Star Road itself, and most of all, deadly fellow humans. We ride the Star Road with the diminishing band as their destinies merge and their agendas diverge. Star Road is enormous fun." —David Dvorkin, author of Children of the Undead

"Star Road is filled with suspense, mystery, and action. Matt Costello and Rick Hautala compose a fascinating sci-fi thriller that is part 'Road Warrior' and part 'Star Trek.'" —Tim Willits, Creative Director of DOOM 3 and RAGE
Thomas Dunne Books, 9781250013224, 328pp.
Publication Date: January 14, 2014
About the Author
MATTHEW COSTELLO is an award-winning novelist, screenwriter, and video game writer. His previous novels include Vacation, its sequel Home, and Unidentified. He lives in Katonah, New York.RICK HAUTALA has published more than thirty books including the bestseller Nightstone. His short story collection Bedbugs was named one of the best horror books of 2003 by Amazon Books. He received a Lifetime Achievement Award from the Horror Writers' Association in 2012.
or
Not Currently Available for Direct Purchase