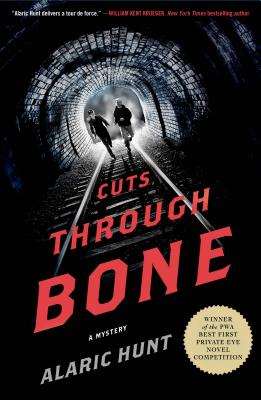 Cuts Through Bone (Hardcover)
Minotaur Books, 9781250013309, 308pp.
Publication Date: May 14, 2013
Other Editions of This Title:
MP3 CD (5/14/2013)
* Individual store prices may vary.
Description
"Featured in The New York Times Magazine "
"Winner of the PWA Best First Private Eye Novel Competition"
At first, Rachel Vasquez found her new job working for private detective Clayton Guthrie promising. He got her a gun and a license and took her to target practice. But lately she's just been doing surveillance, and it's not her idea of an exciting time. She is contemplating quitting when Guthrie lands an intriguing case that will take all their wits and guts to solve.
Camille Bowman, a beautiful blond Columbia student and Manhattan heiress, is found dead, shot by a gun that belonged to her fiance Greg Olsen, an Afghan war veteran. Guthrie is hired to prove Olsen's innocence, and fortunately he thinks Olsen smells clean. The detectives return to the scene of the crime where they see a vagrant who claims he heard the shots and picked the girl's wallet. Tiring of their questions, the vagrant flees, and Vasquez and Guthrie must track a man who's an expert at disappearing while also butting heads with the NYPD, cracking doors at Columbia University, and crawling through the city's subterranean tunnels.
To complicate matters, the murder could be part of a spree of killings being called the Barbiedoll murders, in which women are killed for no apparent reason and with no suspect in sight. The NYPD would like to pin them all on Olsen, and his life will depend on Guthrie and Vasquez catching the real culprit. In a race against time, the detectives gather clues that culminate in a bloody chase of one very determined and surprising killer.
"Cuts Through Bone" is a suspenseful ride, a novel that is atmospheric, stylistic, and gritty to boot. In Vasquez and Guthrie, youth and brashness meet experience and resolve, making for one of the most intriguing PI teams around. Debut author Alaric Hunt has penned a riveting hardboiled mystery, a contemporary story with the feel of a classic PI novel and a scope as large and complex as New York City, and even reaching beyond.
About the Author
Alaric Hunt won the Minotaur Books/PWA Best First Private Eye Novel Competition for his debut novel Cuts Through Bone. Alaric was born in Kentucky. He received a life sentence in 1988, which he is currently serving out in South Carolina.
Praise For Cuts Through Bone…
"Sometimes, a crime novel grabs you on the first page with its plot. Sometimes, it's the writing. Rarely is it the author's background. But in 'Cuts Through Bone'..., Alaric Hunt hits the trifecta in his debut.
Hunt, a native of Kentucky, has been serving life in prison in South Carolina for arson and murder since 1988. In 2010, he looked through a copy of Writer's Market in the prison library and saw a listing for the Private Eye Writers of America contest. The result was his victory for best first private eye novel.
And what a novel....Hunt, absent from the outside world for a quarter century, infuses this novel with strikingly rich descriptions of his characters and settings....'Cuts Through Bone'...shimmers with intelligence as it melds the beautiful with the profane. A work of keen originality by a writer of profound power, Hunt's debut offers moving testimony that steel bars can imprison the body but not necessarily the mind, nor the heart."—Jay Strafford, Richmond Times-Dispatch

"Hunt's enticing investigators invite a series, and the red-herring-riddled gumshoe story explodes into a climax rivaling those of Robert Crais and Ridley Pearson."—Booklist

"Despite its modern touches, Hunt's down-and-dirty debut harkens back to Sam Spade and other classic private eyes."—Kirkus Reviews
"Debut author Alaric Hunt has a winner in Cuts Through Bone, a deeply compelling and colorfully gritty detective thriller with a truly unique pair of private detectives. Plot development is intense as Hunt ratchets up the tension to an explosive ending."—Fresh Fiction
"Get ready for one helluva ride. Cuts Through Bone is one hardboiled rip, heavy on Noo Yawk color, slam-bang action, and a breezy, slang-filled style that isn't afraid to strut its stuff."—Mystery Scene Magazine

"The plot is great. The vast amount of secondary characters is very accomplished....The last scene...is impressively written....[Hunt] says...he does not crave fame, and fortune is largely irrelevant, but that writing is emotionally satisfying.  'When I am writing a novel, I am outside this place,' he says.  I have a feeling this impressive 'new' talent will be outside that place often in the future, putting down words that henceforth will have a place to go: a home, in a book, in a world that sometimes feels like a dream."—Curtis Dawkins, BULL

"Alaric Hunt delivers a tour de force in his debut outing, complete with a great pair of PIs and a gritty view of New York City guaranteed to astonish even those who swear they know Manhattan. Oh, did I enjoy this book!"—William Kent Krueger, New York Times bestselling author of Ordinary Grace

"Cuts Through Bone delivers a memorable detective duo on a breathless chase for a killer with a haunting motive."—Julie Kramer, national bestselling author of Shunning Sarah

"Cuts Through Bone demonstrates why PI novels are always in style, especially when they feature a detective team you won't soon forget. You can't fail to enjoy this book. It is engrossing front to back. Alaric Hunt has the magic touch."—John Lutz, New York Times bestselling author of Pulse

"A great big mystery featuring a hard little detective and his tough young sidekick. This book cuts deep and sure."—Michael Wiley, Shamus Award-winning author of A Bad Night's Sleep

"Cuts Through Bone grabbed me on the first page, wouldn't let me go, and I was glad for the ride. Vasquez and Guthrie are the kind of characters I'll spend my day with anytime. Pick up this book; this is a series you'll want to be in on from the beginning."—S.J. Rozan, Edgar and Dilys Award-winning author of Ghost Hero

"Detective Clayton Guthrie is a middle-aged clone of Dashiell Hammett's classic detective, with the stony heart softened.  In prose crisp as Hammett's, with a pleasing lyricism, Cuts Through Bone tells a crackling-good, satisfyingly complicated tale of serial murder and revenge."—Robert Knightly, author of The Cold Room and editor of Queens Noir
or
Not Currently Available for Direct Purchase