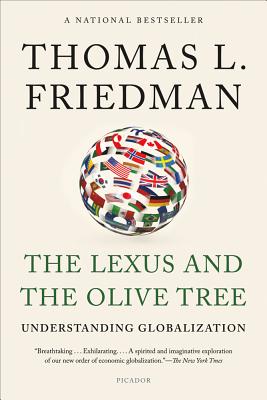 The Lexus and the Olive Tree (Paperback)
Understanding Globalization
Picador USA, 9781250013743, 490pp.
Publication Date: August 21, 2012
Description
"A brilliant guide for the here and now."---The New York Times Book Review
In this vivid portrait of the new business world, Thomas L. Friedman shows how technology, capital, and information are transforming the global marketplace, leveling old geographic and geopolitical boundaries. With bold reporting and acute analysis, Friedman dramatizes the conflict between globalizing forces and local cultures, and he shows why a balance between progress and the preservation of ancient traditions will ensure a better future for all. The Lexus and the Olive Tree is an indispensable look at power and big change in the age of globalization.
About the Author
Thomas l. Friedman's now-classic From Beirut to Jerusalem won the 1988 National Book Award and established him as America's leading interpreter of international affairs. Twice a Pulitzer Prize winner for his reportage, he lives in Washington, D.C.
Praise For The Lexus and the Olive Tree: Understanding Globalization…
"Required reading...No one gives a better explanation of [globalization] than New York Times correspondent Thomas L. Friedman....Impressive."—The Christian Science Monitor "Important…Friedman writes in straightforward language that should make globalization's complexities comprehensible. There's a great deal of wisdom in this book."—USA Today "Friedman gets the economics right. His book is a wellspring of economic common sense that will inoculate its readers against the 'globaloney' so prevalent in popular discussions of the subject."—Foreign Affairs "Friedman convincingly argues that what creates wealth has suddenly changed.…The Lexus and the Olive Tree makes alarmingly good sense; it educates and provokes."—The Baltimore Sun "A lively mix of anecdote and analysis…full of solid reporting…Friedman is eager, provocative, [and] often entertaining….Insightful."—The Boston Globe "There is hardly a page in The Lexus and the Olive Tree without an underlineable passage….Friedman has used his remarkable vantage point to provide a readable overview that no academic or narrow-beat reporter could have given us….A genuinely important book."—Salon

Advertisement